Practice Tools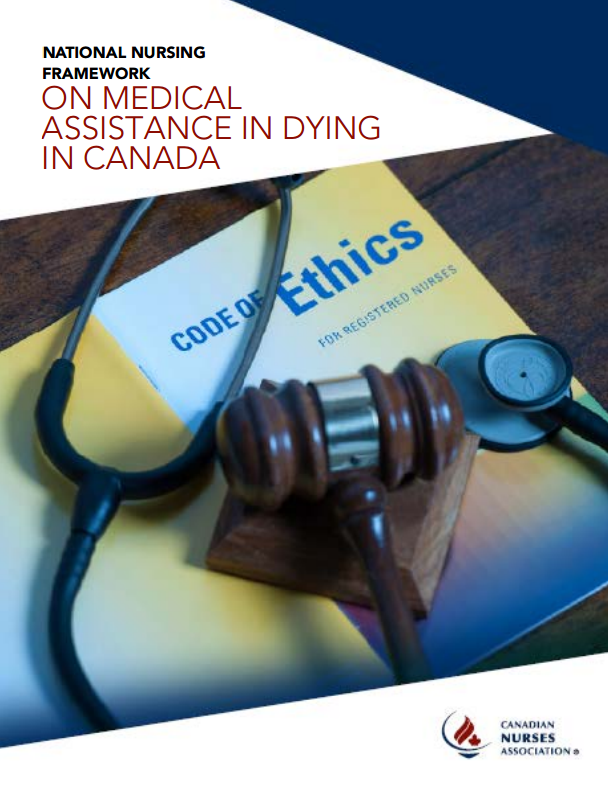 "This framework has been developed with several purposes in mind:
To raise awareness among nurses of the change in the federal law, which now permits MAID in certain circumstances and within regulatory direction.
To guide nurses in reflecting on ethical issues that may occur as they care for persons considering MAID in various practice settings.
To reinforce sound ethical nursing practice.
To outline the role of nurses (i.e., NPs as compared to registered nurses, licensed practical nurses and registered psychiatric nurses) in MAID and to support nurses in their practice as they work with persons6 considering and receiving MAID and their families and interprofessional health-care teams (in alignment with regulatory direction in relevant jurisdictions).
To raise the visibility of the profession's contribution to end-of-life care decision-making and care that includes MAID.
To be a resource that supports nurse regulators, clinical nurse leaders, administrators/employers and interprofessional health-care teams to develop policies, guidelines, processes and services which use the knowledge and skills of nurses appropriately to provide or aid in MAID.
To be a nursing resource for entry to practice and continuing education on MAID.
"Elder Abuse Ontario has developed a series of Training Modules on specific issues related to elder abuse. The Modules have been designed to provide a standardized format for training purposes that can be utilized for educating interdisciplinary sectors. Recognizing the diversity of training environments as well as time considerations, sections of the module can be used independently to teach on a specific subject area or used in its entirety. The module contains the following:
Guiding principles
Overview and definition(s)
Risk factors, and warning signs
Assessment Questions
Interview Strategy
Safety Planning
Reporting and Legislation
Case Studies – Discussion Questions, Fact Box, Decision Tree for navigating support and interventions
Provincial Resources/Services

Source: Elder Abuse Ontario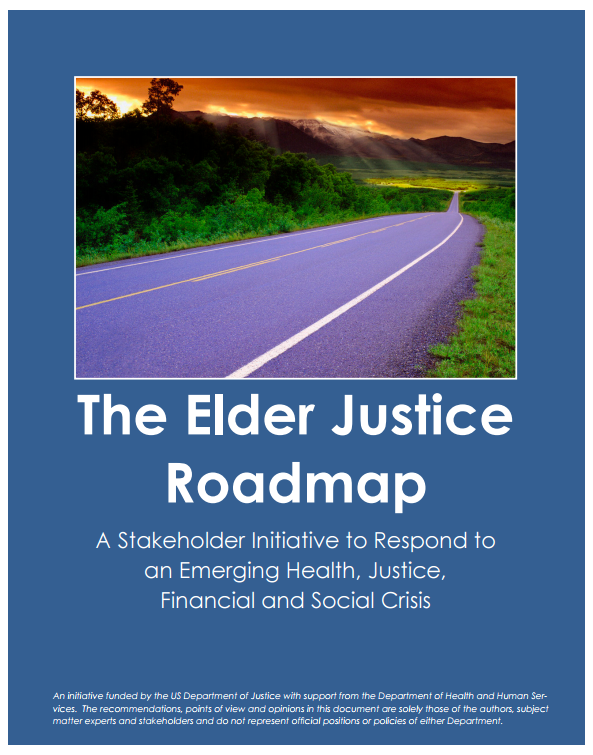 A strategic planning resource by the field or the field spanning four domains: Direct Services, Education, Policy and Research

"The Roadmap is intended primarily to be a strategic planning resource by the field, for the field, to advance our collective efforts to prevent and combat elder abuse. It is a dynamic document that can be adapted and used by grassroots and community groups, multidisciplinary teams, and local, state and national governmental and non-governmental entities all of which have critical and complementary roles to play in tackling and implementing the recommendations identified in this document."
Source: NYC Elder Abuse Center
The following resource is part of the Family Violence Initiative, funded by the Department of Justice Canada. Find similar tools by searching for the FVIF tag or consult the list of available resources.
"As this toolkit grows throughout 2016 and 2017, it will consist of
1) this summary report,
2) a self-assessment workbook and resource lists, and
3) training modules.

These materials are designed to enhance responses to older survivors of abuse by community-based domestic violence (DV) and sexual assault (SA) agency staff and volunteers. This summary report begins with a brief overview of elder abuse and abuse in later life.
Subsequent sections describe seven key guiding principles as well as minimum guidelines and practice strategies for advocates to consider in their work with older survivors."

Source: National Clearinghouse on Abuse in Later Life (USA)
The following resource is part of the Family Violence Initiative, funded by the Department of Justice Canada. Find similar tools by searching for the FVIF tag or consult the list of available resources.
"This toolkit was created as part of the participatory project: 'Bridging Aging and Women Abuse.' This project's tools were developed by two working groups of women who had experienced abuse in later life and transformed these experiences into expertise. Consequently, the tools reflect the 'lived expertise' of these women and their interactions with the service systems. (...)
This toolkit was developed to support a more coordinated and effective community response to older women abuse. Older women are one of the fastest growing population groups and as the baby boomer generation age, the number of older women experiencing abuse will likely increase. The most recent Family Violence in Canada profile indicates that older women are more likely to be victims of family violence than men and that this rate has been steadily increasing since 1998. Previous work by the project team, as well as other research and reports, indicate that older women experiencing abuse are often caught between service systems. For example, older women may not identify with elder abuse programs, which largely assume that abuse occurs in a caregiving context and typically do not address the gendered nature of abuse. Likewise, domestic violence services are often perceived to be for younger women with children and may not have age-appropriate supports in place. For some older women these gaps in support lead to homelessness and homeless shelters where neither aging nor abuse is well addressed.
Although promising practices are emerging in response to these gaps, few tools have direct input by older women who have experienced abuse and the gaps in service systems. Further, few tools provide resources for service providers and older women to use while working together. We have built on but not replicated existing resources. We acknowledge all the important work1 we drew upon but emphasize that THIS IS NOT ANOTHER MANUAL. It is an innovative and relevant compilation of ideas and tools that can be used to support an effective and empowering response to older women abuse.''

Source: National Initiative for the Care of the Elderly