Practice Tools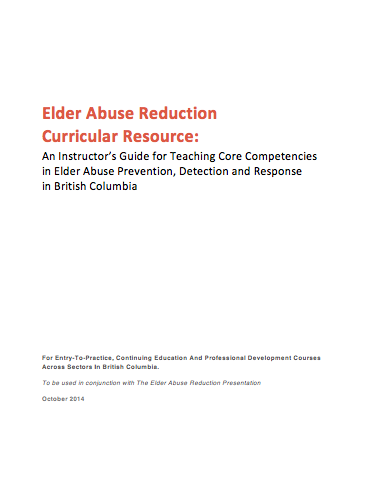 "The Elder Abuse Reduction Curricular Resource consists of an instructor's guide and a presentation for teaching core competencies in elder abuse prevention, detection and response in British Columbia. Within the guide, instructors will find activities, assignments, online video links, readings and evaluation questions, as well as references to additional resources for some topic areas. An environmental scan was completed prior to completing the curricular resource. The full report from this scan and the associated Appendix A is also avaiable here. These materials were developed and assembled in 2014 by BCcampus as part of the Elder Abuse Reduction Education Project. This project was sponsored by the Ministry of Advanced Education in response to Together to Reduce Elder Abuse ̶ B.C.'s Strategy: Promoting Well-Being and Security for Older British Columbians."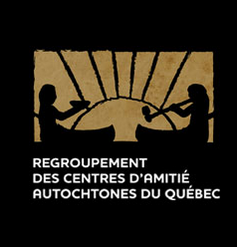 "The Regroupement des centres d'amitié autochtones du Québec was founded for and by urban Aboriginals who wanted to give themselves a provincial concertation, coordination and representation structure. Since 1976, the RCAAQ represents the interests of the Native Friendship Centres of Québec." Featuring various English & French resources produced by the team of the Regroupement des centres d'amitié autochtones du Québec, ranging from pamphletes to videos.
Source: Regroupement des centres d'amitié autochtones du Québec
"Banks are very aware of the growing incidence of financial abuse of vulnerable people and can play an important role in raising awareness on the issue, including what their clients can do to protect themselves from financial abuse. This set of articles describes financial abuse and provides tips and information for consumers about how to avoid becoming a victim. The Fraud Prevention section of the CBA website also offers further tips on credit card fraud, debit card fraud, identity theft, phishing, vishing, real estate fraud, financial scams and protection of personal information."
"This 18 page Safe & Sound Financial Security Literacy Tool PDF eBook from Elder Abuse Ontario and is user friendly and can be used by both service providers and older adults. It concerns the topic of financial abuse and how to effectively take action while providing some tips and resources around financial decisions." For more information, or for Farsi, Punjabi, or Spanish versions, please see Elder Abuse Ontario.
"This best practice guideline is focused on preventing and addressing abuse and neglect of older adults throughout various health-care institutions and community settings in Canada. It outlines recommendations for nurses and other health-care providers, educators, health-care organizations, advocacy groups, nursing regulatory bodies and governments. Implementation resources in development include an e-learning course, a health education fact sheet, and a personal digital assistant (PDA) version of the guideline. This guideline is part of an initiative funded by the Government of Canada's New Horizons for Seniors Program and builds on a collaborative project between the Canadian Nurses Association (CNA) and RNAO, titled Promoting the Awareness of Elder Abuse in Long-Term Care."
For more information, please see the Registered Nurses' Association of Ontario.