Workshops & Presentations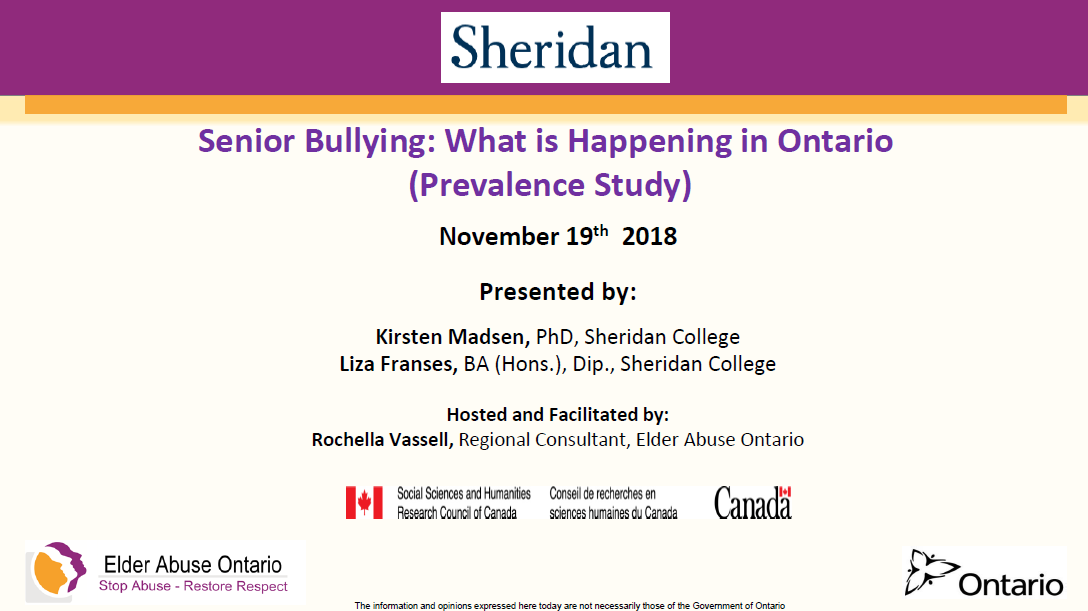 A partnership between Sheridan College & Elder Abuse Ontario to better understand what is happening in Ontario and to use this data to create a resource package outlining best practices for seniors and those working with seniors to stop bullying.
Speakers:
Dr. Kirsten Madsen, PhD, faculty member at Sheridan College.
Liza Franses, older adult advocate
Learning Objectives:
Hear first hand accounts of the important research being conducted on seniors bullying from the researchers involved in these projects.
Learn about the preliminary outcomes of the project and how to better understand this complex issue.



Source:

Elder Abuse Ontario
"Worldwide, the majority of the older adult population is women and as this population grows the issue of violence against older women will also continue to increase.
Recognizing the growing prevalence of violence against older women and lack of a full complement of available resources, a series of video learning modules on strategies to address this issue was developed by Women's College Research Institute, the Ontario Network of Sexual Assault/Domestic Violence Treatment Centres, and Elder Abuse Ontario.

The video learning modules have been designed to benefit a variety of organizations and individuals connected to violence against older women including researchers, trainees, government-decision makers, frontline healthcare professionals, family members, and the public.
The video learning modules can be viewed either as a complete series or individually, based on the video learning objectives that are most applicable, with a certificate following completion of a very short post-module survey for each module.''
The modules are as follows:
Competing Frameworks of Elder Abuse and Violence Against Women
Activism and Advocacy for Bringing About Change for Abused Older Women
Promising Practices for Responding to Older Women who have Experienced Violence
Public Awareness and Community Mobilization to Address Domestic Violence in Older Women
Building Partnerships Across the Violence Against Women and Elder Abuse Sectors
Presented by:
Amber Skye, Mother, Researcher, Six Nations of The Grand River
Hosted and Facilitated by:
Amber Wardell, Project Coordinator, Aging Without Violence
Rochella Vassell, Regional Consultant, Elder Abuse Ontario


"Abuse of Older Women is an increasingly growing problem not only in Ontario, but across Canada and around the world. Numerous communities are working diligently to prevent and address this issue. Through this webinar, Aging Without Violence, and OAITH in partnership with Elder Abuse Ontario are pleased to present important information related to addressing violence against older women.
Learning Objectives:
To develop a greater awareness of the root causes of violence against older Indigenous women, including the impacts of colonization and socio-economic inequalities.
To raise awareness and educate service providers about violence in Indigenous communities, the causes of violence against older Indigenous women and how to respond to it.
Source:
Elder Abuse Ontario

WEAAD 2018
Webinar hosted by AGEWELL and presented by Krista James (National Director) and Valerie Le Blanc (Staff Lawyer), Canadian Centre for Elder Law (June 13, 2018)

WATCH:
The following resource is part of the Family Violence Initiative, funded by the RCMP. Find similar tools by searching for the FVIF tag or consult the list of available resources.
"The Department of Health and Social Services, in collaboration with the NWT Coalition Against Family Violence, has developed a social marketing campaign aimed at changing attitudes and beliefs about family violence. The campaign is entitled "What Will It Take?" and is geared towards bystanders - people who witness family violence. When people are bystanders to family violence they often have an opportunity to step up and make a positive difference but aren't sure what to do. This campaign is designed to give the public the confidence and skills they need to respond to situations of family violence.
The "What will it take?" workshop is aimed at empowering NWT residents to help reduce family violence and make their communities safer. This workshop is designed to build awareness, sensitize audiences, and provides in-depth information on being an active bystander and allows participants time to practice the skills they could need.
Topics covered include:
Specific warning signs of family violence;
Key beliefs about family violence;
How "bystanders" can make a difference and help reduce family violence;
The role of the RCMP in reducing family violence and its impact on victims;
What other northerners have to say about how they addressed family violence in their own lives or communities;
Learn how to use a simple "SEE, NAME, DO" tool assess potential bystander intervention situations; and
Apply what has been learned to practice situations that involve family violence situations acted out by Northern actors.
A "What will it take?" workshop toolkit is available in a complete ready-to-use package. Each package includes a DVD that features NWT residents talking about what it is going to take to reduce family violence, a facilitator's guide equipped with facilitator's script, workshop activities, handouts and evaluation forms.
If you are interested in facilitating a "What will it take?" workshop, please email Family Violence Prevention Consultant at ."

Source: Northwest Territories Department of Health and Social Services