The Global report on ageism outlines a framework for action to reduce ageism including specific recommendations for different actors (e.g. government, UN agencies, civil society organizations, private sector). It brings together the best available evidence on the nature and magnitude of ageism, its determinants and its impact. It outlines what strategies work to prevent and counter ageism, identifies gaps and proposes future lines of research to improve our understanding of ageism.

Read the full report here

Source: World Health Organization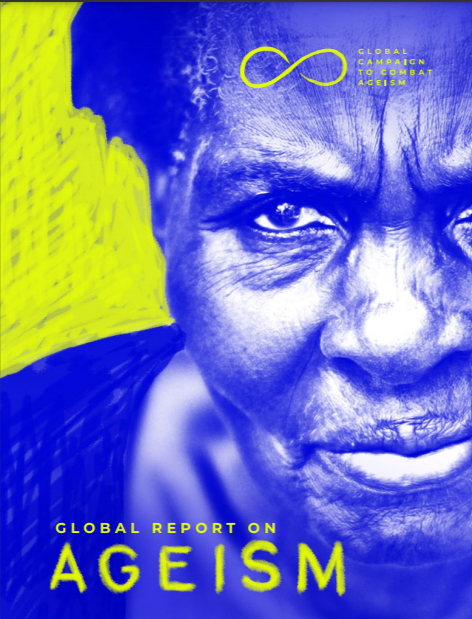 ''Age is one of the first things we notice about other people.

Ageism arises when age is used to categorize and divide people in ways that lead to harm, disadvantage and injustice and erode solidarity across generations. Ageism takes on different forms across the life course. A teenager might, for instance, be ridiculed for starting a political movement; both older and younger people might be denied a job because of their age; or an older person might be accused of witchcraft and driven out of their home and village.
Ageism damages our health and well-being and is a major barrier to enacting effective policies and taking action on healthy ageing, as recognized by World Health Organization (WHO) Member States in the Global strategy and action plan on ageing and health and through the Decade of Healthy Ageing: 2021–2030. In response, WHO was asked to start, with partners, a global campaign to combat ageism.
The Global report on ageism was developed for the campaign by WHO, Office of the High Commissioner for Human Rights, the United Nations (UN) Department of Economic and Social Affairs and the United Nations Population Fund. It is directed at policy-makers, practitioners, researchers, development agencies and members of the private sector and civil society. This report, after defining the nature of ageism, summarizes the best evidence about the scale, the impacts and the determinants of ageism and the most effective strategies to reduce it. It concludes with three recommendations for action, informed by the evidence, to create a world for all ages.''

Source: World Health Organization
''To understand how the COVID-19 pandemic has impacted on older people's physical and mental health we consulted with older people, their friends, families, and loved ones.
Our research was made up of:
A survey promoted across the Age UK social media channels for two weeks in August 2020. The survey was completed by 569 people- 369 respondents were older people themselves and 200 answered on behalf of an older person. Over half of respondents were over the age of 70. Of the older people we spoke to who told us their sex, 278 were female and 78 were male.
Representative online polling of 1,364 people over the age of 60, conducted by Kantar Polling in September 2020. Of the people polled, nearly half were over the age of 70 and 40% were already living with a long-term condition before the start of the COVID-19 pandemic.''

Source: Age UK

Dr. K. Roger (Community Health Sciences, University of Manitoba) is leading a tri-provincial Prairie-based team since 2018 on underreporting of abuse of older adults (funded by PrairieAction Foundation).
This report explores the more recent events of COVID-19, and themes found to date in an ongoing media scan. The report frames an understanding of abuse of older adults in regards to what has been reported by the media about older adults living in the community in Canada during the time of COVID-19.
The following is part of our project "Increasing Access to Justice for Older Adult Victims of Sexual Assault: A Capacity Building Approach", funded by the Justice Canada Victims Fund.Learn more about this project or consult the full list of resources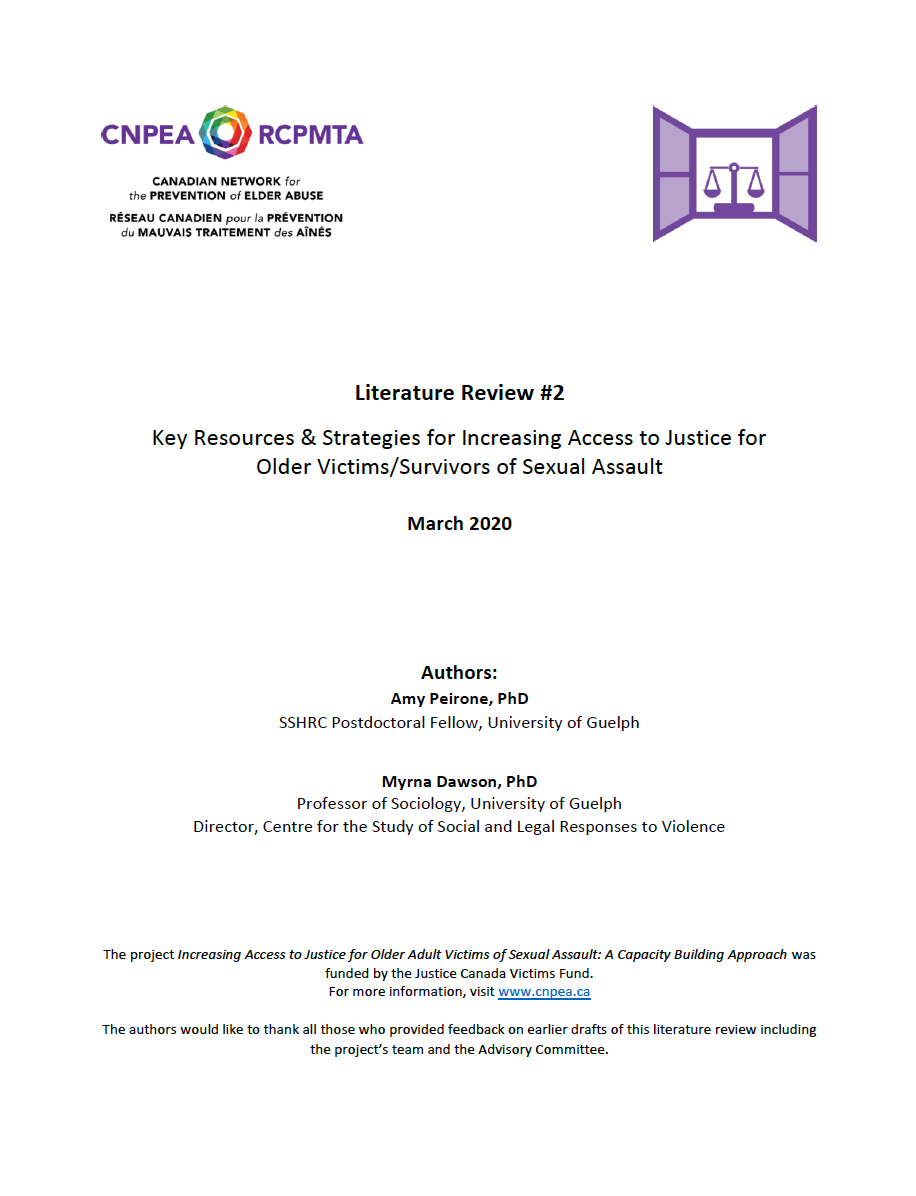 In 2020, CNPEA completed a three-year project titled Increasing Access to Justice for Older Victims. This project resulted in the development of new training and learning for service providers about the sexual assault of older adults, and of a centralized repository of resources about sexual assault of older adults. CNPEA gathered, curated, and synthesized a detailed, array of key resources and materials about sexual assault of older adults.
For more details, check out the project page.

This is the second literature review produced for this project. It was designed for a broad audience including researchers, policymakers, advocates, health care providers, and social service providers. It is divided into three main sections.

Section I provides an overview of what we know about sexual assault in later life, including what constitutes sexual assault of older adults, its prevalence, risk factors for victimization and perpetration, and barriers to reporting and intervening.

Section II outlines practical strategies and recommendations for the prevention, identification, and intervention of sexual assault in later life.

Section III provides a selective list and description of some of the available tools and resources that can be useful for older persons, health care and service providers, advocates, and criminal justice personnel.

Authors:
Amy Peirone, PhD SSHRC Postdoctoral Fellow, University of Guelph
Myrna Dawson, PhD, Professor of Sociology, University of Guelph, Director, Centre for the Study of Social and Legal Responses to Violence

Access the first Literature Review Sexual Assault Against Older Adults here.