"The Forum of Federal, Provincial and Territorial Ministers Responsible for Seniors has developed two toolkits to address social isolation among seniors. These toolkits will be of most interest to service providers, community groups, and health professionals directly involved with older adults.The Forum of Federal, Provincial and Territorial Ministers Responsible for Seniors is an intergovernmental body established to share information, discuss new and emerging issues related to seniors, and work collaboratively on key projects. For more information about the forum visit www.seniors.gc.ca."
Toolkit, Volume I: Social Isolation of Seniors - Understanding the issue and finding solutions
Toolkit, Volume 2: Social Isolation of Seniors - Ideas exchange event

Source: Government of Alberta - Seniors and Housing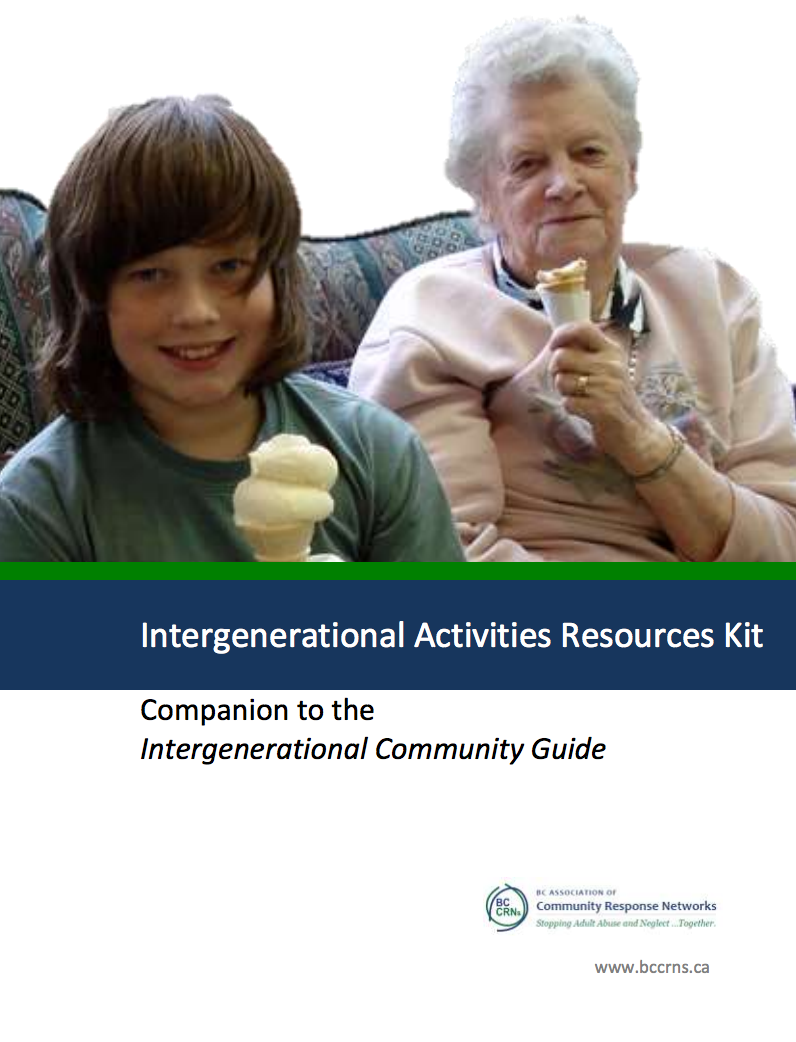 "This guide supplements the Intergenerational Community Guide and provides:
A suggested approach to conducting an intergenerational workshop, should your CRN be interested in presenting one.
A starting point for generating ideas for projects in your CRN.
Suggestions on age-appropriate/stage appropriate intergenerational activities.
Short stories – called Reflection Points – to illustrate intergenerational theory and concepts, and generate further discussion and thinking.
Lists of resources where you can find more information.

NOTE: It's Not Right! is referenced throughout this document. This training is not a prerequisite for intergenerational work.
How to Use this Guide Use this guide:
To jumpstart your workshop planning, if a workshops is something your CRN wants to do.
As a starting point for any intergenerational presentations your CRN may want to do.
For inspiration on any intergenerational activities your CRN may want to pursue

All recommendations in this document and the intergenerational resources cited have been field-tested. Please select only the ideas that will work for your community.

Who this Guide is For?
Mentors.
Coordinators.
Other affiliated community groups."


The Intergenerational Community Guide, Intergenerational Activities Resources Kit, and supplementary materials were funded by the BC Association of Community Response Networks (BC CRN).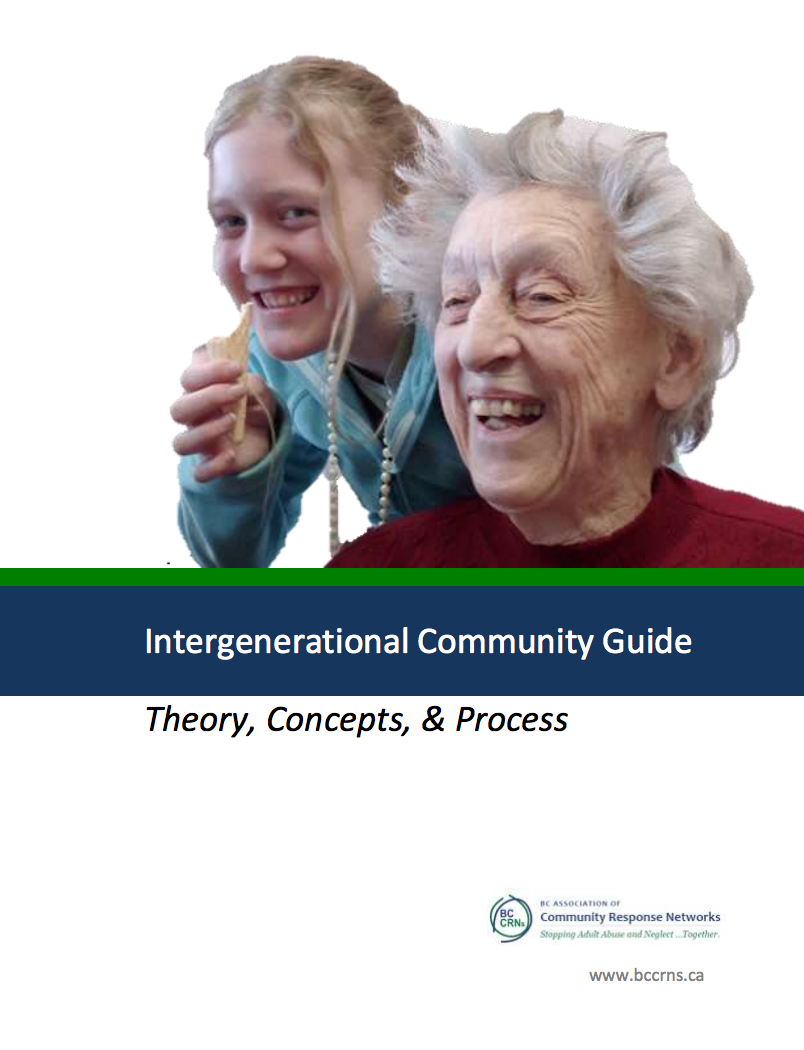 "The Intergenerational Community Guide is intended to provide background information on the nature of intergenerational relationship building, including:
Intergenerational theory.
Process for incorporating intergenerational activities into your CRN's plans.
Intergenerational activity ideas.
This guide offers a positive approach to combating mistreatment of all ages, and broadens the work of It's Not Right! Friends, Families, and Neighbours.

How to Use this Guide Use this guide:
To learn more about intergenerational theory and best practice.
For ideas on intergenerational activities and how to incorporate them into your CRN's project plans.



Who this Guide is For?

The Alberta Elder Abuse Awareness Network (AEAAN) Community Kit is now fully available online. Please feel free to download the Community Kit and use it within your community or organization. Each of the elements of the Community kit may be found in the "Resources" section of this website. The kit includes:
two Power Point presentations with comprehensive speaking notes
the Elder Abuse Training Video
a listing of Alberta resources in support of the issue of Elder Abuse
several online links
other national resources
The kit also includes a copy of "Community Awareness and Response: Abuse and Neglect of Older Adults" by Dianne Kinnon (permission granted) and examples of Community Response models from around Alberta.
"The Community Response Network Tool Kit was first published in the Fall of 2001; that version of the Tool Kit may be found under "Older Documents". The Tool Kit was republished in 2015.This Tool Kit is comprised of eight chapters; it can be read from beginning to end, and we hope you will read all of it at some point, but it can also be read in any way that meets your needs. The first 3 chapters, though, are very important and will lay the foundation for a healthy start. This is an update of the original Community Response Network Toolkit published in the 1990s by the Public Guardian and Trustee of BC. Since that time, we have learned and developed a great deal of information that may be helpful to you in your CRN work. The original CRN Toolkit was a much lengthier document. We have reduced the content but have provided links throughout for people to seek further detail on a number of topics. If you want more information, click on the embedded links. Use them or explore the BC CRN website or other sources for what you need."