Legal Information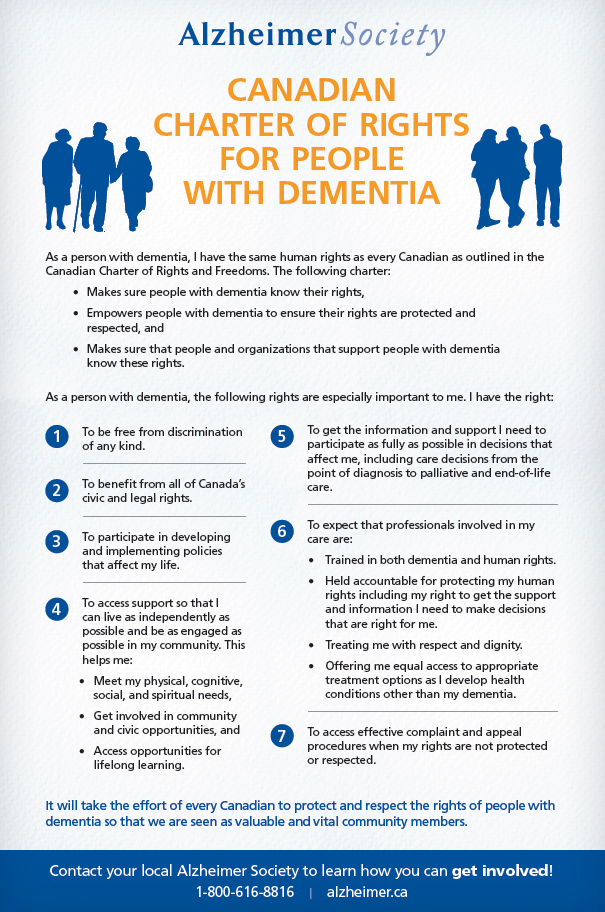 ''Canadians living with dementia are entitled to the same human rights as every other Canadian, as outlined in the Canadian Charter of Rights and Freedoms. However, stigma and discrimination are huge barriers for people with dementia and often contravene these rights.
That's why the Alzheimer Society of Canada is pleased to officially launch the first-ever Canadian Charter of Rights for People with Dementia. The landmark Charter is the culmination of over a year's work by the Society's Advisory Group of people with dementia, whose members represent different walks of life from across the country.''

Source: Alzheimer Society of Canada
The following is part of our project "Increasing Access to Justice for Older Adult Victims of Sexual Assault: A Capacity Building Approach", funded by the Justice Canada Victims Fund.Learn more about this project or consult the full list of resources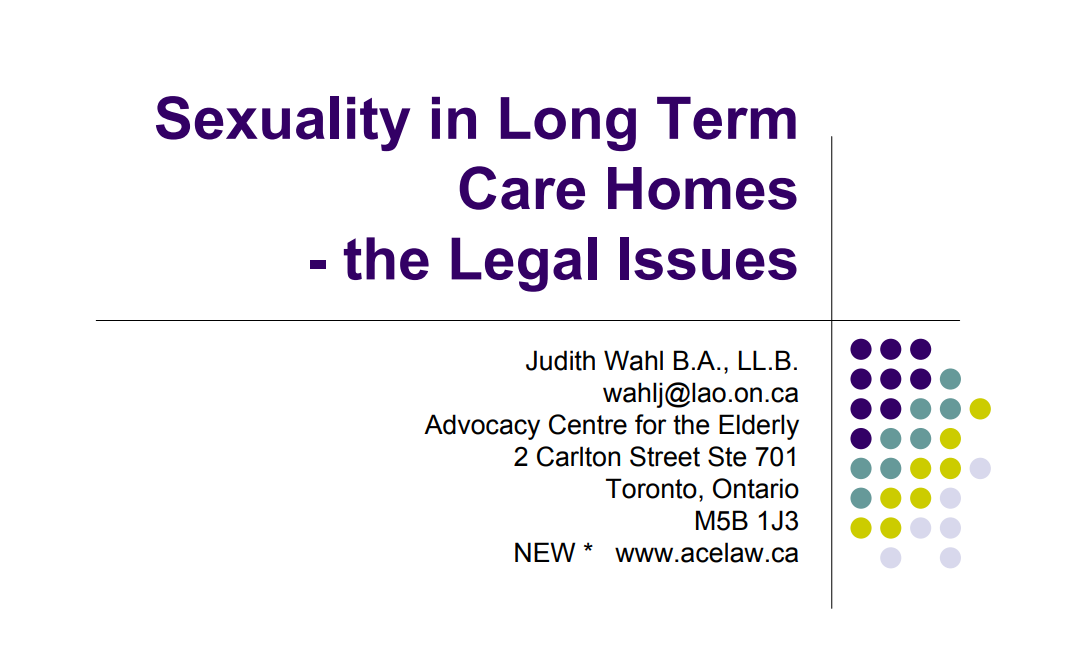 By Judith Wahl, Advocacy Centre for the Elderly
This presentation explores the legal issues related to sexuality of older people living in long term care, as well as key concepts such as sexual assault, sexual activity, consent and capacity, and duty of care.

Source: Advocacy Centre for the Elderly
The following resource is part of the Family Violence Initiative, funded by the RCMP. Find similar tools by searching for the FVIF tag or consult the list of available resources.
"The purpose of the toolkit is to provide frontline workers with legal information and resources tailored to meet the needs of the anti-violence sector.
It includes an overview of courts and legal resource, Affidavit writing, preparing a client to be a witness in court, program participants records, records management, records retention and destruction, immigrant and refugee legal information, disability legal information, Aboriginal legal information, CWWA legal information."

Source: BC Society of Transition Houses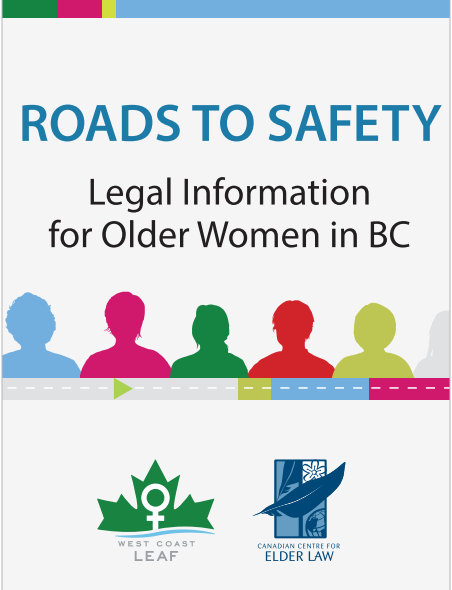 This resource is part of West Coast LEAF's Older Women's Legal Education Project and aims to connect older women with useful support services and legal help.

"During community consultation for our Older Women's Legal Education Project, many older women and service providers suggested that we create a compact multilingual resource listing sources of support and legal information for older women. A small resource is easier to hide and less likely to be discovered by an abuser than a larger, more comprehensive resource such as our Roads to Safety handbook, and is also less likely to cause information overload for a woman in crisis.

We encourage you to print and distribute these folding wallet cards widely. We hope that this resource will help older women in BC to connect with community services, understand their legal and practical options, and receive support for the steps they may choose to take to become safer.

Roads to Safety is part of The Older Women's Legal Education Project, "a collaboration between West Coast LEAF and the Canadian Centre for Elder Law aiming to address a serious gap in existing public legal education resources: information tailored to older women fleeing abuse. "

Source: West Coast LEAF

Languages available:

ENGLISH VERSIONS:
General English version
Version listing specialized services for Indigenous women
MULTILINGUAL VERSIONS:
Arabic
Chinese (Simplified)
Chinese (Traditional)
Filipino (Tagalog)
French
Hindi
Persian (Farsi)
Punjabi
Spanish
Urdu
Vietnamese
R
oads to Safety is "a plain language handbook on legal issues relevant to older women fleeing abuse, including:
Emergency information
Safety planning
Decision-making rights
Immigration rights
Getting legal help
Financial assistance
Applying for a pension
Applying for housing supports
Protection orders and peace bonds
Keeping grandchildren safe
Steps to protect yourself from financial abuse
Property division after separation or divorce
Resources for support"
Roads to Safety is part of The Older Women's Legal Education Project, "a collaboration between West Coast LEAF and the Canadian Centre for Elder Law aiming to address a serious gap in existing public legal education resources: information tailored to older women fleeing abuse. "

Source: West Coast LEAF