The following resource is part of the Family Violence Initiative, funded by the RCMP. Find similar tools by searching for the FVIF tag or consult the list of available resources.
"The Department of Health and Social Services, in collaboration with the NWT Coalition Against Family Violence, has developed a social marketing campaign aimed at changing attitudes and beliefs about family violence. The campaign is entitled "What Will It Take?" and is geared towards bystanders - people who witness family violence. When people are bystanders to family violence they often have an opportunity to step up and make a positive difference but aren't sure what to do. This campaign is designed to give the public the confidence and skills they need to respond to situations of family violence.
The "What will it take?" workshop is aimed at empowering NWT residents to help reduce family violence and make their communities safer. This workshop is designed to build awareness, sensitize audiences, and provides in-depth information on being an active bystander and allows participants time to practice the skills they could need.
Topics covered include:
Specific warning signs of family violence;
Key beliefs about family violence;
How "bystanders" can make a difference and help reduce family violence;
The role of the RCMP in reducing family violence and its impact on victims;
What other northerners have to say about how they addressed family violence in their own lives or communities;
Learn how to use a simple "SEE, NAME, DO" tool assess potential bystander intervention situations; and
Apply what has been learned to practice situations that involve family violence situations acted out by Northern actors.
A "What will it take?" workshop toolkit is available in a complete ready-to-use package. Each package includes a DVD that features NWT residents talking about what it is going to take to reduce family violence, a facilitator's guide equipped with facilitator's script, workshop activities, handouts and evaluation forms.
If you are interested in facilitating a "What will it take?" workshop, please email Family Violence Prevention Consultant at ."

Source: Northwest Territories Department of Health and Social Services
''Community presenters work with local Community Response Networks (CRNs) to deliver public presentations and workshops. BCCRN welcomes members from the general public to become It's Not Right community presenters. Individuals must first complete training, and be certified by BC CRN before any presentations are conducted.
The purpose of this Guide to provide an overview of
The tasks required to plan, organize, and administer an It's Not Right! presentation.
The tasks required to follow-up with the BC CRN once the presentation is complete

How to Use this Guide
If you are new to the It's Not Right! program, and new to conducting presentations, we recommend reviewing this guide cover to cover to understand what needs to be done before, during, and after the presentation takes place.
If you are already familiar with It's Not Right!, please scan the document for new content, and use this guide as a refresher to reorient yourself to the presentation requirements. Who this Guide is For CRN Coordinators. Regional Mentors. It's Not Right! Community Presenters.''

Source: BCCRNs
"Lesbian, gay, bisexual and transgender (LGBT) older adults are more likely to age alone, with limited support, and in a stigmatizing environment where they are often poorly served by traditional social services and hesitant to avail themselves of the same. The result is poorer overall health, with an associated reduced preparedness for end-of-life. This project aims to redress these disparities by conducting focus groups in five regions of Canada (Maritimes, Quebec, Ontario, the Prairies and West Coast) with LGBT older adults as well as service providers, followed by community town hall meetings for both reciprocal knowledge transfer and community development.

These data gathering and community-enhancing efforts will culminate in a pilot online website tailored to the unique experiences and needs of LGBT older adults, fostering dialog, knowledge exchange and document preparation, connecting individuals to appropriate resources and creating/nurturing community. In addition to the benefits accrued to LGBT older adults as a result of this project, networks of community organizations, universities and provincial agencies will be developed leading to further research and practice with potential benefits for all Canadians."

Presenters:
BRIAN DE VRIES, PH.D
GLORIA GUTMAN, PH.D.

Canadian Frailty Network
September 7, 2016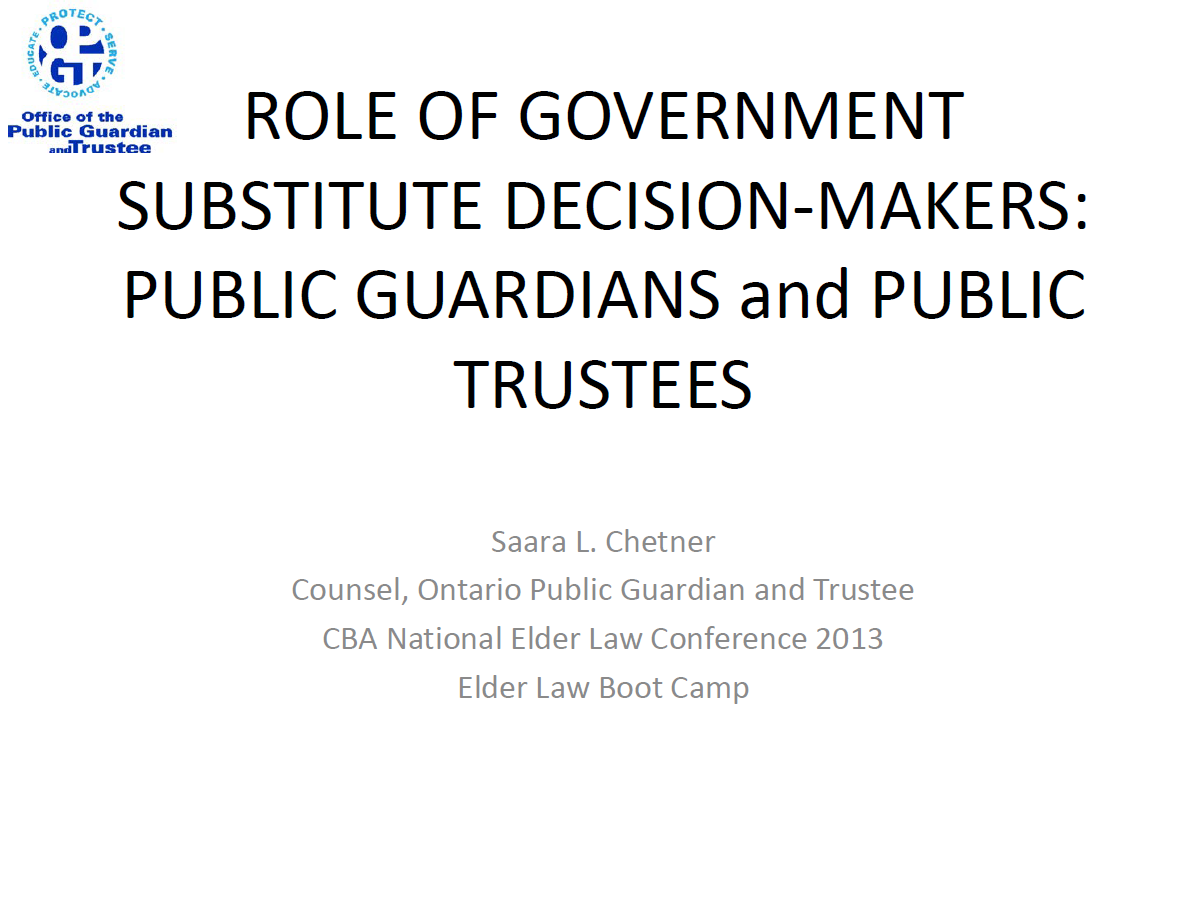 A presentation by Saara L. Chetner
Counsel, Ontario Public Guardian and Trustee
CBA National Elder Law Conference 2013
Elder Law Boot Camp




"The Power of Attorney Project is a two year technology-based project that brings together a wide variety of experts from various industries and disciplines to educate adult children and seniors about Power of Attorney issues. In our Podcast series, legal, financial and social service experts share their knowledge and give individuals and families an opportunity to have their questions addressed, increase their understanding and develop skills and strategies to help them deal with some of the complex and difficult issues of aging."
Source: Caregiving Matters