Government Strategies
"The vision for this strategy is bold and reflects the aspirations of the many individuals and organizations who contributed to its development. The actions undertaken to achieve the strategy's national objectives may evolve over time, but every action will bring Canada closer to the vision of a Canada in which all people living with dementia and caregivers are valued and supported, quality of life is optimized, and dementia is prevented, well understood, and effectively treated.

Key to achieving this vision are five principles setting out values to guide the implementation of efforts in support of the national objectives and their areas of focus. In implementing the strategy, governments, non-governmental organizations, community organizations and others working on dementia should:
Prioritize quality of life for people living with dementia and caregivers;
Respect and value diversity to ensure an inclusive approach, with a focus on those most at risk or with distinct needs;
Respect the human rights of people living with dementia to support their autonomy and dignity;
Engage in evidence-informed decision making, taking a broad approach to gathering and sharing best available knowledge and data; and
Maintain a results-focused approach to tracking progress, including evaluating and adjusting actions as needed."


Source: Public Health Agency of Canada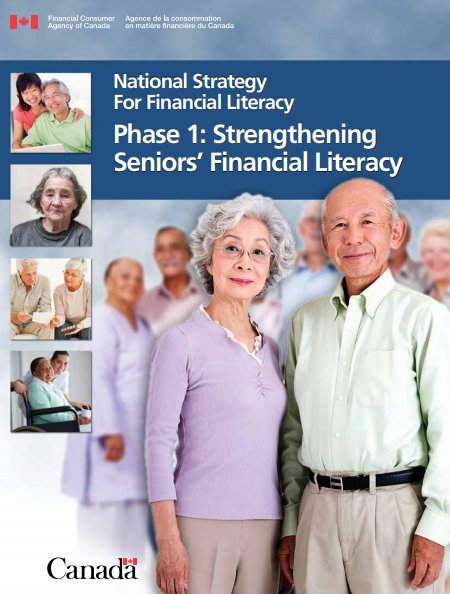 In Economic Action Plan 2013, the Government identified seniors as a priority group and committed to implementing a financial literacy strategy that specifically responds to seniors'needs. This document, which has been refined through consultation with Canadians and stakeholder organizations involved in financial literacy, responds to that commitment and is the first component of the national strategy for financial literacy for all Canadians.
Canada's seniors are a diverse group, with wide-ranging backgrounds, interests, preferences and financial situations. Thus, initiatives to strengthen financial literacy must be based on a solid understanding of the needs of different groups of older Canadians and tailored to address those needs. Canadians are working longer, living longer and leading more active lives than ever before.
Current seniors and Canadians approaching their senior years often face unique financial challenges as they enter and move through this phase in their lives. Whether they are still working, preparing to fully or partially retire, or have already retired, seniors face important decisions related to their money. As the first phase of the National Strategy for Financial Literacy, Strengthening Seniors' Financial Literacy focuses on helping ensure that current and future seniors can make sound decisions that will contribute to their financial well-being.

Source: Financial Consumer Agency of Canada
"Version 2.0 of the Toronto Seniors Strategy continues to uphold the principles that were articulated in Version 1.0: equity, respect, inclusion, and quality of life. It commits to all seniors having equitable access to City services and programs and it also continues to focus on actions that fall within the City's jurisdictional authority to plan, manage and deliver.

As with recommendations in Version 1.0, of which 90 of the original 91 recommendations were acted upon, the City commits to providing annual public progress reports until all new Version 2.0 recommendations are addressed."

Source: City of Toronto
"The Government of Nova Scotia is leading a shift in thinking and in practice that values, promotes, and supports how older adults in all their diversity make Nova Scotia a better place for all of us. It's time to reframe the discussion about aging and build on the good news and benefits of our demographic shift. An aging population reflects advances in population health and improvements in the social and economic well-being of Nova Scotians. Older adults offer knowledge, skills, experiences, and connections that help people and communities thrive. People of all ages, including older adults, have much to contribute."

Goals:
Value the social and economic contributions of older adults
Promote healthy, active living
Support aging in place, connected to community life