Blog
Details
Released on Dec. 13, 2019


Minister of Seniors Mandate Letter

Dear Ms. Schulte:
Thank you for agreeing to serve Canadians as Minister of Seniors.
On Election Day, Canadians chose to continue moving forward. From coast to coast to coast, people chose to invest in their families and communities, create good middle class jobs and fight climate change while keeping our economy strong and growing. Canadians sent the message that they want us to work together to make progress on the issues that matter most, from making their lives more affordable and strengthening the healthcare system, to protecting the environment, keeping our communities safe and moving forward on reconciliation with Indigenous Peoples. People expect Parliamentarians to work together to deliver these results, and that's exactly what this team will do.
Details
By Pam Burns, CNPEA Board member

I was fortunate to attend the 19th Annual Diverse Voices Conference in Edmonton on November 13- 15, in 2 roles (volunteer and delegate), wearing 3 hats: Alberta Elder Abuse Awareness Council (AEAAC) Vice-Chairperson, Canadian Network for the Prevention of Elder Abuse (CNPEA) Board Member, and St. Aidan's Society Staff Member. Collaboration between the Diverse Voices Planning Committee and the AEAAC resulted in the first-ever Elder Abuse Pre-Conference. Diverse Voices is the largest Domestic Violence Conference in Western Canada, hosting approximately 630 delegates, and having elder abuse included was truly a leap forward for elder abuse awareness.
Details
PhD student Silvia Fraga Domínguez, from the Department of Law and Criminology at Royal Holloway, University of London (UK), is conducting a study looking at the experiences of people who help older adults who have been victimised (whether family, friends, or others who help older people outside of a professional context). The objective of the study is to understand the barriers these individuals encounter and how older victims of abuse can be better supported.
This study has received ethical approval and is now looking for participants. While the study is based in the UK, participants from Canada and the US are welcome. Additional information is available here: www.supportexperiences.weebly.com and the study lead can be contacted at this email address:




Details
IN-PERSON FOCUS GROUP
Housing Needs of Older 2SLGBTQ Adults



The Sharp Foundation, with the support of the Halifax Project, the Gender and Health Promotion Studies Unit, and Dalhousie University, is organizing a focus group in Calgary on November 13, 2019, at the University of Calgary School of Architecture, Planning, and Landscape.

You may be eligible to participate if you can speak English or French, live in Canada, are 55 + and self-identify as 2SLGBTQ

For details and registration email:
Details
The following is part of our project "Increasing Access to Justice for Older Adult Victims of Sexual Assault: A Capacity Building Approach", funded by the Justice Canada Victims Fund.Learn more about this project or consult the full list of resources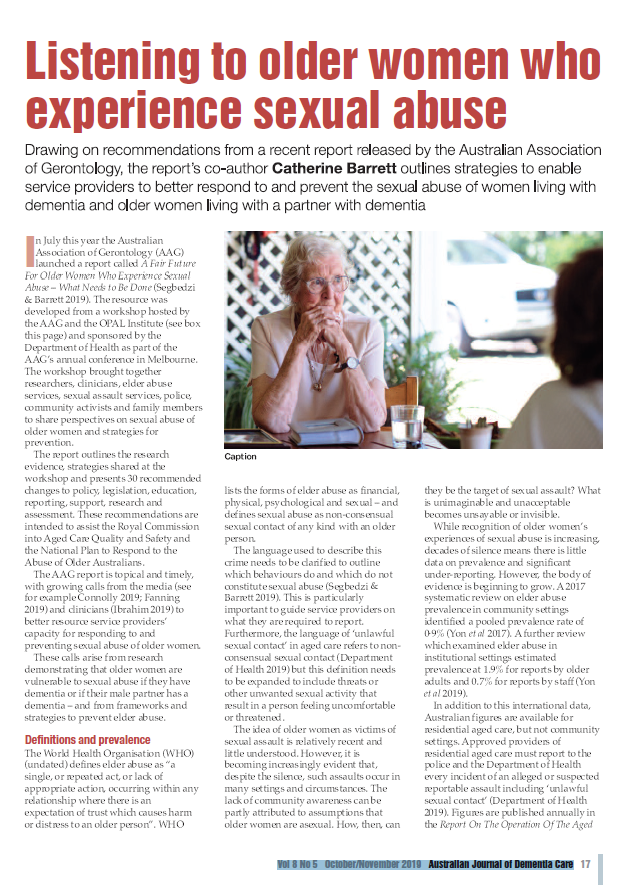 ''Drawing on recommendations from a recent report released by the Australian Association of Gerontology, the report's co-author Catherine Barrett outlines strategies to enable service providers to better respond to and prevent the sexual abuse of women living with dementia and older women living with a partner with dementia.''

Click on the image to read the full article

Source: Australian Journal of Dementia Care Vol 8 No 5 October/November 2019