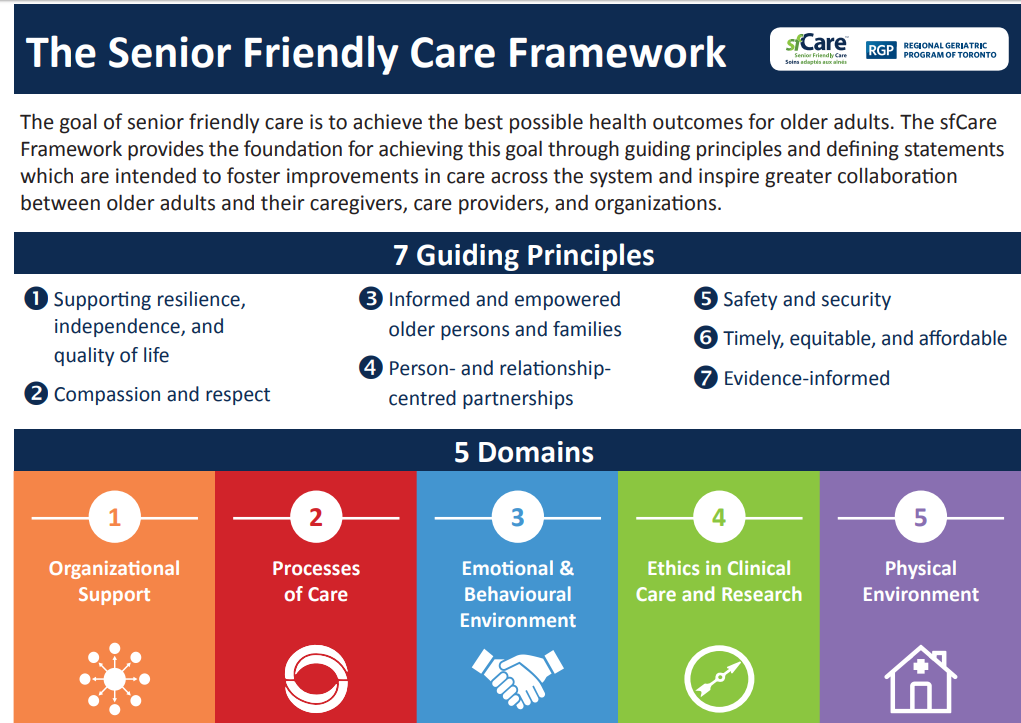 The goal of senior friendly care is to achieve the best possible health outcomes for older adults. The sfCare Framework provides the foundation for achieving this goal through guiding principles and defining statements which are intended to foster improvements in care across the system and inspire greater collaboration between older adults and their caregivers, care providers, and organizations.
See the accompanying toolkit here

Source: Regional Geriatric Program of Toronto
"The Senior Friendly Care (sfCare) Getting Started Toolkit is a companion resource to the sfCare Framework.
It helps your healthcare organization assess where they are on their sfCare journey, and provides practical resources for implementing real change. This toolkit helps answer questions like:
How do we implement the sfCare Framework?
How do we know how senior-friendly our organization is, and what can we do to improve?
How do we compare to other organizations like ours?
What is a "senior-friendly lens"?


The sfCare Framework provides a foundation for achieving the best possible outcomes for older adults. The Framework's guiding principles and defining statements collectively describe what senior friendly care looks like, but it is not a "how to guide".

The Toolkit helps bring this foundational vision to life by providing actionable recommendations and resources. The Senior Friendly Care Getting Started Toolkit includes:
Self-Assessment Tool
Implementation Resources
Intro to sfCare training
The sfCare Getting Started Toolkit will be updated regularly with new tools and resources. The most recent version of this toolkit is available at https://www.rgptoronto.ca/resources/sfcare-tools/
The following is part of our project "Increasing Access to Justice for Older Adult Victims of Sexual Assault: A Capacity Building Approach", funded by the Justice Canada Victims Fund.Learn more about this project or consult the full list of resources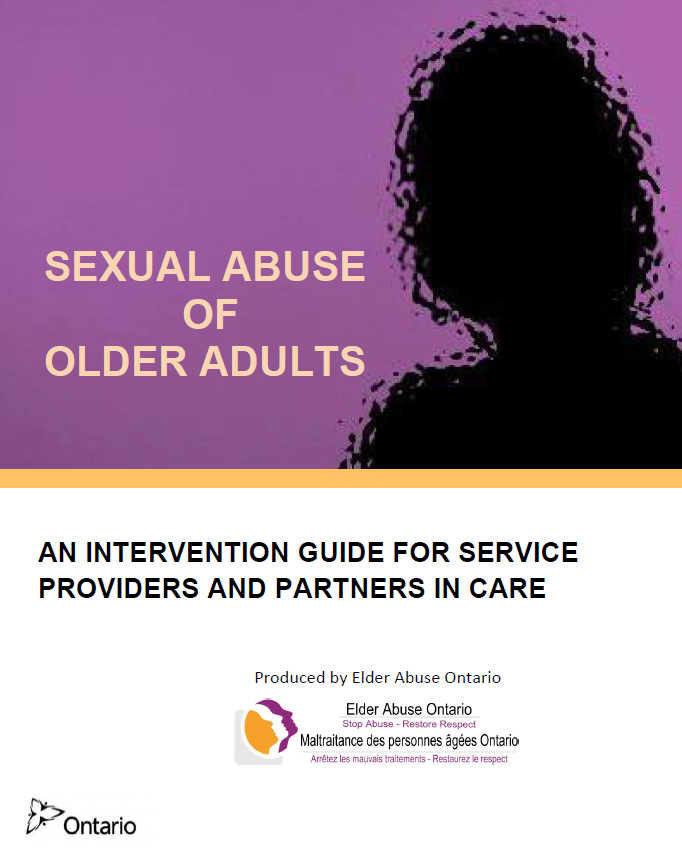 ''This module is adaptable for:
Seniors and volunteers in the community
Health-care professionals working in hospitals, community-based agencies,or individuals' homes
Retirement Homes
Long-Term care staff
Front-line responders
It includes the following:
Guiding Principles
Overview and Definition(s)
Risk factors and Warning Signs
Assessment Questions
Interview Strategy
Safety Planning
Reporting and Legislation
Case Studies – Discussion Questions, Fact Boxes, Decision-Trees to assist with navigating supports and interventions
Provincial Resources/Services

Source: Elder Abuse Ontario
"On World Health Day, April 7, 2018, Battered Women's Support Services launched the #SomeMenBreakMoreThanHearts initiative, designed to raise awareness of violence against women in intimate relationships, and provide resources to family physicians throughout B.C.
The campaign includes an information and resource kit for general practitioners throughout B.C.. It's designed to help practitioners better identify and respond to women who may be experiencing violence in an intimate relationship; and offer resources that are available to support women, including immediate safe places to go, crisis support, and ongoing counselling.
The medical community plays a key role in early detection, intervention, provision of specialized treatment and effective referral of survivors of violence in intimate relationships helping alleviate the physical, sexual and emotional consequences."

Source: Battered Women Support Services