This webinar by Seniors First BC lays out existing supports and breaks down who to reach out to when assisting older adults, utilizing the Decision Tree available on the Public Guardian and Trustee website and on this website.
Presenters
Genevieve Smith (Seniors First BC)
Alison Leaney (Public Guardian and Trustee)
Nighat Afsar (Seniors First BC, legal advocate)
Sarah Khan (Seniors First BC)
Leann Lange (Fraser Health)
Marnie Stickley (Family Services of Greater Vancouver)
The following is part of our project "Increasing Access to Justice for Older Adult Victims of Sexual Assault: A Capacity Building Approach", funded by the Justice Canada Victims Fund.Learn more about this project or consult the full list of resources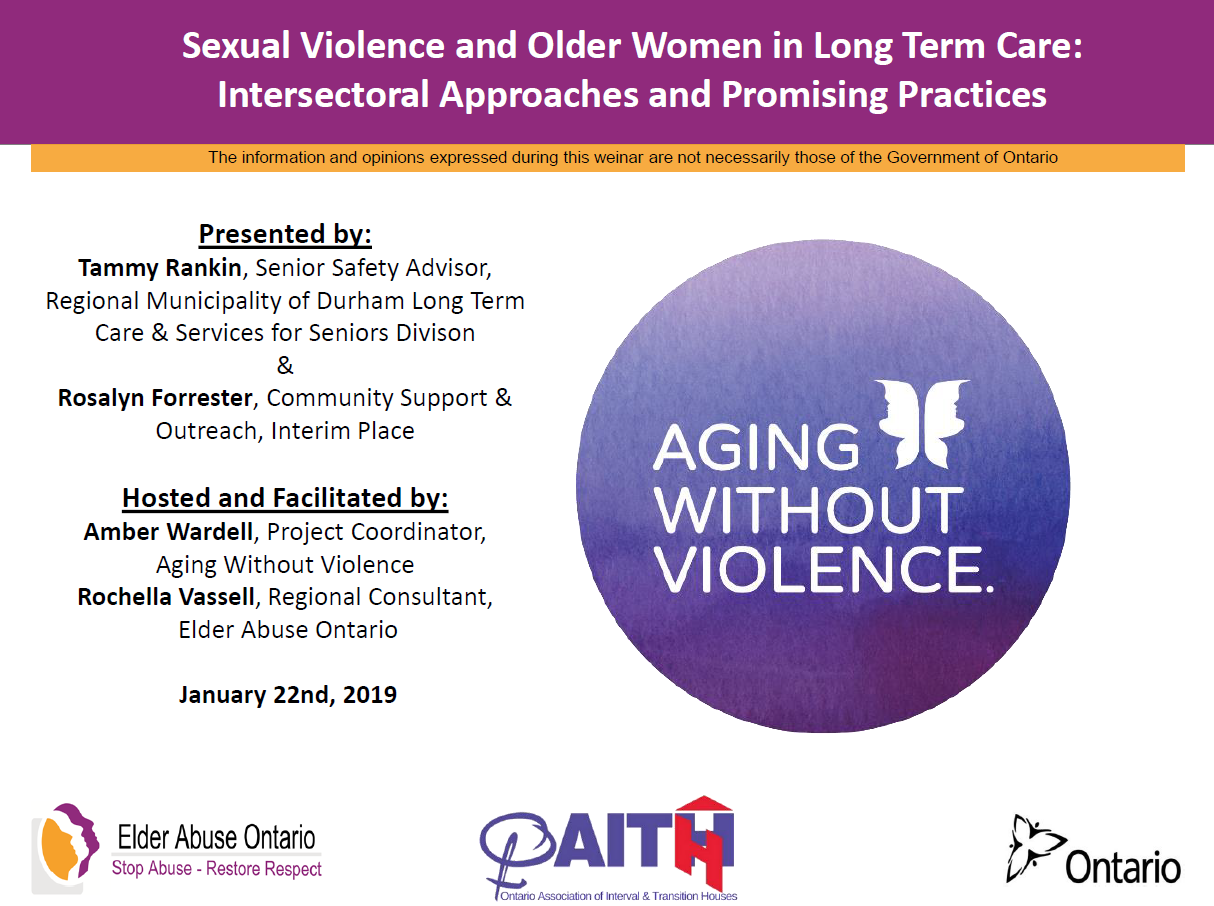 Hosted by Elder Abuse Ontario
Violence against Older Women is an increasingly growing problem not only in Ontario, but across Canada and around the world. Numerous communities are working diligently to prevent and address this issue. Through this webinar, Aging Without Violence, and OAITH in partnership with Elder Abuse Ontario present important information related to addressing violence against older women.

Video recording and French version coming soon.

Source: Elder Abuse Ontario
Presentation at Bullying Prevention StrategyThink Tank, Edmonton, AB - June 11, 2012
Gloria M. Gutman, PhD, OBC President,
International Network for Prevention of Elder Abuse & Professor Emerita and Former Director, Simon Fraser University Gerontology Research Centre and Department of Gerontology
''While most people think of bullying as something done to children by other children,bullying can be perpetrated and experienced by people of any age. This presentation focuses on senior bullying.
Settings where it occurs
Characteristics of Perpetrators and Victims
Impact on victims and bystanders
Extent of the Problem
Potential Interventions''


Source: Gloria Gutman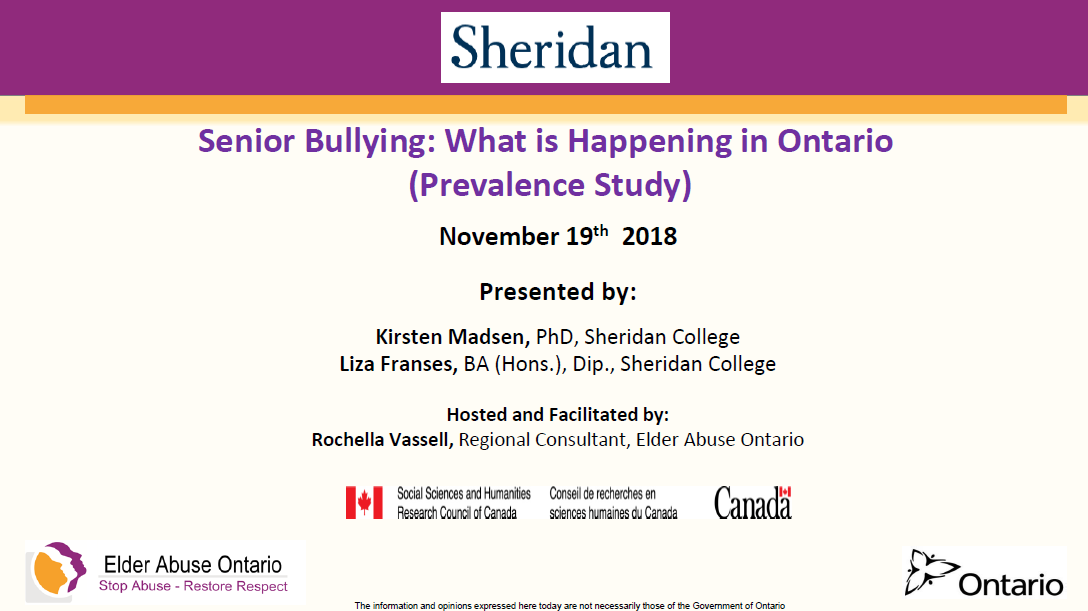 A partnership between Sheridan College & Elder Abuse Ontario to better understand what is happening in Ontario and to use this data to create a resource package outlining best practices for seniors and those working with seniors to stop bullying.
Speakers:
Dr. Kirsten Madsen, PhD, faculty member at Sheridan College.
Liza Franses, older adult advocate
Learning Objectives:
Hear first hand accounts of the important research being conducted on seniors bullying from the researchers involved in these projects.
Learn about the preliminary outcomes of the project and how to better understand this complex issue.



Source:

Elder Abuse Ontario
"Worldwide, the majority of the older adult population is women and as this population grows the issue of violence against older women will also continue to increase.
Recognizing the growing prevalence of violence against older women and lack of a full complement of available resources, a series of video learning modules on strategies to address this issue was developed by Women's College Research Institute, the Ontario Network of Sexual Assault/Domestic Violence Treatment Centres, and Elder Abuse Ontario.

The video learning modules have been designed to benefit a variety of organizations and individuals connected to violence against older women including researchers, trainees, government-decision makers, frontline healthcare professionals, family members, and the public.
The video learning modules can be viewed either as a complete series or individually, based on the video learning objectives that are most applicable, with a certificate following completion of a very short post-module survey for each module.''
The modules are as follows:
Competing Frameworks of Elder Abuse and Violence Against Women
Activism and Advocacy for Bringing About Change for Abused Older Women
Promising Practices for Responding to Older Women who have Experienced Violence
Public Awareness and Community Mobilization to Address Domestic Violence in Older Women
Building Partnerships Across the Violence Against Women and Elder Abuse Sectors