Funded by New Horizons for Seniors (Employment and Social Development Canada) and with the help of experts from Prevent Elder Abuse Manitoba, this program is designed for credit union employees. It provides an "in-depth look at how older members can become victims of financial abuse by family members, trusted friends or caregivers. True-to-life video scenarios show examples of how the credit union can help.
The training program will increase your ability to recognize financial abuse, review your options and respond in constructive ways. The course, developed by Tamlo International Inc., explores topics based on abuse of assets, credit and Power of Attorney. It ends with a short test and includes downloadable reference material as well as links to federal, provincial and local services."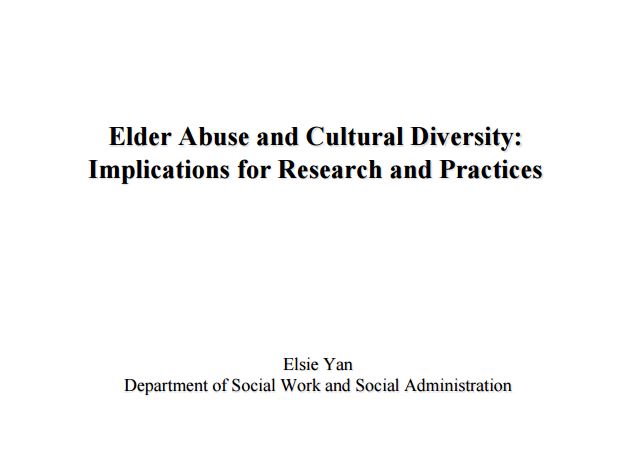 Presentation slides by Elsie Yan, Department of social work and administration, Hong Kong University.
Presented at the International Network for the Prevention of Elder Abuse conference, June 1st 2014
Powerpoint presentation slides, by Gloria Gutman, PhD, OBC, | President, International Network for Prevention of Elder Abuse & Professor Emerita and Former Director, Simon Fraser University Gerontology Research Centre and Dept of Gerontology
Presented at the INPEA 8th World Conference and WEAAD commemoration, Seoul, Korea June 23, 2013

"The Respect Aging training materials are used to educate and train various target audiences to support them in recognizing, preventing and intervening in violence against older persons. These training materials are meant to raise awareness and provide information, resources, and tools for anyone who interacts with older persons affected by violence or most likely to experience violence."
Source: Respect Aging - Preventing Violence Against Older Persons