Webinars

Coordinating responses to elder abuse, neglect and self-neglect within the framework of the law and social support services.

Tue, 6 November 2018
10:00 AM – 12:00 PM PST
Elder Abuse Ontario presents:
Elder Abuse: Response Strategies for PSW's
Wednesday, August 29th, 2018
1:30 PM to 3:00 PM EST


Whether they work in regulated or community-based sectors, Personal Support Workers play an incredibly important role in the prevention and intervention of elder abuse. Regularly interacting with their clientèle, PSW's get a glimpse into a person's life like no other service provider can. They are ideally positioned to not only recognize the signs of abuse but to also take action and ensure that people get the support and education needed to mitigate further incidents of mistreatment.

INTERSECTIONALITY IN INFORMED DECISION MAKING
When
July 19, 2018
1 PM Atlantic time

PLEASE NOTE THIS WEBINAR WILL TAKE PLACE ENTIRELY IN FRENCH. NO ENGLISH TRANSLATION WILL BE OFFERED AT THIS TIME.

The Muriel McQueen Fergusson Centre for Family Violence Research (New Brunswick) will be hosting an hour-long webinar in French on July 19th, 2018 to discuss intimate partner violence against older women.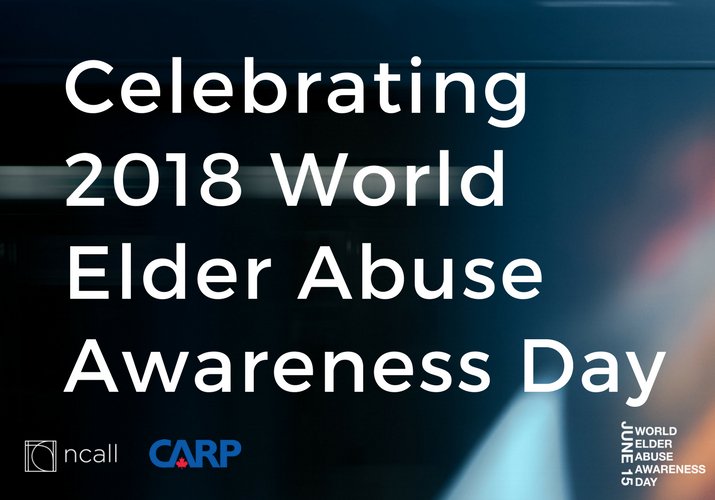 ''On June 7, 2018, NCALL and the Canadian Association of Retired Persons (CARP) hosted a 90-minute webinar in recognition of World Elder Abuse Awareness Day.

This webinar featured a 50-minute international conversation between Bonnie Brandl (United States), Dr. Jane Mears (Australia), Bridget Penhale (United Kingdom), and Laura Tamblyn Watts (Canada), as well as a discussion of new work, resources, and funding opportunities. Use the links below to access the full 90-minute webinar recording and its resource materials. You can also view the 50-minute international conversation alone by choosing the corresponding link below.

Source: NCALL
Date & Time:
Wednesday, June 13, 2018 at 2:00PM ET

Speakers:
Krista James, National Director of the Canadian Centre for Elder Law
Valerie Le Blanc, Staff Lawyer, British Columbia Law Institute

Register here
Description: In recognition of World Elder Abuse Awareness Day, The Canadian Centre for Elder Law (CCEL) will provide a snapshot of laws across the country relevant to elder abuse. CCEL will address ethical issues relevant to responding to abuse, and help webinar participants identify key resources to support older adults.