Webinars

INTERSECTIONALITY IN INFORMED DECISION MAKING
When
July 19, 2018
1 PM Atlantic time

PLEASE NOTE THIS WEBINAR WILL TAKE PLACE ENTIRELY IN FRENCH. NO ENGLISH TRANSLATION WILL BE OFFERED AT THIS TIME.

The Muriel McQueen Fergusson Centre for Family Violence Research (New Brunswick) will be hosting an hour-long webinar in French on July 19th, 2018 to discuss intimate partner violence against older women.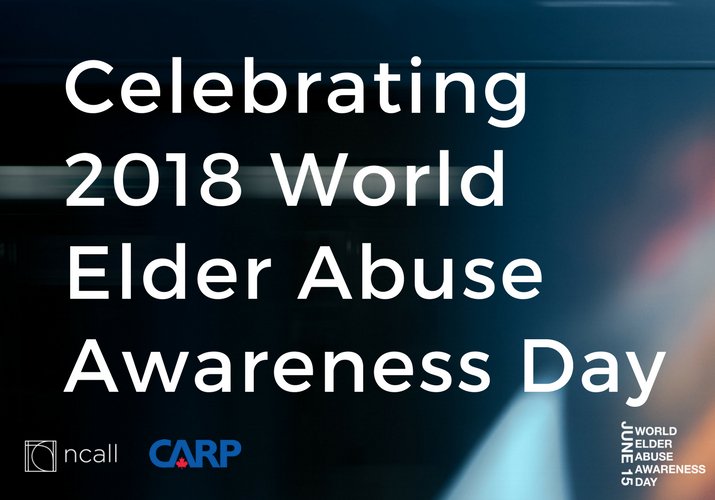 ''On June 7, 2018, NCALL and the Canadian Association of Retired Persons (CARP) hosted a 90-minute webinar in recognition of World Elder Abuse Awareness Day.

This webinar featured a 50-minute international conversation between Bonnie Brandl (United States), Dr. Jane Mears (Australia), Bridget Penhale (United Kingdom), and Laura Tamblyn Watts (Canada), as well as a discussion of new work, resources, and funding opportunities. Use the links below to access the full 90-minute webinar recording and its resource materials. You can also view the 50-minute international conversation alone by choosing the corresponding link below.

Source: NCALL
Date & Time:
Wednesday, June 13, 2018 at 2:00PM ET

Speakers:
Krista James, National Director of the Canadian Centre for Elder Law
Valerie Le Blanc, Staff Lawyer, British Columbia Law Institute

Register here
Description: In recognition of World Elder Abuse Awareness Day, The Canadian Centre for Elder Law (CCEL) will provide a snapshot of laws across the country relevant to elder abuse. CCEL will address ethical issues relevant to responding to abuse, and help webinar participants identify key resources to support older adults.
When:
Monday, July 9th, 2018
11:00 AM to 12:30 PM EST

Fee: $15

Register to save your space today!
Learning Objectives:
Understand the role of the OPGT
Learn about the Guardianship Investigation Unit
Obtain information on the process of reporting elder abuse


Monday April 16th, 2017
11:00 AM - 12:30 PM (ET)

Hosted by Elder Abuse Ontario

Presenters
Laura Tamblyn Watts,
LLB Senior Fellow, Canadian Centre for Elder Law, BC Law Institute
Marian Passmore
Director of Policy and COO - FAIR Canada
Registration: $15
Register here
"Elder investors - vulnerable investors- persons with fluctuating or diminished mental capacity and adults are subject to undue influence or financial exploitation.
Financial Advisors and the investment industry are key players in the detecting and reporting of elder financial abuse, and other forms of undue influence or abuse. But as the law stands, these financial planners and investment advisors cannot reach out about their concerns without breaching privacy law.
This webinar will raise awareness of these concerns, and provide recommendations the investment industry can take to create positive steps to address these issues.The speakers will highlight their recommendations on training, standardized conduct protocols, reporting, privacy, liability protection, and awareness raising.
Join this dynamic and interactive webinar, as part of Vulnerable Investor and Safe Harbour Project between FAIR Canada and the Canadian Centre for Elder Law."