Webinars

Speaker
Cameron Field, BAA, MSc
Detective Sergeant, Section Head of Investigative Training, Toronto Police Service/Toronto Police College
Learning Objectives
The types of fraud on the internet
Identify what makes seniors unique when it comes to cyber fraud
Awareness of government surveys that measure seniors use of the internet
Awareness of types of fraud prevention and what actually works
Finding unique comfort levels when using the internet


When
Tuesday, November 8th, 2016 11:00 AM - 12:30 PM EDT
Where :This event will be held via GoToWebinar format. Once the registration process is completed, a link to complete registration via GotoWebinar will be sent to the participant.
Contact
Rochella Vassell
Elder Abuse Ontario
416-916-6728 ext 225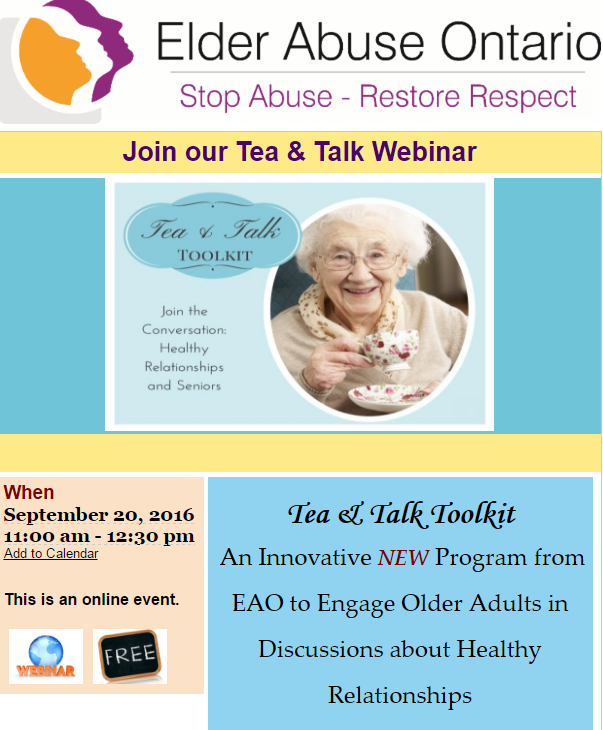 Tea & Talk Toolkit
An Innovative NEW Program from EAO to Engage Older Adults in Discussions about Healthy Relationships

September 20th, 2016
11am EDT
Free Webinar
Register here

When
Tuesday July 5th 2016
11:00 am-12:30 pm ET
Free webinar via GotoWebinar
Presenters:
Marlene Ham: Provincial Coordinator, Ontario Association of Interval and Transitional Houses
Amber Wardell: Coordinator for the Justice for Women Review Team, Haldimand-Norfolk Women's services

Learning Objectives:
The role of interval and transitional Homes in Ontario
Supporting older women in our shelter system
Innovative programs and services being offered by Haldimand-Norfolk Women's Services

Register here
(Once the registration process is completed, an email with a link to GotoWebinar will be sent. Please complete registration using the link above.)


Contact
If you have any questions about the event or how to register, please contact Rochella Vassell:
416-916-6728

May 17th, 2016 | 12:00 - 1:00 PM EST


Join Jane Meadus for a webinar on consent in LTC - Issues of Detention and Restraint.
Jane is a staff lawyer and the Institutional Advocate at Advocacy Centre for the Elderly (ACE). She represents clients in long-term care homes, hospitals, psychiatric facilities and care homes (retirement homes) with respect to related legal issues.
Jane has a B.A. Anthropology from McMaster University, an LL.B. from the University of Ottawa and was called to the bar in Ontario in 1993. Jane practiced in the private bar until joining the Advocacy Centre for the Elderly in 1995.

Jane is the author of Chapter 9: Medical Issues, Housing Costs and Special Care Arrangements: Practical Considerations in the loose-leaf service Financial & Estate Planning for the Mature Client. She is a contributing author to Long-Term Care Facilities in Ontario: The Advocate's Manual published by the ACE. Jane is a regular speaker at educational seminars and before various groups. Jane is a Distinguished Fellow of the Canadian Centre for Elder Law Studies.
If the registration link above does not work, please copy and paste the following into your web browser:
http://bxcconsent.eventbrite.com

We ask that you only register for this event if you are certain you can attend, we also encourage participants joining from the same location or organization to share a computer, as space is limited. Thank you.


Connection Details: Technical Requirements
*You will receive an email confirmation shortly after registration, which will include an online link and audio information.
*Visual Support -- The presentation will be accessible via an internet connection. This connection can be any web-enabled laptop or desktop computer of your choice.
Audio support -- Audio support for the presentation will be provided through your computer or telephone via a toll-free line.

When
Tuesday May 24th & Tuesday May 31st, 2016
From 12pm to 1pm (Pacific Time)

Registration
Space in the webinar is limited to 100 people.
Please register now at https://attendee.gotowebinar.com/register/1678353196952104195
Summary
Elder abuse and violence against women aren't separate issues, and we believe that they must not be separate conversations. That's why West Coast LEAF (Women's Legal Education and Action Fund) and the Canadian Centre for Elder Law are offering a free webinar for front-line service providers to explore the legal challenges that are most likely to impact older women in BC who have experienced violence.