Brochures and Factsheets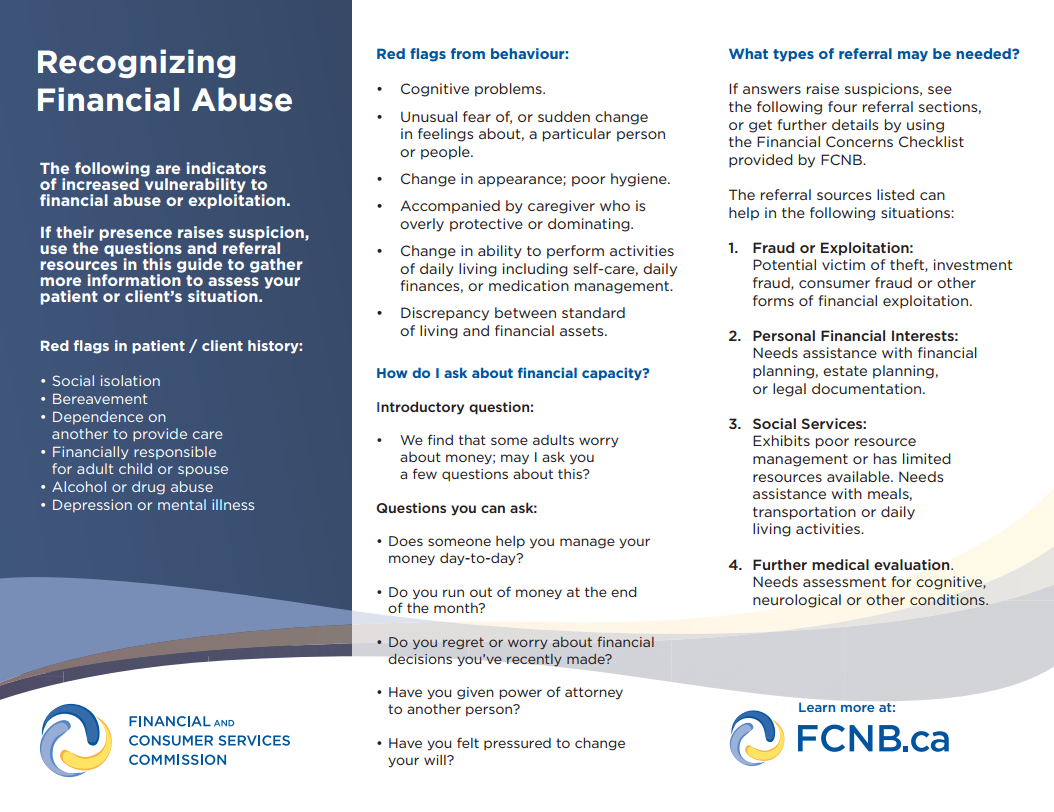 ''This brochure helps families and caregivers recognize red flags of financial abuse and take the next step to report and stop the abuse.''

Find more resources on the FCNB's Finances 50+ section: https://finances50plus.fcnb.ca/en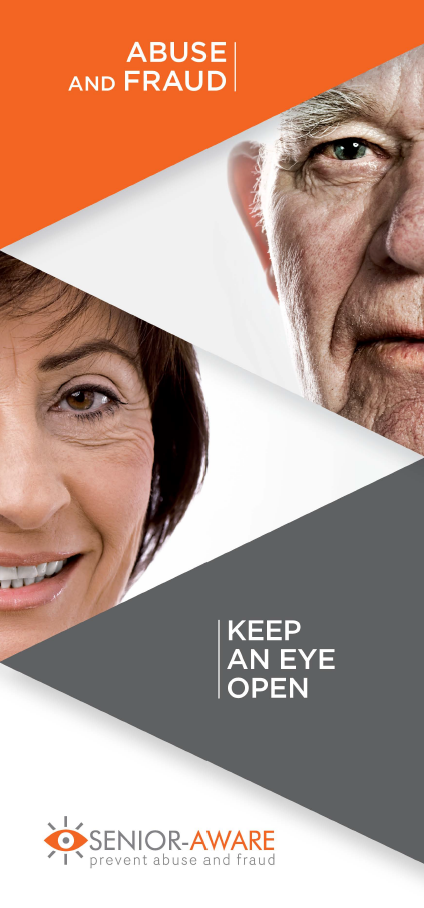 "The Senior Aware program is a tool to sensitize seniors, professionals and the general public to the abuse and fraud to which seniors may be subjected. Through information sessions, police officers, professionals and senior volunteers provide a complete portrait of the kinds of abuse and fraud that affect seniors in particular, as well as advice to help prevent them.
The Senior Aware program is the result of a cooperative effort of three organizations directly involved with seniors and the prevention of fraud and abuse. The Réseau FADOQ, the Sûreté du Québec and the University-affiliated Centre of social gerontology of West-Central Montreal Health have combined their expertise to offer senior citizens information sessions that provide targeted audiences with a wide range of practical advice.
FADOQ, Sûreté du Québec and University-affiliated centre of social gerontology of West-Central Montreal Health have put together a Provincial Advisory Committee composed of experts against Fraud and Abuse in order to complement and enrich the content of the various tools of the Program.

Source: Fadoq - Senior-Aware - Prevent Abuse and Fraud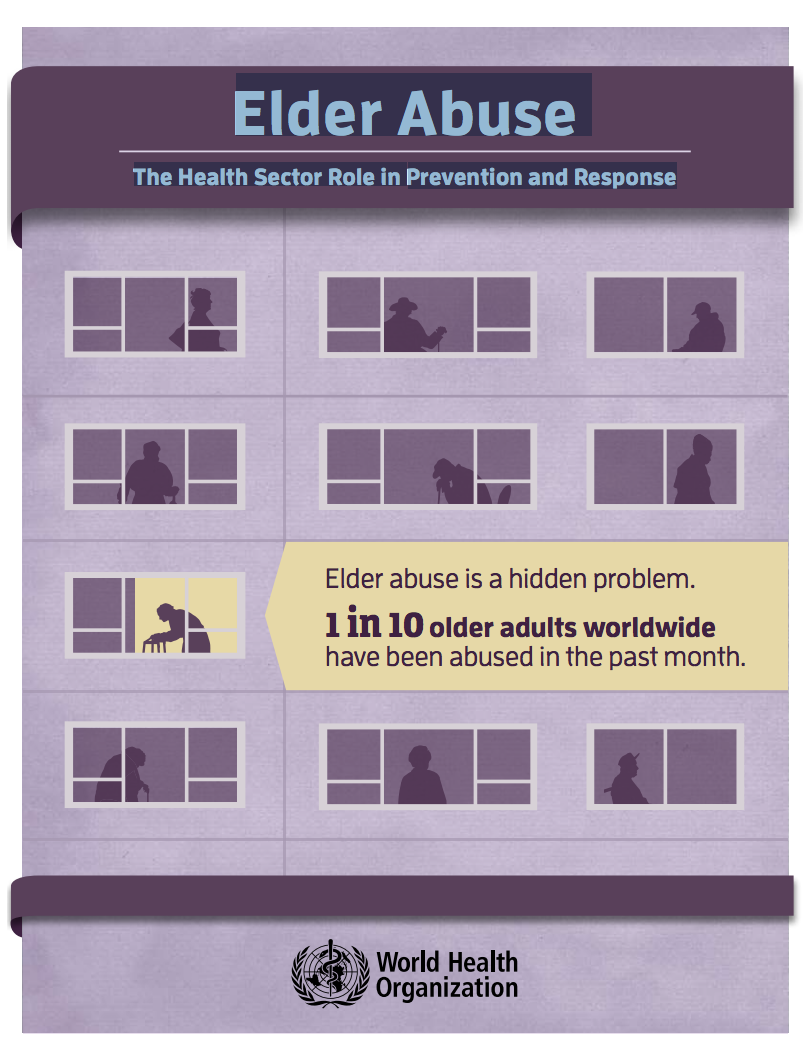 "On the occasion of Elder Abuse Awareness Day 2016, the World Health Organization is launching a new infographic on the issue which highlights the magnitude of the problem and known prevention strategies."

Source: World Health Organization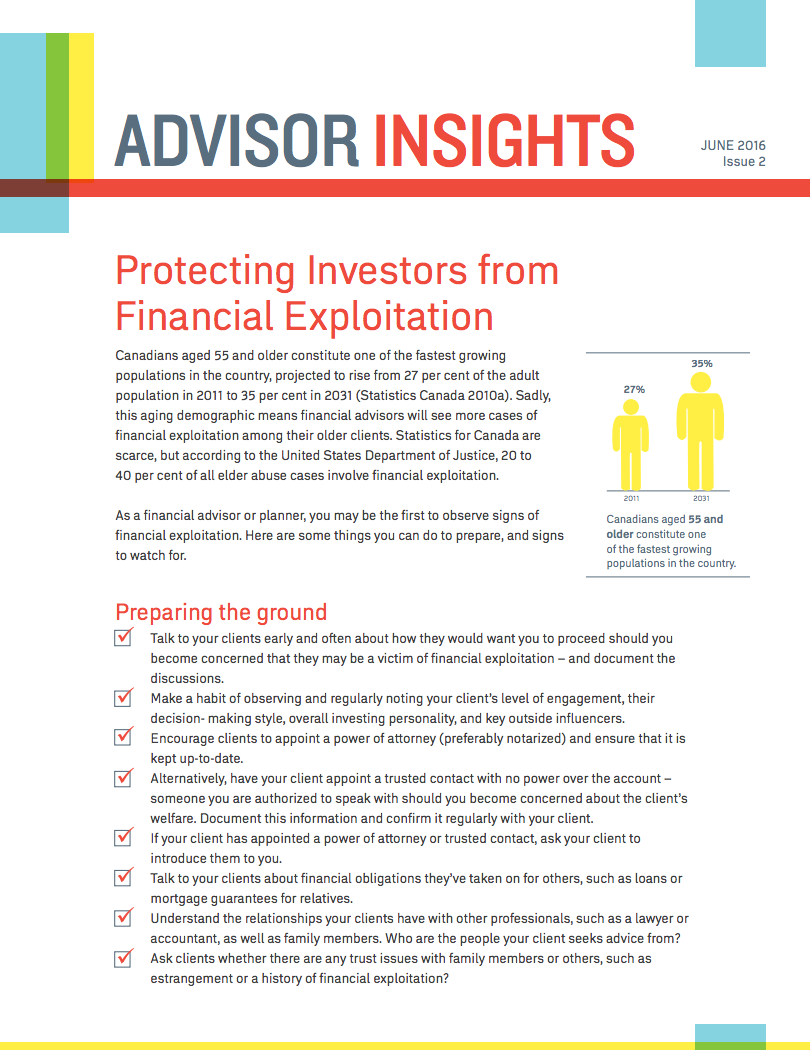 "The checklists are the first in a series of tools on cognitive decline and financial exploitation that are being developed by the task force. They are written in plain language and grouped into three sections:


"In a unique inter-generational project, that brought together queer youth ("Youth for a Change") with queer senior citizen creative writers ("Quirk-e"), Gloria Gutman and her team from Simon Fraser University's Gerontology Research Centre created a set of videos, posters and fact sheets designed to raise awareness and address elder abuse in the LGBTQ community."