Practice Tools
"The BC Centre for Elder Advocacy and Support (BCCEAS) is proud to present our Clicklaw Wikibook, Legal Issues in Residential Care: An Advocate's Manual, an online guide to legal issues with regard to residential care in British Columbia, and the processes and solutions needed to deal with them. This e-book is primarily meant for legal and health care professionals working to support people in residential care, as well as the BCCEAS legal team."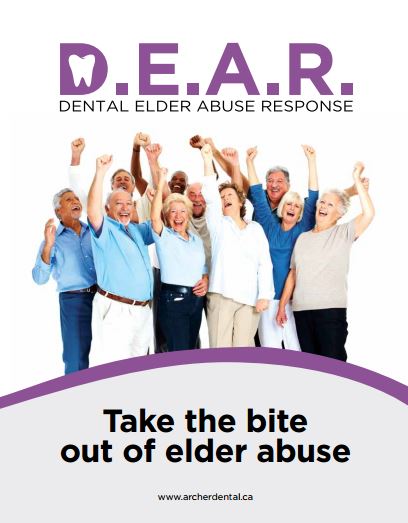 "The Dental Elder Abuse Response (D.E.A.R.) Project is a joint pilot project of Archer Dental(West Toronto), the Canadian Centre for Elder Law (CCEL), and the National Initiative for Care of the Elderly (Dental Theme Team). This project is creating the first materials in Canada which link dentists, caregivers and older adults together on issues of abuse and neglect. Working with dentists, hygienists, seniors, caregivers and community organizations, the D.E.A.R. Project is "Taking the Bite out of Elder Abuse". Its senior peer-trained workshops, online videos, helpful brochures and checklists provide practical, evidence-based and expert hands-on material to recognize and prevent dental elder abuse and neglect. These materials also help to start the conversation about advance care planning related to dental issues."
For more information, please see the National Initiative for the Care of the Elderly or the Canadian Centre for Elder Law.
To download all materials for free, please see Archer Dental.
"This desktop reference tool will help service providers to identify and support victims of elder abuse. Recognizing a professional's busy workload, Looking Beyond the Hurt provides a concise overview of the indicators of elder abuse, relevant legislation, and regional resources for seniors. This Guide is the first of its kind in Newfoundland and Labrador and has the support of the RCMP, the RNC, and 13 professional health organizations and schools. To download a free pdf version of the Guide click on the link below. Viewing this document requires Adobe Reader® Hard copies of this guide are available for $10 (plus shipping) from the Seniors Resource Centre NL. To order a copy, email: or call 1-800-563-5599."
Source: Newfoundland and Labrador Network for the Prevention of Elder Abuse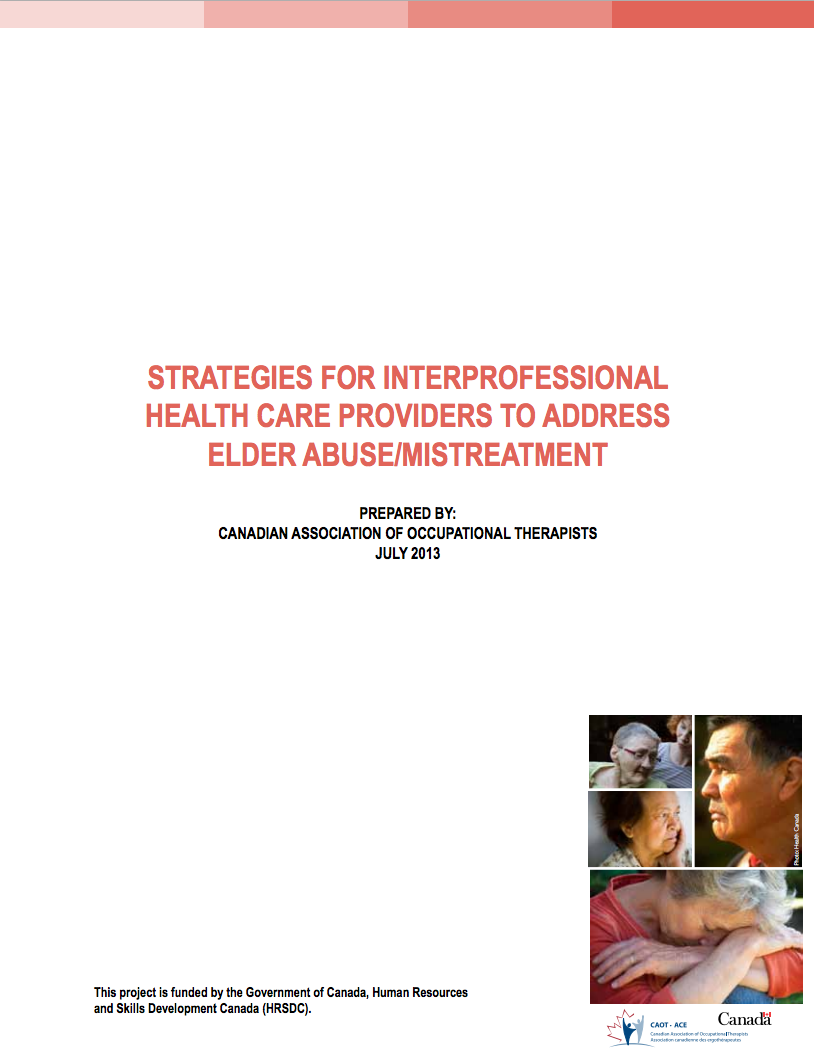 "Because they are frequently in close contact with clients and families, health care providers are often in a position to be entrusted with information about abuse/mistreatment of elders. This inter-professional project started with, occupational therapists who felt they needed more information on their responsibilities in such instances and on potential strategies for intervention and came to the Canadian Association of Occupational Therapists (CAOT), their national professional association for advice.Building on the Strategies for occupational therapists to address elder abuse/mistreatment, this project aims to develop a curriculum for health care providers to learn about indicators of elder abuse, prevention, assessment and intervention protocols, relevant legislation and available resources. The curriculum will be delivered in face- face workshops (with teleconference/video link option for those remote) in various regions across Canada. The expected outcome of the training workshops is to have participants knowledgeable and skilled to deliver interdisciplinary educational sessions in their regions. CAOT is proud to be a leader in building capacity for managing situations of elder abuse and to share this information with other health care professionals across Canada."

Source: Canadian Association of Occupational Therapists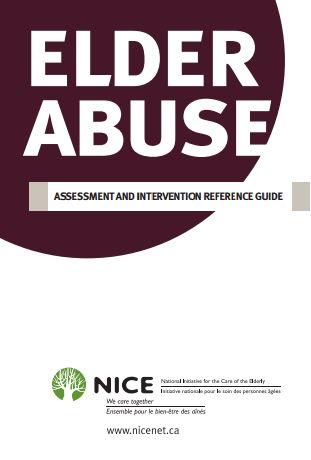 "This tool is considered to be a promising approach based on front-line practice experience. It is an adaptation of the original that was developed in collaboration with the Hamilton Police Service, Hamilton Council Against Abuse of Older Persons, McMaster Centre for Gerontological Studies and Hamilton area hospitals. This information prepared in conjunction with the Hamilton Police, Advocacy Centre for the Elderly, Council Against Abuse of Older Persons, the Government of Canada's Networks of Centre of Excellence and Human Resources and Skills Development Canada (HRSDC), and NICE."