Practice Tools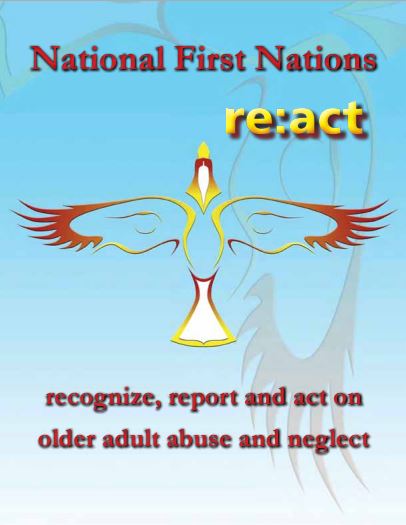 "This manual has been produced to assist educators, facilitators, Community Health and Human Service Workers, First Nation Community Members, Health Authority Staff, Community Response Network (CRN) Members and a wide range of adult learners to understand the complex dynamic of abuse, neglect and self-neglect of vulnerable adults and older adults in First Nations communities, and to learn the roles and responsibilities of:
• Community Health and Human Service Workers
• Designated Agencies (Health Authorities, Adult Protection Services)
• Community Response Networks (CRN's)
• Police & Victim Services
• Public Guardian & Trustee Offices"
Source: Vancouver Coastal Health
"The Caregiver Abuse Screen (CASE) is a screening measure for detecting abuse of seniors. It is intended for use with all clients who are caregivers of seniors, whether or not abuse is suspected. The "Yes" responses on each of the eight CASE items may stimulate discussion that reveals abuse and/or neglect that might otherwise have gone undetected. In addition to indicating current abuse by caregivers, caregiver responses to CASE may be indicative of tendencies and stresses that could lead to possible abuse in the future. In such cases, a proactive approach to intervention may help prevent the development of abuse. Interpretation: After a caregiver completes the entire screen, the "Yes" responses are tallied; the more "Yes" responses, the more likely the presence of abuse. Each "Yes" response should also be probed for clinical information. To further assess the situation, the worker should ask the caregiver to explain his or her answer."
"The Indicators of Abuse (IOA) checklist signals mistreatment of seniors. The IOA (pronounced Iowa) also helps sensitize the practitioner to important abuse issues. The IOA is practical for busy practitioners and useful in training intervenors and volunteers in cases of abuse to recognize the signs of abuse. The IOA is a summary of abuse high-risk signals. It is not, however, a substitute for becoming knowledgeable about abuse signs through education."
The following is part of our project "Increasing Access to Justice for Older Adult Victims of Sexual Assault: A Capacity Building Approach", funded by the Justice Canada Victims Fund.Learn more about this project or consult the full list of resources
"This guide thoroughly investigates the complexity of the topic [sexual violence in later life] and includes information on signs and symptoms, special issues facing older victims, and primary prevention techniques. This packet was developed by Holly Ramsey-Klawsnik, Phd, in conjunction with the National Sexual Violence Resource Center. The packet includes a fact sheet, technical assistance bulletin, technical assistance guide, resource list, annotated bibliography, research brief, and an online collection."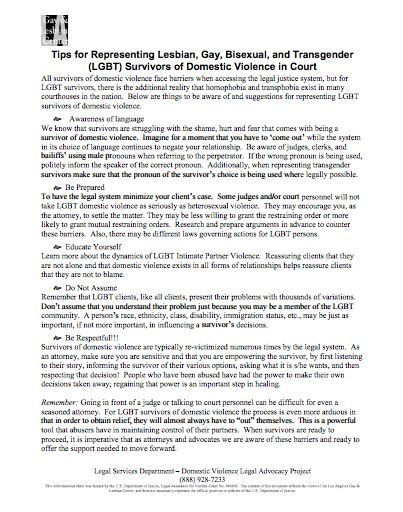 "Some judges and/or court personnel will not take LGBT domestic violence as seriously as heterosexual violence. They may encourage you, as the attorney, to settle the matter. They may be less willing to grant the restraining order or more likely to grant mutual restraining orders. Research and prepare arguments in advance to counter these barriers. Also, there may be different laws governing actions for LGBT persons.
This is a short tip sheet for attorneys working with LGBT domestic violence cases."
Source: Legal Services Department – Domestic Violence Legal Advocacy Project (USA); National Resource Center on LGBT Aging (USA)