Practice Tools
The following is part of our project "Increasing Access to Justice for Older Adult Victims of Sexual Assault: A Capacity Building Approach", funded by the Justice Canada Victims Fund.Learn more about this project or consult the full list of resources
"This guide thoroughly investigates the complexity of the topic [sexual violence in later life] and includes information on signs and symptoms, special issues facing older victims, and primary prevention techniques. This packet was developed by Holly Ramsey-Klawsnik, Phd, in conjunction with the National Sexual Violence Resource Center. The packet includes a fact sheet, technical assistance bulletin, technical assistance guide, resource list, annotated bibliography, research brief, and an online collection."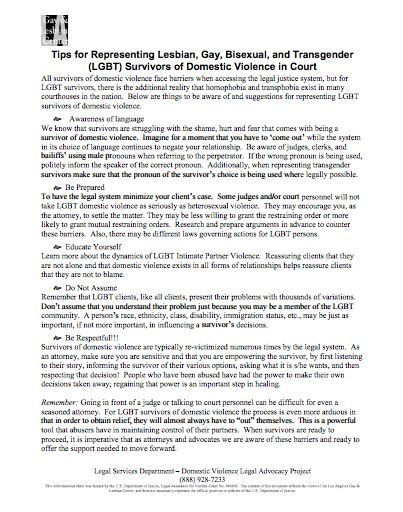 "Some judges and/or court personnel will not take LGBT domestic violence as seriously as heterosexual violence. They may encourage you, as the attorney, to settle the matter. They may be less willing to grant the restraining order or more likely to grant mutual restraining orders. Research and prepare arguments in advance to counter these barriers. Also, there may be different laws governing actions for LGBT persons.
This is a short tip sheet for attorneys working with LGBT domestic violence cases."
Source: Legal Services Department – Domestic Violence Legal Advocacy Project (USA); National Resource Center on LGBT Aging (USA)
"This national curriculum is an adaptation of a Manitoba initiative. There are a series of 21 lessons for children aged 8-13, school, home or community based. The goal of the curriculum is to bring greater awareness to the issues of ageing, greater respect for individuals, particularly older adults, and to encourage on-going community based projects across the generations.
The Tool Kit gives eight excellent 'tricks of the trade' with exemplars for involving all of the individuals within the group.
Here is a unique opportunity to have teens that have participated in the Elder Abuse Awareness Teen Kit, to assist in teaching the Across the Generations lessons. Intergenerational mentorship at its best!"
To access the toolkit in English and French, please click the link below.
Source: i2i Intergenerational Society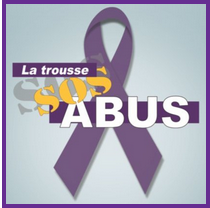 The SOS Abuse Kit was created by the Association québécoise de défense des droits des personnes retraitées et préretraitées, it contains a prevention, screening, intervention and training tool kit relating to the issue of elder abuse and it is meant for local senior organizations and for a variety of stakeholders across Québec.

The SOS Abuse Kit is a collection of tools that have been selected by the executive committee of the project. Most of these tools have been identified in all 17 administrative regions of Quebec by visiting the regions in 2009 and sending questionnaires to the various organizations concerned with the problem of elder abuse.

Wherever you may be in Québec you can get access to an SOS Abuse kit. You will find all the necesary tools to intervene and assist elder abuse victims appropriately.
"Through a literature review and web-based search, 8 regional teleconferences and an in-person focus group, this project was designed to identify relevant principles, screening and intervention tools and approaches and prevention strategies being used in First Nations communities to address/prevent abuse of older adults. While the project was focused on gathering approaches and tools to assist First Nations older adults who are abused, on or off reserve, as opposed to all aboriginal peoples (Inuit and Métis) frequently the term "aboriginal" is used because there has been so little research done with regard to First Nations older adults generally, or abuse of First Nations older adults more specifically. Including more references, approaches and tools that are at least aboriginal if not specifically First Nations, seemed desirable."