"In this 2019 World Alzheimer Report, we revisit attitudesto dementia and stigma to better understand the role they play and to set a baseline against which we can gauge future changes. This report details the scale of the challenge we face where attitudes to dementia, and specifically stigma, are still a major barrier to people seeking out information, help, advice, support and even a diagnosis; preventing or delaying people from putting plans in place; progressing to a stage of acceptance and being able to adjust to live with dementia. Stigma may be overt; in some countries it is still associated with witchcraft resulting in people being restrained and isolated. Or it can be more subtle; even in countries with national dementia plans and profile awareness campaigns, many people still delay seeking help when they first become aware that something is wrong."
''The Canadian Femicide Observatory for Justice and Accountability (CFOJA) is the sole Canadian initiative responding to the United Nations call to establish femicide observatories to more compreensively and accurately document gender-related killings of women and girls or 'femicide'. The CFOJA mandate is to establish a visible and national focus on femicide in Canada by (1) documenting femicides as they occur in Canada; and (2) monitoring state, legal and social responses to these killings. This is the CFOJA's second annual #CallItFemicide report, focusing on women and girls killed by violence in Canada from January 1 to November 30, 2019.

Contents:
Section 1: The Growing Global Fem(in)icide Movement
Section 2: Patterns in Women and Girls killed by violence in Canada
Section 3: Identifying Gender-Relates Motives and Indicators for Femicide
Section 4: Current and Emerging Research and Data Priorities for Femicide Prevention
Section 5: Remembering Women and Girls Killed by Violence 2019


See the 2018 report

Source: Canadian Femicide Observatory for Justice and Accountability
Collaboration between the AFO and the Fédération des aînés et des retraités francophones de l'Ontario (FARFO) made it possible to develop the present White Paper on Ontario's Aging Francophone Population.(...)The goals of the process were as follows:
To provide the Franco-Ontarian community with an understanding of the current situation,strategic issues and measures to be taken to ensure the implementation of winning strategies for Ontario's aging Francophone population;
Stimulate strategic thinking to raise awareness and engage in substantive dialogue with political and governmental decision-makers;
Define the steps required to implement concrete changes and mobilize all the necessary community resources.
The purpose of this report is to inform policy reflection by providing information regarding how well older Canadians are served for the purposes of aging in place and community, by the home and community support services currently available. This will be achieved by:

1. Describing the home care services, home supports and financial supports that help older adults age in place, as well as the roles and responsibilities of the federal, provincial and territorial governments in delivering them.

2. Determining how the needs of Canadians older adults aging in place are being met by identifying gaps, challenges, trends, best practices and innovative approaches in the provision of these supports.

3. Identifying best practices and innovative approaches used in Canada and internationally.

Source:Employment and Social Development Canada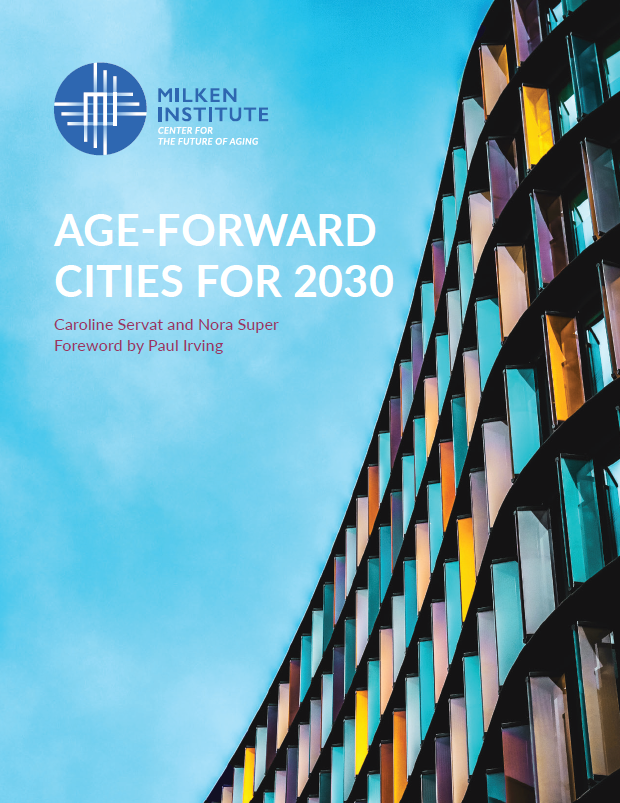 ''By 2030, about three out of every five people across the globe will live in cities, and older adults will generate over half of all urban consumption growth in developed countries. Artificial intelligence, robotics, and automation will displace millions of workers at a time when an increasing number of older adults need and want to remain in jobs longer. . Caregiving needs and a shortage of direct care workers will challenge communities across the world. Climate change will elevate the risks of natural disasters that disproportionately threaten older populations.

The United Nations 2030 Agenda for Sustainable Development seeks to define new goals for people, the planet, and prosperity, and the World Health Organization (WHO) declared this the "Decade of Healthy Ageing."

Against this backdrop, Age-Forward2030 challenges cities and communities to prepare for a new era of economic growth, inclusion, and resiliency. It seeks to meet city leaders where they are today and implores them to focus on the realities of tomorrow. It is a call to action to create a better future for all residents, investing in solutions that deploy the human and social capital of older adults as community assets, change agents, and co-creators.
Our goals? We seek to highlight new ideas and best practices and to galvanize conversation and action to promote shared prosperity. We want to be a resource to those building cities and communities that are vibrant, inclusive places to live for all ages. We hope that Age-Forward2030 will inspire action and change.''

Source: Milken Institute - Center for the Future of Aging