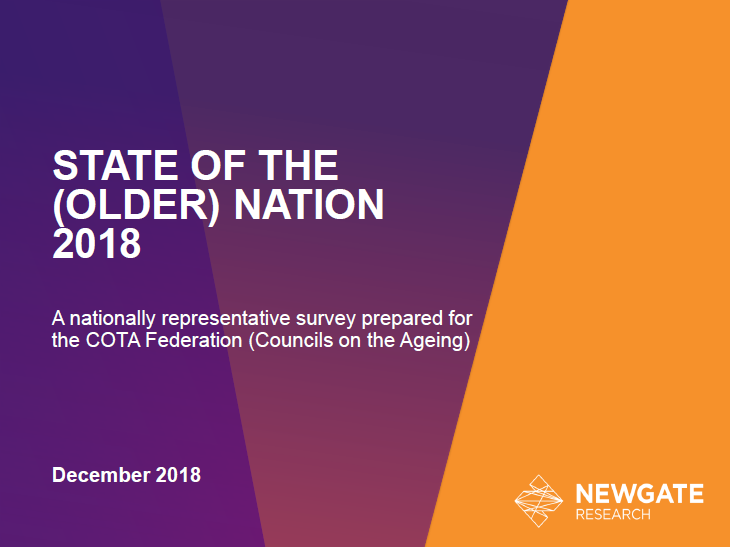 A snapshot of life experiences and attitudes of Australians aged 50 and over

''This research was commissioned by the Federation of nine Councils on the Ageing (COTA) across Australia – including all eight COTA state and territory organisations and COTA Australia – in order to understand the views, life experiences and needs of Australians aged 50+.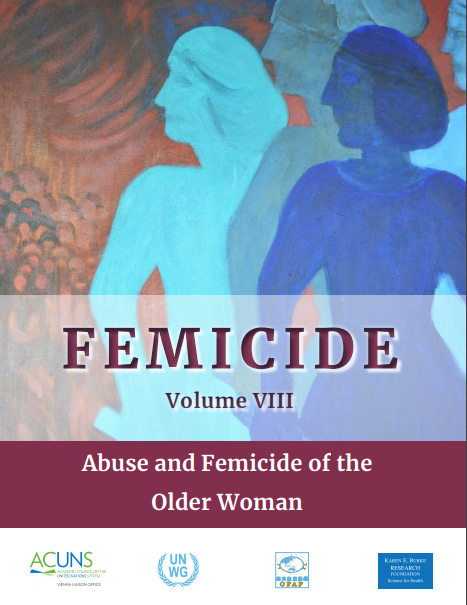 ''The Academic Council on the United Nations System (ACUNS) is a non-governmental organisation that stimulates and disseminates research on the United Nations, other international organisations and issues of global governance. ACUNS also promotes dialogue, regional cooperation and cultural exchange between academics, practitioners, civil society and students. The ACUNS Vienna Liaison Office has been active since 2007 and focuses primarily on human rights, equal opportunities for youth, death penalty, juvenile justice, femicide and other issues of concern to UN agencies.

Elder abuse is a worldwide concern that touches on human rights, gender equality, domestic violence and population ageing. The feminisation of ageing and its consequences is troubling, particularly given that older women as a group experience unique and compounding disadvantages. Older women face triple jeopardy in that they are part of three different marginalized groups: they are elderly, abused, and female. Gender discrimination across the lifespan therefore has a cumulative effective, and neglect, abuse and violence across the lifespan results in a high lifetime rate of suffering from abuse for older women.''

Source: ACUNS
The following is part of our project "Increasing Access to Justice for Older Adult Victims of Sexual Assault: A Capacity Building Approach", funded by the Justice Canada Victims Fund.Learn more about this project or consult the full list of resources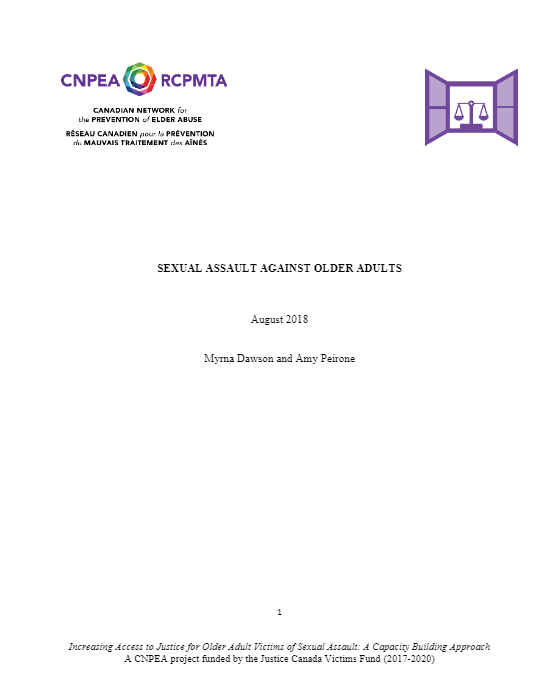 Between 2017 and 2020 CNPEA developed a project entitled Increasing Access to Justice for Older Victims of Sexual Assault. This project resulted in new training and learning for service providers about the sexual assault of older adults; and the development of a centralized repository of high quality resources about sexual assault of older adults. CNPEA gathered, curated and synthesized a detailed, up-to-date array of key resources and materials about sexual assault of older adults. For more details, check out our project page.

Literature review by Myrna Dawson and Amy Peirone
"Last year, the City of Vancouver Seniors' Advisory Committee initiated a special project to investigate the causes and consequences of social isolation and loneliness among seniors in Vancouver, and what the City of Vancouver and other stakeholders can do to help reduce or prevent these problems.
We have now completed our report, which includes 23 recommendations based on a detailed literature review and the insights of over 200 service providers in the Vancouver area. The report has been shared with City Council, and staffis currently reviewing it to advise Council on potential next steps."
A brochure for service providers also accompanies the report.

Source: Vancouver Seniors Advisory Committee
The following is part of our project "Increasing Access to Justice for Older Adult Victims of Sexual Assault: A Capacity Building Approach", funded by the Justice Canada Victims Fund.Learn more about this project or consult the full list of resources
Isabel Grant and Janine Benedet, Professors, Peter A. Allard School of Law, Universityof British Columbia.

This article examines sexual violence against older women, a problem that has been largely hidden from view in the societal and legal discussion of sexual assault. The article identifies a significant disconnect between the social science description of sexual assault against older women, on the one hand, and the available case law, on the other.

Source: McGill Law Journal
(Content made available by the authors)