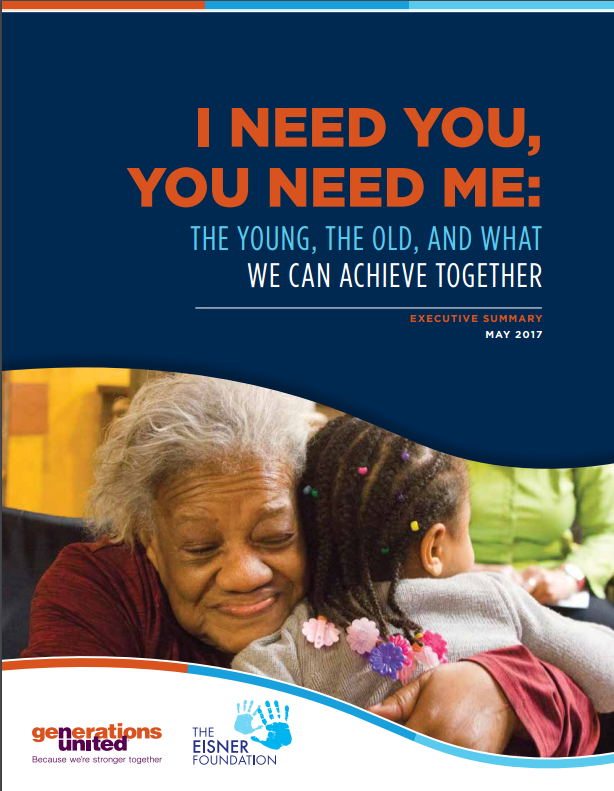 "Around the United States, intergenerational friendships are the exception rather than the rule: for the most part, age segregation prevails.

Kids spend their days at school, mostly among peers born the same year they were. Young and middle-aged adults cluster at work. And elders gather for clubs, classes, and meals that often expressly bar the young. Millions of college students and elders live in age-restricted housing, and most American neighborhoods skew young or old. Strikingly, in a recent Generations United/Eisner Foundation survey of adults nationwide, more than half of respondents—53 percent—said that aside from family members, few of the people they regularly spend time with are much older or much younger than they are. Young adults between the ages of 18 and 34 appear to be the most isolated from other generations, with 61 percent reporting a limited number of much older or much younger acquaintances.

It wasn't always this way: in early America, the generations mixed pretty freely, even though high mortality rates in middle age kept the population of elders small. But in the late nineteenth century, Americans began to recognize both children and elders as vulnerable populations that deserved public protection, a shift that was soon reflected in new policies and institutions. Schooling became compulsory; child labor was banned; and, thanks to Social Security and Medicare, retirement became a standard phase of life.

Because of these changes, children and elders thrived as never before. But, inadvertently, the changes also consigned both groups to isolation—from mainstream society and from one another.

Fortunately, Americans still believe that kids and elders merit special treatment. A phenomenal 93 percent of adults think children and youth are a vulnerable population that society has an obligation to protect, the new Generations United/Eisner Foundation survey shows, while 92 percent believe the same about elders.

But now, we realize that protection should not equal isolation."

Download the Executive Summary
Download the infographic

Source: Generations United
The following resource is part of the Family Violence Initiative, funded by the RCMP. Find similar tools by searching for the FVIF tag or consult the list of available resources.
"This report reviews domestic violence prevention and reduction initiatives in British Columbia (BC), from 2000-2010, and more recently.
The review was undertaken to support the work of the Violence Reduction Circle, a collaborative group of researchers, policy makers, clinicians, and service providers, hosted by the Centre for the Prevention and Reduction of Violence at the Justice Institute of BC.
The review begins with a description of the process, which involved a comprehensive scan of online sources and key informant interviews with academic and community-based researchers, policy makers, service providers, and advocates. The author then outlines the various terms used to describe domestic violence against women, and justifies the use of this term to reflect the language adopted in provincial policy without losing the gendered language of feminist scholars. The report goes on to present the latest statistical data on rates of domestic violence in Canada and British Columbia, before summarizing the health, social, and economic costs of domestic violence against women, and the effects on children who witness.
The review defines three levels of prevention strategies (primary, secondary, and tertiary), which are conceived of as interdependent and mutually reinforcing strategies to prevent and reduce violence against women and to increase the safety of women and children. The body of the report reviews domestic violence prevention and reduction initiatives in BC over the past decade, including relevant legislation and policy, training initiatives for service providers across systems, and efforts to strengthen the community response to domestic violence, including public awareness campaigns. The author makes the point that key decisions pertaining to domestic violence legislation, policy, funding, and services are closely linked to changes in government and high-profile cases of domestic violence and domestic homicide that serve to open policy windows."

Source: Justice Institute of British Columbia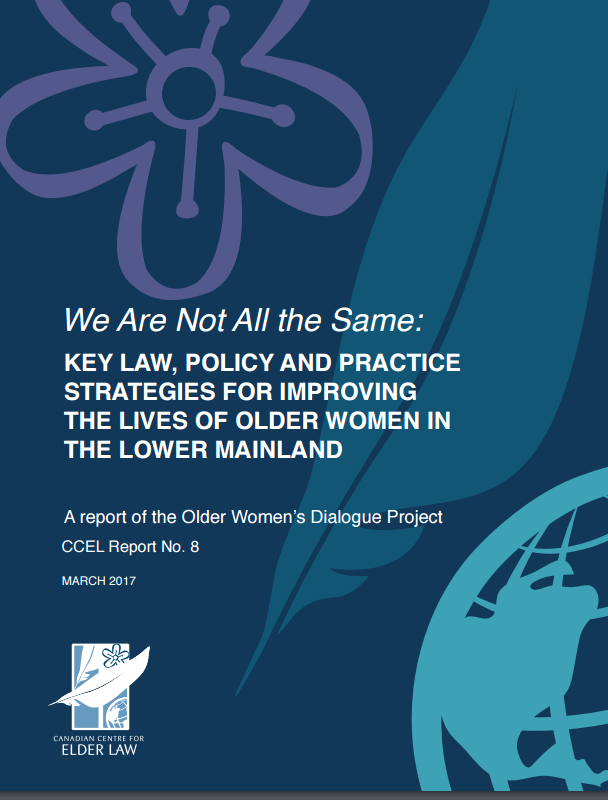 We are not all the Same: Key Law, Policy and Practice Strategies
for Improving the Lives of Older Women in the Lower Mainland

"Gender has a significant impact on life experience. This dynamic does not disappear as we age. In spite of this reality, research and policy analysis often renders older women invisible: feminist inquiry tends to focus on girls and women of child-bearing age; gender-neutral aging policy concentrates on the experiences of men.
The Older Women's Dialogue Project (OWDP) was born out of a desire to document barriers to the well-being of older women. The goal of this work is to enhance capacity to further law, policy and practice reform aimed at improving older women's lives. To further this work, we developed a collaboration with the West Coast Legal Education and Action Fund (West Coast LEAF), bringing together our respective expertise in working with women and older adults. Fundamental to the OWDP is the principle that women are experts in their own lives. Therefore, we gathered information on the impact of law and policy by holding focus groups with older women and asking them to identify barriers to their well-being."


Source: Canadian Centre for Elder Law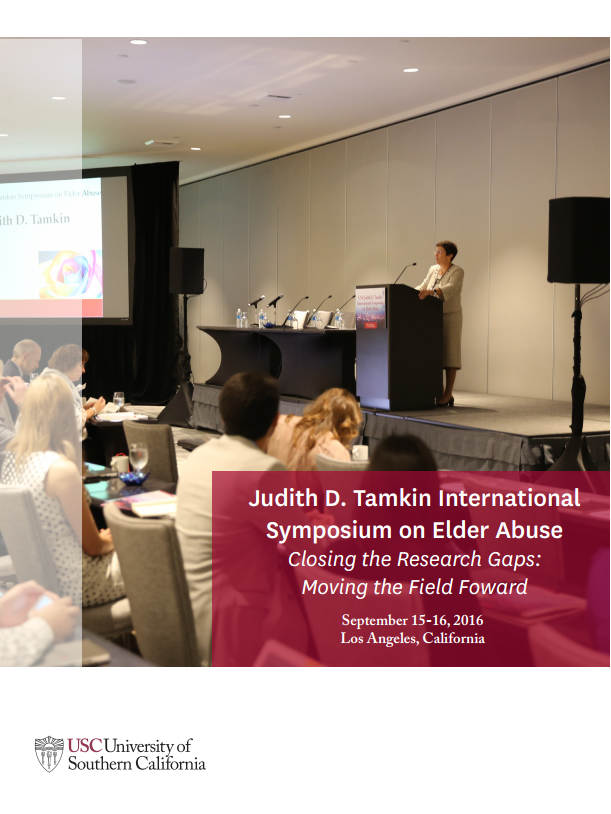 "On September 15-16, 2016, researchers, practitioners, and students from around the globe assembled in Los Angeles, California to focus on closing the gaps in elder abuse research at the inaugural University of Southern California (USC) Judith D. Tamkin International Symposium on Elder Abuse. The mission of the Tamkin Symposium is to create safe and healthy environments for elders in the United States and abroad by bringing together thought leaders, activists, caregivers, researchers, lawmakers, and other stakeholders to share findings and strategize solutions. At this exciting event, presenters offered new ways of thinking about the topic of elder abuse, from how we conceptualize it to how we study it to how we communicate research findings. This was a dynamic event in which presenters as well as audience members actively participated and collaborated to share ideas and findings.''

Source: USC Center on Elder Mistreatment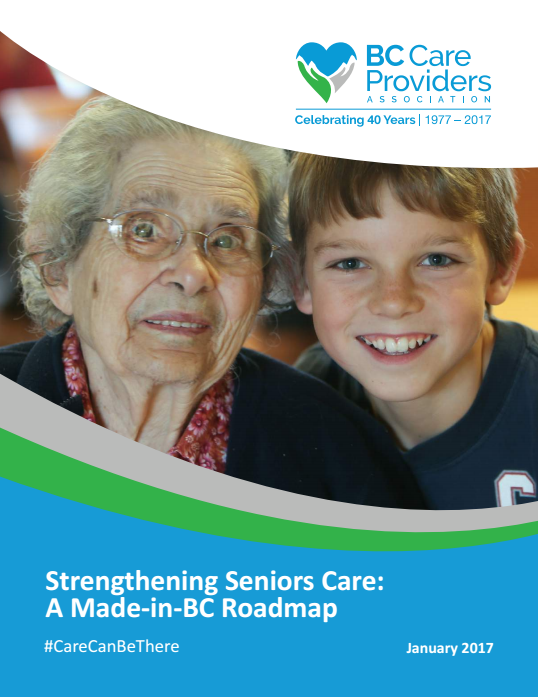 "BC Care Providers Association have produced a Made-in-BC roadmap for strengthening and innovating care for seniors. In the plan, we have 30 recommendations, grouped under four pillars.
Investing in People
Investing in Infrastructure
Investing in Quality of Life for seniors
Investing in Innovation


Over the past year we reached out to British Columbians for their views on seniors care in our province. It is thanks to them that we now have this roadmap to create 21st Century care for BC's elderly population."

Access the full report

Source: BC Care Providers Association