''To understand how the COVID-19 pandemic has impacted on older people's physical and mental health we consulted with older people, their friends, families, and loved ones.
Our research was made up of:
A survey promoted across the Age UK social media channels for two weeks in August 2020. The survey was completed by 569 people- 369 respondents were older people themselves and 200 answered on behalf of an older person. Over half of respondents were over the age of 70. Of the older people we spoke to who told us their sex, 278 were female and 78 were male.
Representative online polling of 1,364 people over the age of 60, conducted by Kantar Polling in September 2020. Of the people polled, nearly half were over the age of 70 and 40% were already living with a long-term condition before the start of the COVID-19 pandemic.''

Source: Age UK

Dr. K. Roger (Community Health Sciences, University of Manitoba) is leading a tri-provincial Prairie-based team since 2018 on underreporting of abuse of older adults (funded by PrairieAction Foundation).
This report explores the more recent events of COVID-19, and themes found to date in an ongoing media scan. The report frames an understanding of abuse of older adults in regards to what has been reported by the media about older adults living in the community in Canada during the time of COVID-19.
The following is part of our project "Increasing Access to Justice for Older Adult Victims of Sexual Assault: A Capacity Building Approach", funded by the Justice Canada Victims Fund.Learn more about this project or consult the full list of resources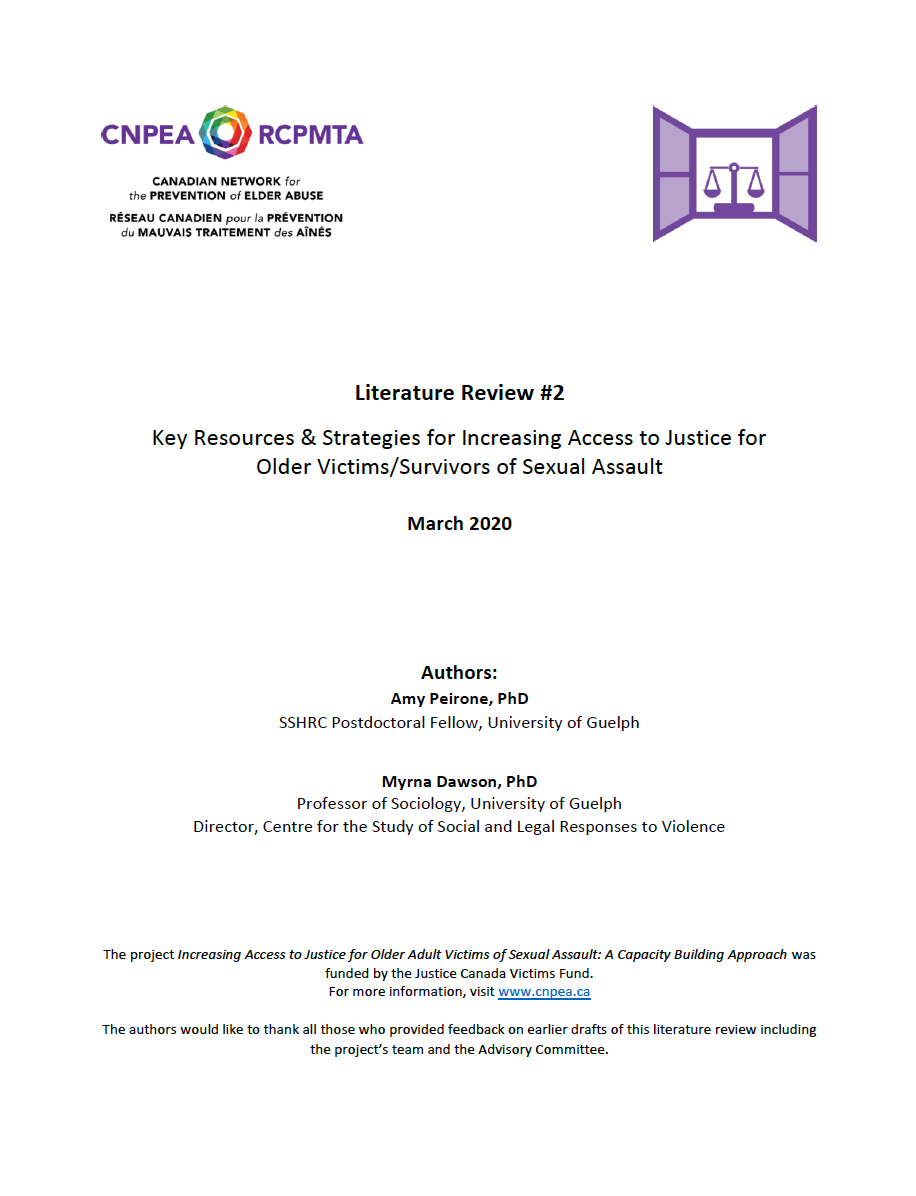 In 2020, CNPEA completed a three-year project titled Increasing Access to Justice for Older Victims. This project resulted in the development of new training and learning for service providers about the sexual assault of older adults, and of a centralized repository of resources about sexual assault of older adults. CNPEA gathered, curated, and synthesized a detailed, array of key resources and materials about sexual assault of older adults.
For more details, check out the project page.

This is the second literature review produced for this project. It was designed for a broad audience including researchers, policymakers, advocates, health care providers, and social service providers. It is divided into three main sections.

Section I provides an overview of what we know about sexual assault in later life, including what constitutes sexual assault of older adults, its prevalence, risk factors for victimization and perpetration, and barriers to reporting and intervening.

Section II outlines practical strategies and recommendations for the prevention, identification, and intervention of sexual assault in later life.

Section III provides a selective list and description of some of the available tools and resources that can be useful for older persons, health care and service providers, advocates, and criminal justice personnel.

Authors:
Amy Peirone, PhD SSHRC Postdoctoral Fellow, University of Guelph
Myrna Dawson, PhD, Professor of Sociology, University of Guelph, Director, Centre for the Study of Social and Legal Responses to Violence

Access the first Literature Review Sexual Assault Against Older Adults here.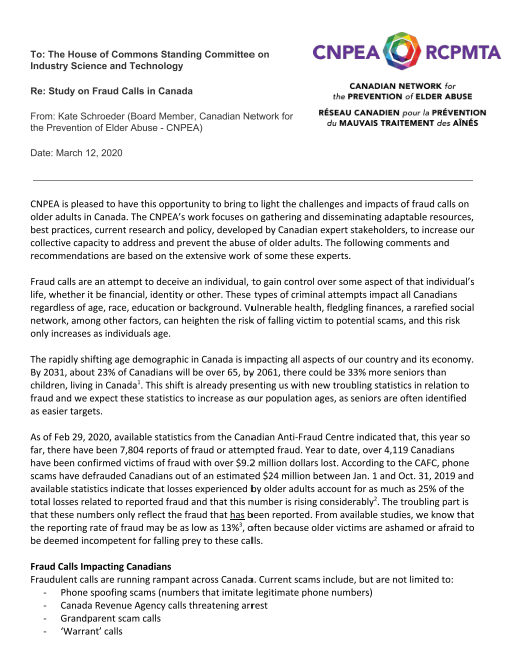 The House of Commons Standing Committee on the Industry, Science and Technology held hearings in March 2020 (which is coincidentally Fraud Prevention Month) for a study on Fraudulent calls in Canada.

The Committee listened to a variety of stakeholders and individuals who spoke on the topic. We were honoured to present our brief to discuss how these fraud calls affect and specifically target older adults, and to outline some recommendations.

The brief was respectfully submitted to the Standing Committee by CNPEA's Board Member, Kate Schroeder. A recording of the session can be watched here. A full report of the Standing Committee will be published at a later date.
The following is part of our project "Increasing Access to Justice for Older Adult Victims of Sexual Assault: A Capacity Building Approach", funded by the Justice Canada Victims Fund.Learn more about this project or consult the full list of resources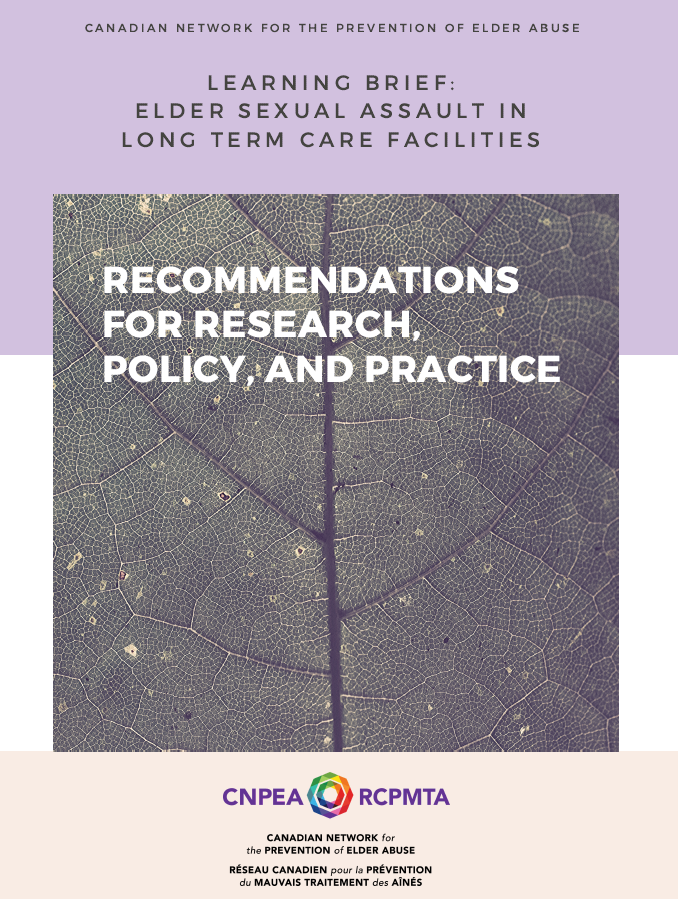 This Learning Brief is part of a set developed for the Access to Justice Project.
As an add-on to the mini literature review on elder sexual assault in long-term care (LTC) facilities, this learning brief identifies and articulates key recommendations and suggestions for preventing, identifying, and responding to instances of sexual violence in LTC facilities. Recommendations are categorized according to those for research, policy, and practice.

Companion piece: Learning Brief: Sexual Assault in Long Term Care Facilities - Mini Literature Review

Authors:
Amy Peirone, PhD, SSHRC Postdoctoral Fellow, University of Guelph
Myrna Dawson, PhD, Professor of Sociology, University of Guelph, Director, Centre for the Study of Social and Legal Responses to Violence