June 15 is
World Elder Abuse
Awareness Day!
WEAAD is marked each year on June 15. It is an official United Nations International Day acknowledging the significance of elder abuse as a public health and human rights issue.
Since 2006, communities throughout the country and around the world have honoured this day to raise the visibility of elder abuse by organizing events to share information and promote resources and services that can help increase seniors' safety and well-being. Elder Abuse networks and organizations are planning multiple WEAAD activities across the country to mobilize community action and engage people in discussions on how to promote dignity and respect of older adults.
Let's honour this landmark and continue raising public awareness of elder abuse with events across the country! Share your events with us via the form below so we can add them to our list and event map.

You can also share updates and photos of your events with us on Twitter and Facebook!
WEAAD 2020
Are you planning activities for World Elder Abuse Awareness Day?
Share your plans by filling the short form below. We will promote your activity on this site and on social media.

Submit Your WEAAD Event Details and Photos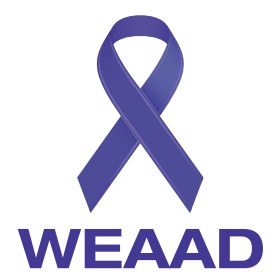 Looking for materials to share before or during your event?
Check out these sites for tips, posters, postcards and other materials:
Do you have WEAAD-ready resources you want to share? Let us know about them!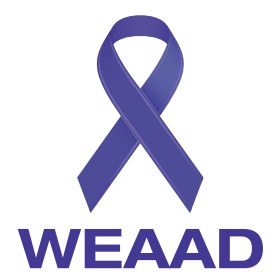 WEAAD TIPS
Join the Movement – Get Involved!


We encourage everyone to get involved and to raise awareness about World Elder Abuse Awareness Day.

A wide variety of events and activities can be planned by organizations and individuals alike.

Here are a few examples of what you can do:
Host
A public awareness event geared toward seniors.
Community Walks
A High Tea
A purple dinner
A flash mob event
A conference or training, focused on elder abuse awareness and available community resources.
A public awareness activity that includes politicians, seniors, local programs, survivors of abuse, and others

Communicate
Send out a press release, hold a press conference, or submit an editorial to discuss elder abuse awareness and prevention efforts.
Develop a PSA on elder abuse with a local TV or radio station.
Ask local leaders, the Mayor, MP, MPP to release a Proclamation declaring June 15 as Elder Abuse Awareness Day.
Create a poster on elder abuse or use a poster created by the International Network for the Prevention of Elder Abuse.
Harness the power of social media to raise WEAAD's profile and broadcast news of various events


Educate
Yourself and others about elder abuse
Use graphics on your website, blog, or in your email signature block, to draw awareness to elder abuse and prevention efforts


Do
WEAAD 2021:
Rights Don't Get Old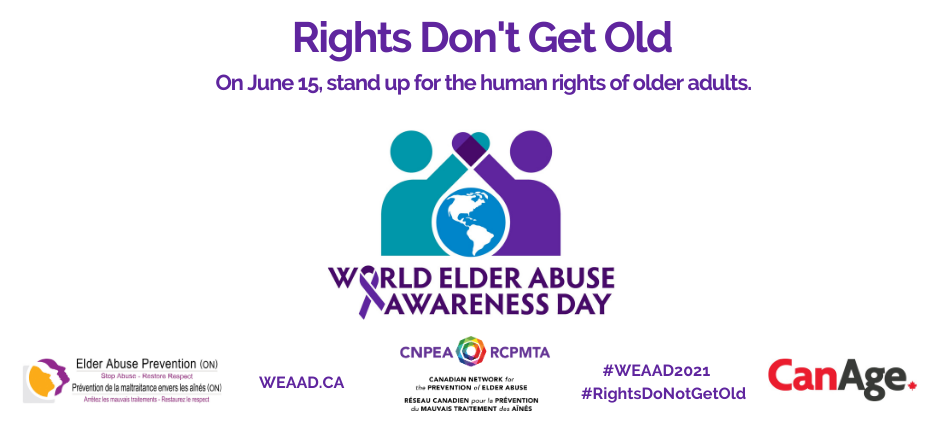 The basic human rights of older Canadians are challenged and undercut every day and, tragically, this has never been more true than over the last year during the COVID-19 pandemic. It's estimated that 7 to 10% of older Canadians are victims of elder abuse. 1 in 6 seniors globally.

We cannot allow this to continue.

This WEAAD, CNPEA, EAPO and CanAge are teaming up to create a national conversation around elder abuse prevention and what each of us can do to uphold and protect the rights of seniors in your community. Throughout the campaign, we'll be sharing compelling statistics and useful resources, igniting a national conversation and shining a light on the need to create a coordinated pan-Canadian approach to elder abuse prevention.

There are a few easy ways you can participate in WEAAD and join the movement:
1. Register for our free online event
Our June 15 webinar, entitled 'Aging with Rights: Ending Elder Abuse in Canada', is the main event of WEAAD 2021. It's a not-to-be-missed interactive national event that brings together a panel of experts, political figures, advocates and concerned people like you to engage in an inspiring discussion about how we, as a country, can fight elder abuse and protect the rights of older people.
Make sure you secure your seat quickly, as space is limited (and share widely with your networks!).
REGISTER HERE
2. Visit the website
CanAge, EAPO and CNPEA have launched a dedicated website at www.WEAAD.ca. This page will serve as the central hub of our campaign, and will contain everything you need to get informed and get engaged:
Registration link for our webinar
Social media messages you can share to speak out on the rights of older Canadians
Downloadable posters and social media cards


3. Speak out
CNPEA and EAPO have developed a WEAAD Social Media Guide to help you promote #WEAAD2021 on social media. The Guide includes tips on using social media, and sample posts you can use (just cut and paste!). We have also developed some visual assets that you can share on socia media.

Download the WEAAD social media cards bundle - ENGLISH (9MB zip)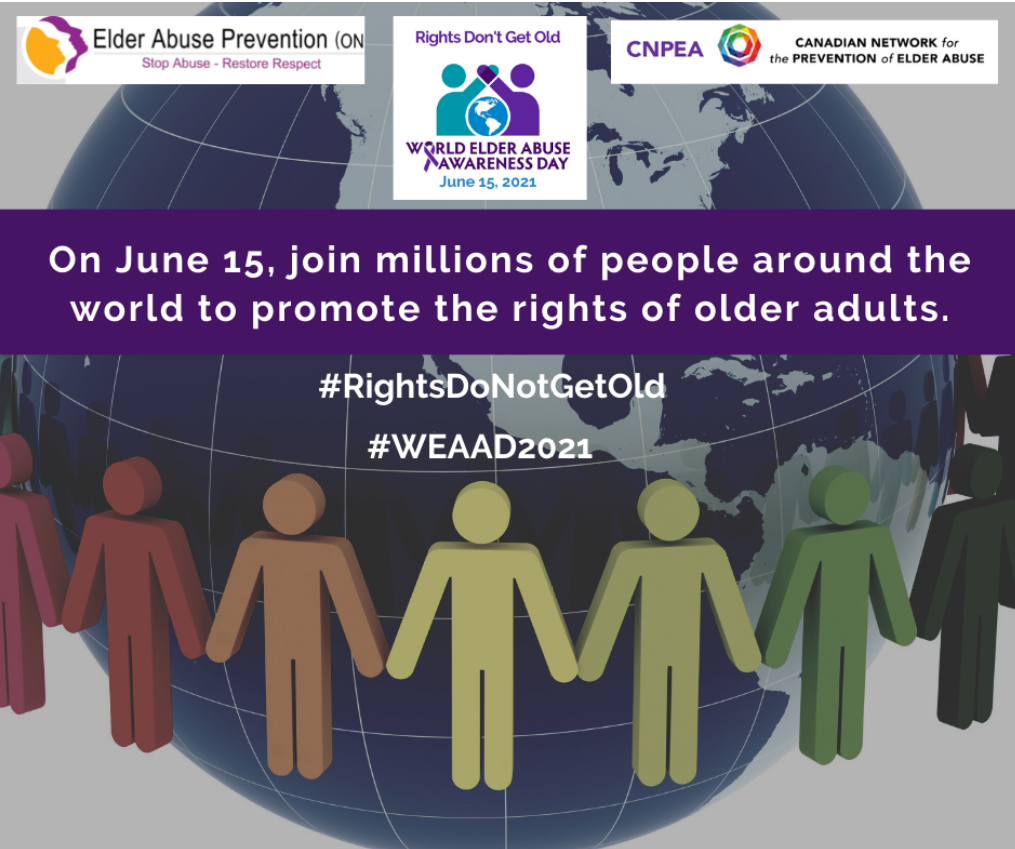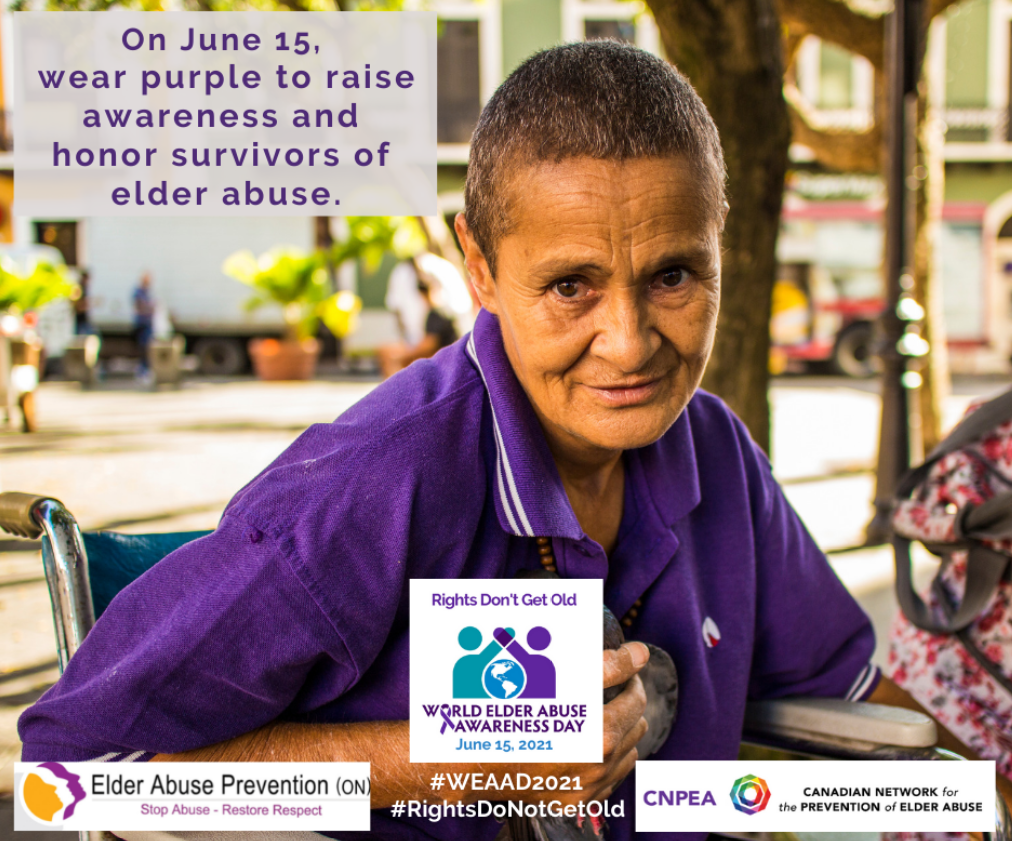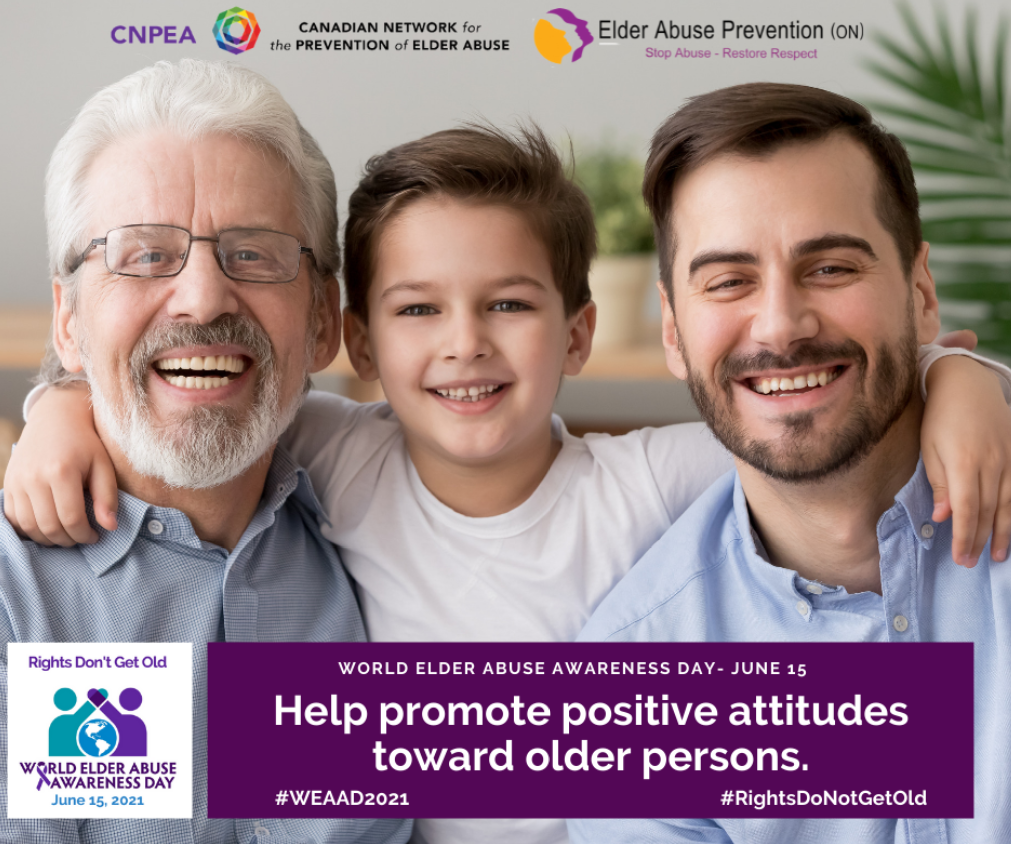 WEAAD 2021 Logos
Square format - Download here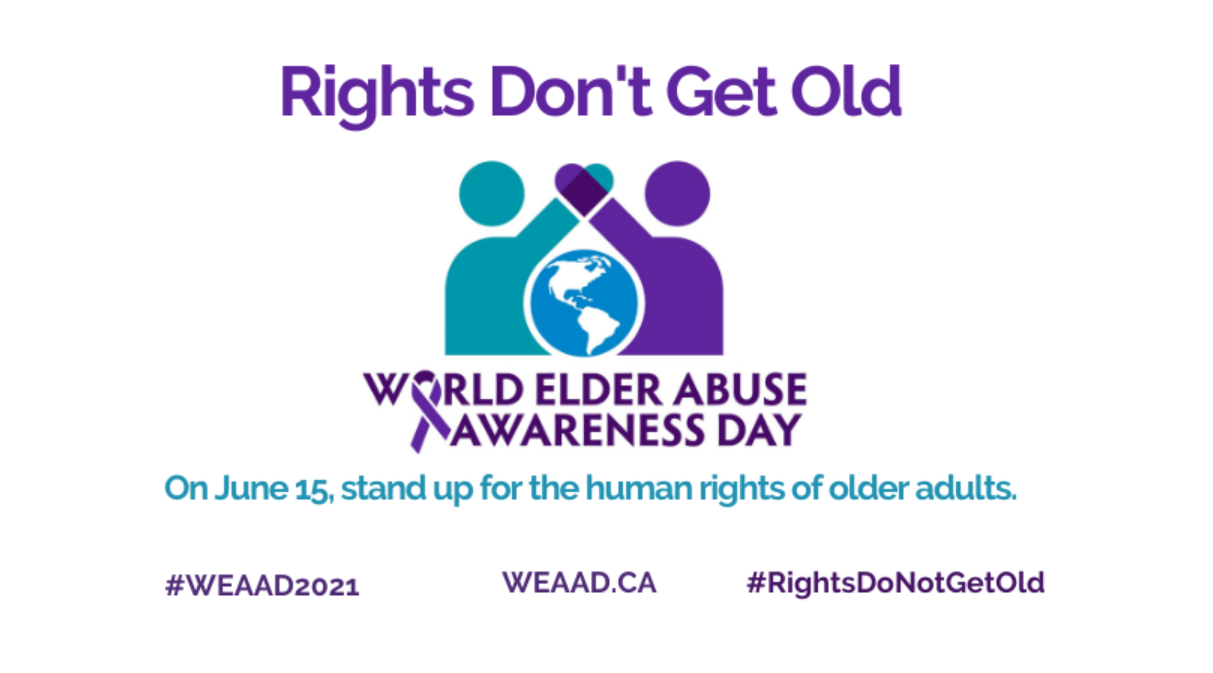 Banner with hashtags - Download here
Banner no hashtags - Download here

We can't wait to see your posts! Remember to use #RightsDoNotGetOld and #WEAAD2021 in all of them.
WEAAD celebrates its 15th anniversary!
CNPEA and Elder Abuse Prevention Ontario invite you to join us as we mark this milestone day. This year's theme is
Uproot Elder Abuse, Plant a Seed for Change
inspired by WEAAD founder Elizabeth Podnieks.
Since WEAAD's inception, communities across the globe have used the day to raise the visibility of elder abuse by sharing information and promoting resources and services that increase seniors' safety and well-being.

The current pandemic may have disrupted our way of life and altered WEAAD plans, but here's something we can all do safely in our own homes: plant something in our gardens and on our window sills. Make it a neighbourhood planting ceremony, or a family activity, by using a video call or hosting a Zoom gardening session! Trees and plants have a healing quality that positively affect us, our communities, and our world.
On June 15, join us on social media to share our campaign #UprootAbuse and your gardening pictures/videos with us. A safe, fun, and intergenerational activity to engage in together to help plant the seed for change!
We also chose to plant trees and seedlings this year to symbolize the connection between older adults and the planet we all dwell on. Environmental crises are directly connected to increased vulnerability and to the violation of older people's human rights. In times of disasters, older adults are often among the most vulnerable populations, facing ageist attitudes and policies, and a lack of access to suitable resources and services.
On June 15, 2020, let's recognize World Elder Abuse Awareness Day with renewed conviction and energy, to uproot elder abuse and plant a seed for change.


HOW YOU CAN PARTICIPATE

We need you to spread the word. In the next few weeks, and particularly on June 15, EAPO and CNPEA will post messages on our respective social media channels.
You can support us by
Sharing/retweeting EAO's and CNPEA's updates and tweets.


Telling your contacts and followers why you support the campaign #UprootElderAbuse and invite them to support it too.


On June 15, plant a seedling or a flower, take a photo/video and post it to social media (tag CNPEA and Elder Abuse Prevention Ontario so we can see them and share them), use the hashtag #UprootElderAbuse. You can also write a message to express your commitment to bring about change for the care, support, and well-being of older adults. Individual actions matter, how will you contribute to uproot elder abuse?


Tag friends, families and colleagues, get them in on the action!


New to online WEAAD events? To make your life easier, we created:
a social media sheet. It contains tips to support this campaign, as well as message templates that you can simply copy and paste. Just remember to use the hashtags #UprootElderAbuse and #WEAAD2020.
social media cards: visuals that you can download and share
A set of logos in various formats.
SOCIAL MEDIA CONTENT
Check out our 2020 Social Media Tip Sheet to help you craft your messages and join the #UprootElderAbuse campaign.


WEAAD 2020 LOGOS

Email Header (jpeg)
For Facebook (jpeg)
For Twitter (jpeg)
For LinkedIn (jpeg)
SOCIAL MEDIA CARDS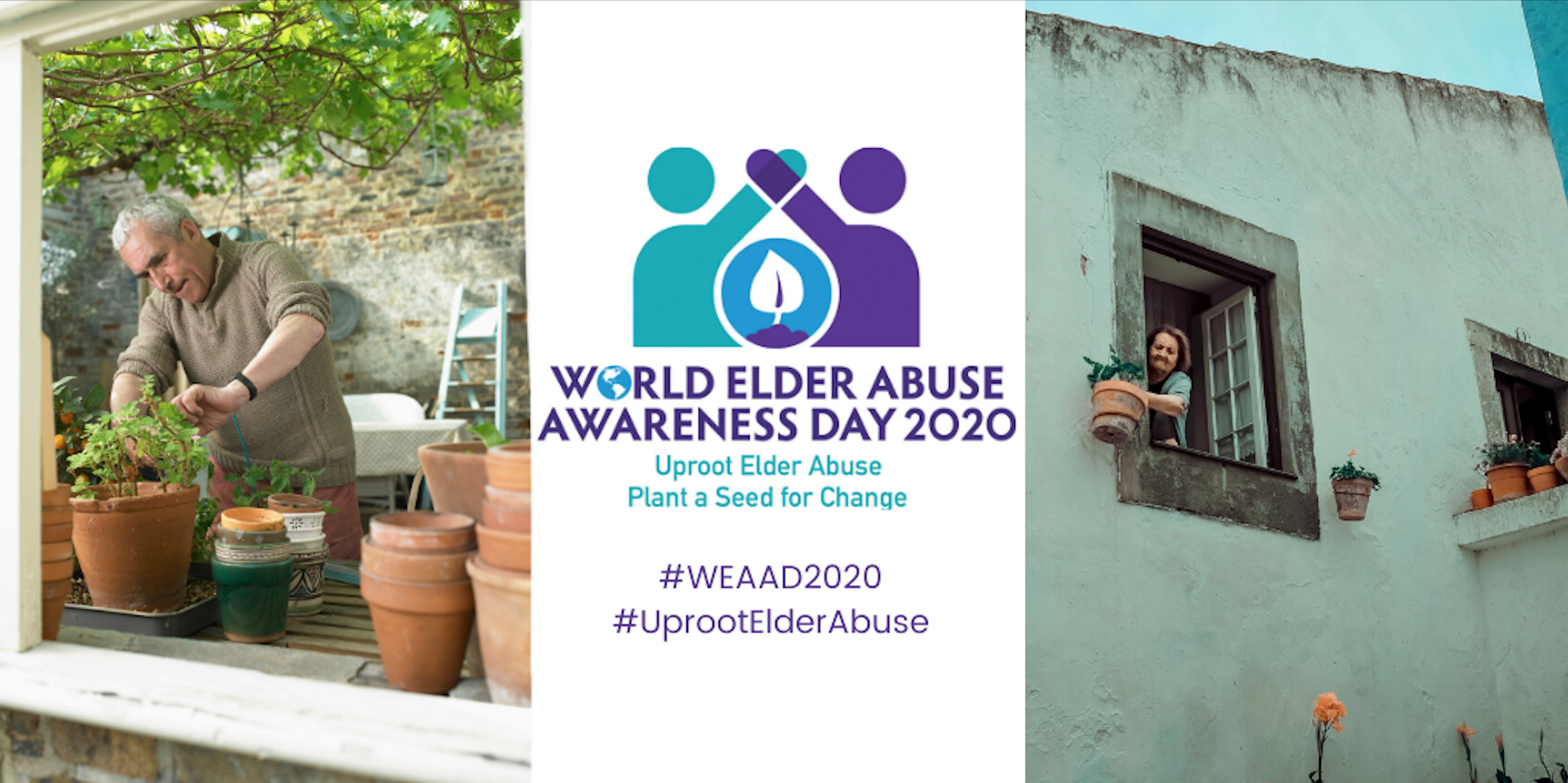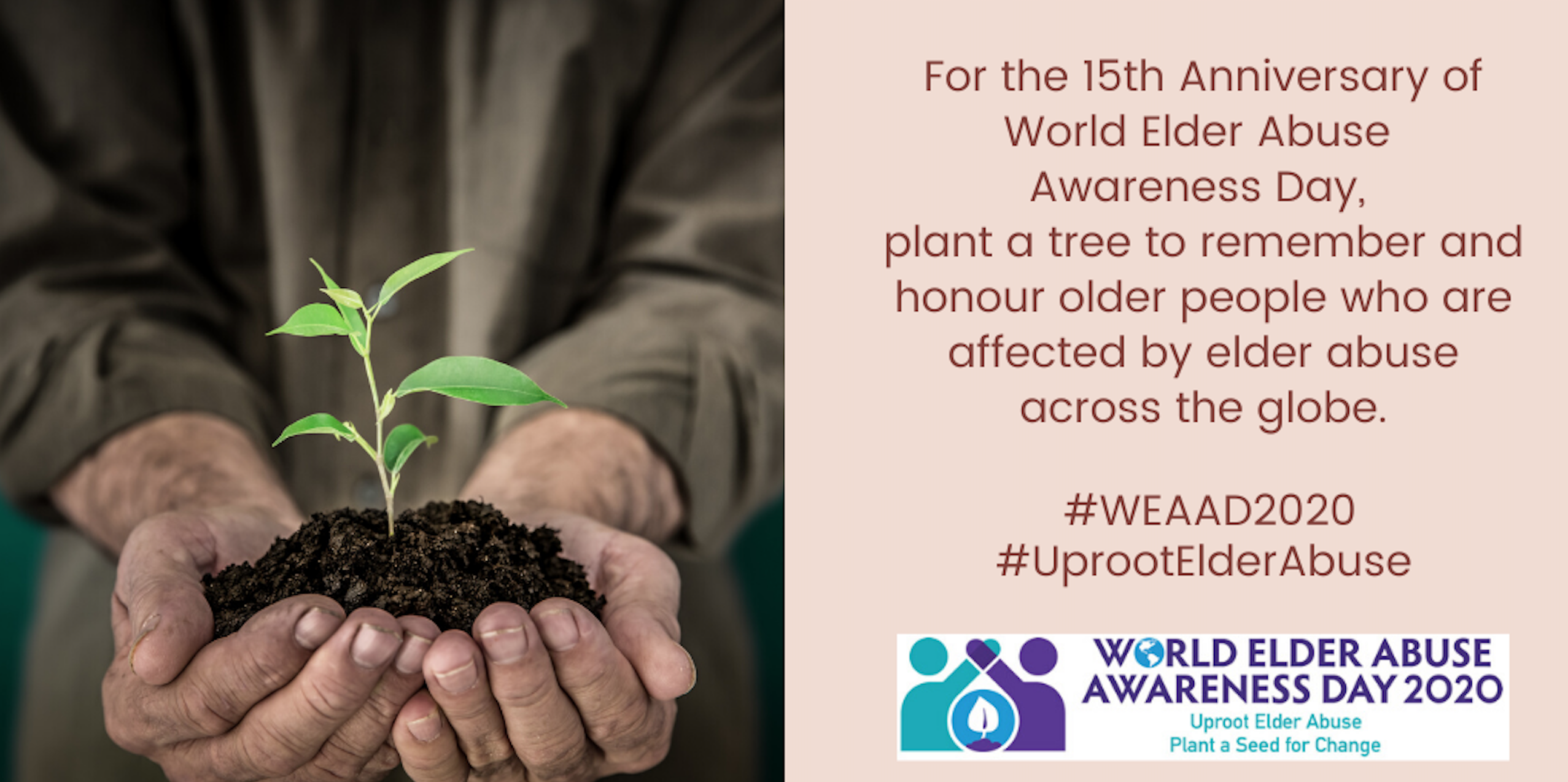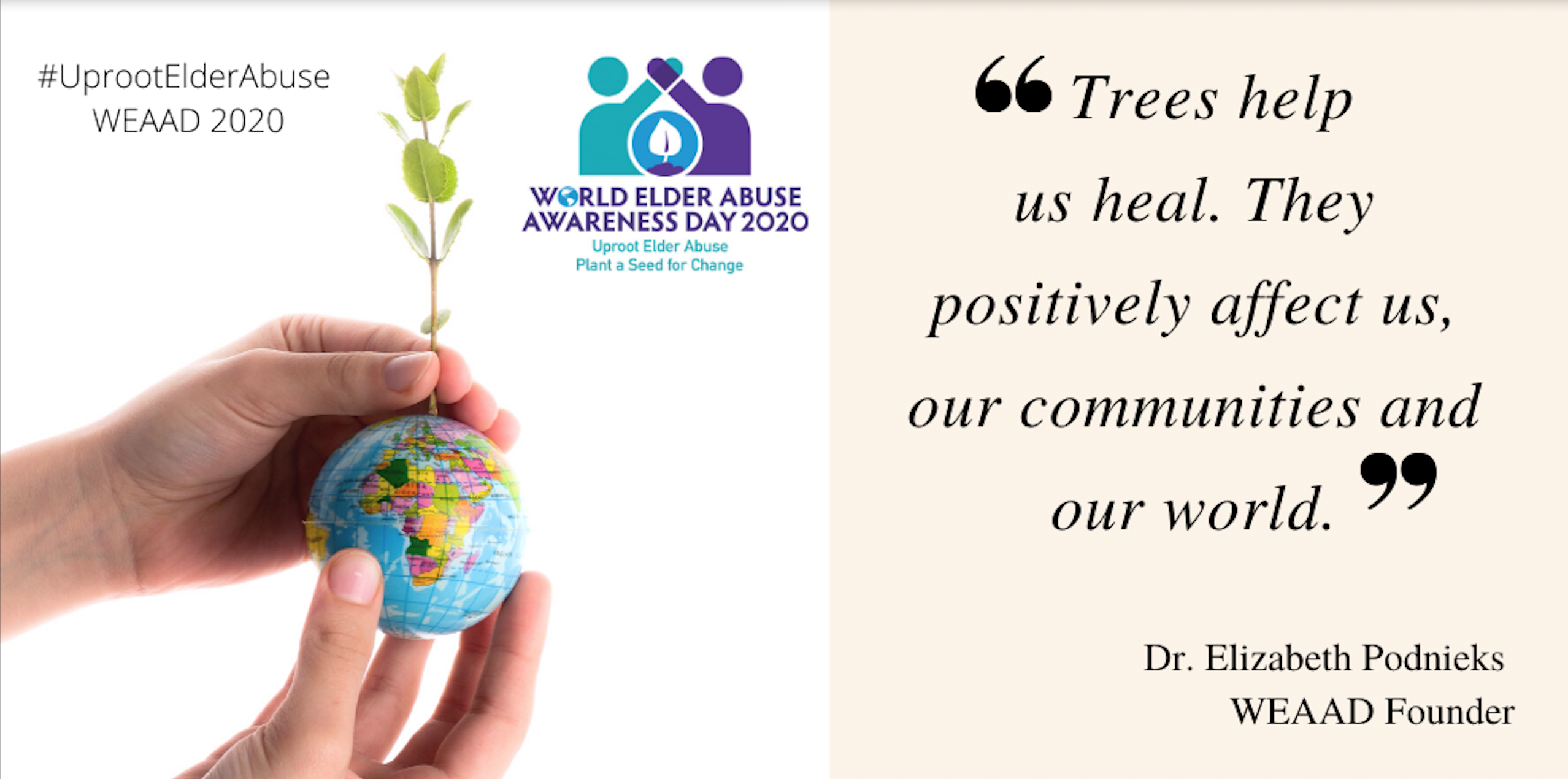 SOCIAL MEDIA CAMPAIGN - #AgeofInclusion

This year, CNPEA and Elder Abuse Ontario have joined forces for a World Elder Abuse Awareness Day social campaign. With your help, we hope to shine a light on social inclusion, as a tool to keep us safe from abuse as we age.
Throughout the next month, until World Elder Abuse Awareness Day (June 15), CNPEA and EAO will lead a social media campaign called #AgeofInclusion.
Why focus on social inclusion?
Because being socially isolated is a common affliction among older adults. More than 30% of Canadian seniors are at risk of becoming socially isolated.
Because isolation and loneliness are as bad for your health as smoking 15 cigarettes a day
Because social isolation can put seniors at increased risk for elder abuse
Because each of us can play a meaningful role in helping include older adults in all aspects of life and contribute to preventing elder abuse.


How can I help?
We need you to spread the word. In the next few weeks, and particularly on June 15, EAO and CNPEA will post messages on our respective social media channels (Facebook, Twitter, Instagram). We will share information, resources, inspiration, and tips about social inclusion and its benefits when it comes to older adults' health, well-being, and elder abuse prevention.
You can support us by
Sharing/retweeting EAO's and CNPEA's updates and tweets.


Telling your contacts and followers why you support the campaign #AgeofInclusion, why it matters and why they should too.


To make your life easier, we created the factsheet "Using social media to promote WEAAD 2019". It contains tips to support this campaign, as well as message templates that you can simply copy and paste. Just remember to use the hashtags #AgeofInclusion and #WEAAD2019.
We have also created a set of bilingual images, posters, and logos (see below). We invite you to use them and share them with your contacts.
On June 15, we hope you will join us in marking World Elder Abuse Awareness Day and telling the world about #AgeofInclusion

---
WEAAD 2019 Logo




Web optimized


Social Media Banners

Email Header En (Jpg) Fr (Jpg)
Twitter En (Jpg) Fr (Jpg)
Facebook En (Jpg) Fr (Jpg)
LinkedIn En (Jpg) Fr (Jpg)
AGE OF INCLUSION POSTERS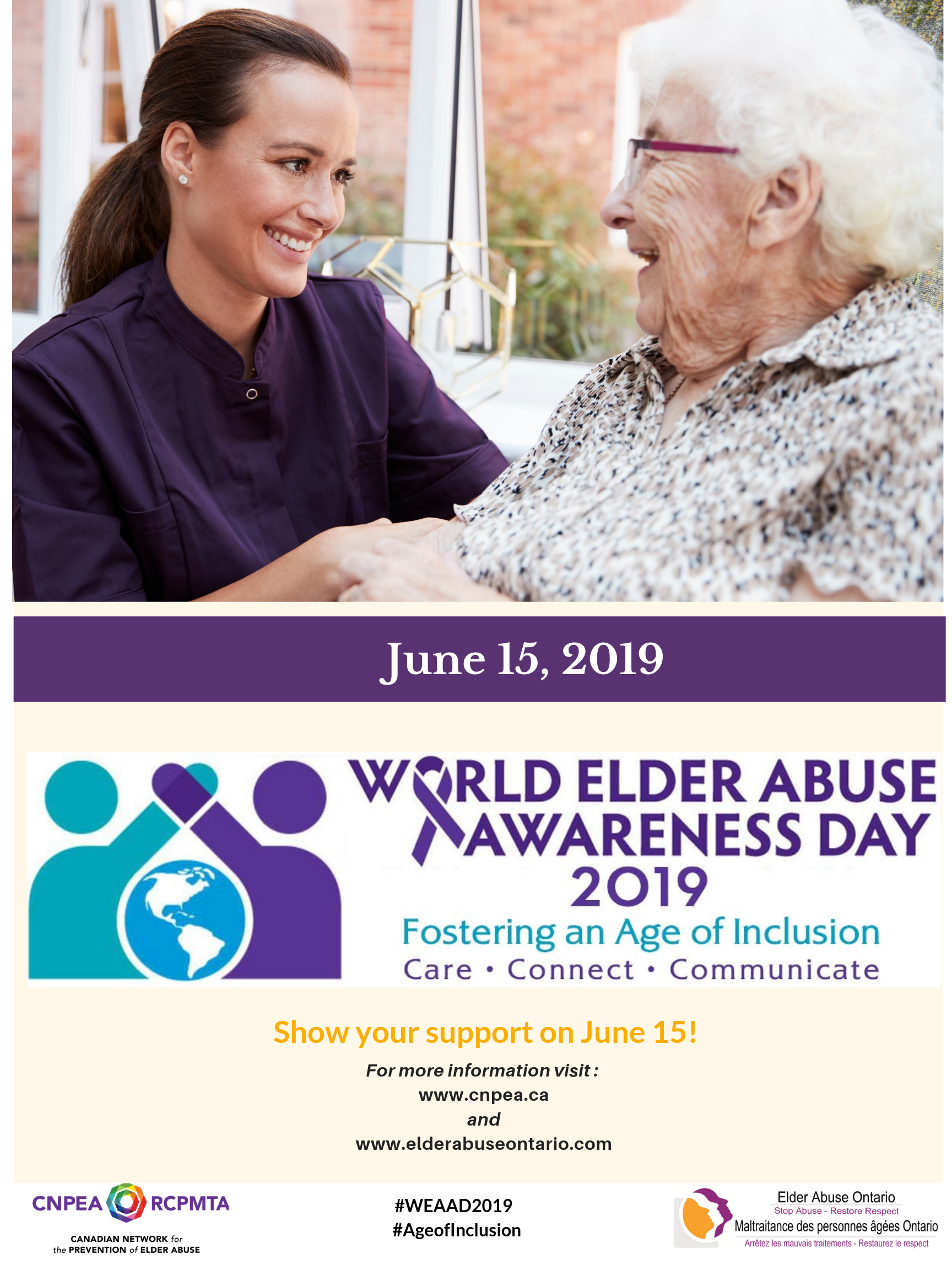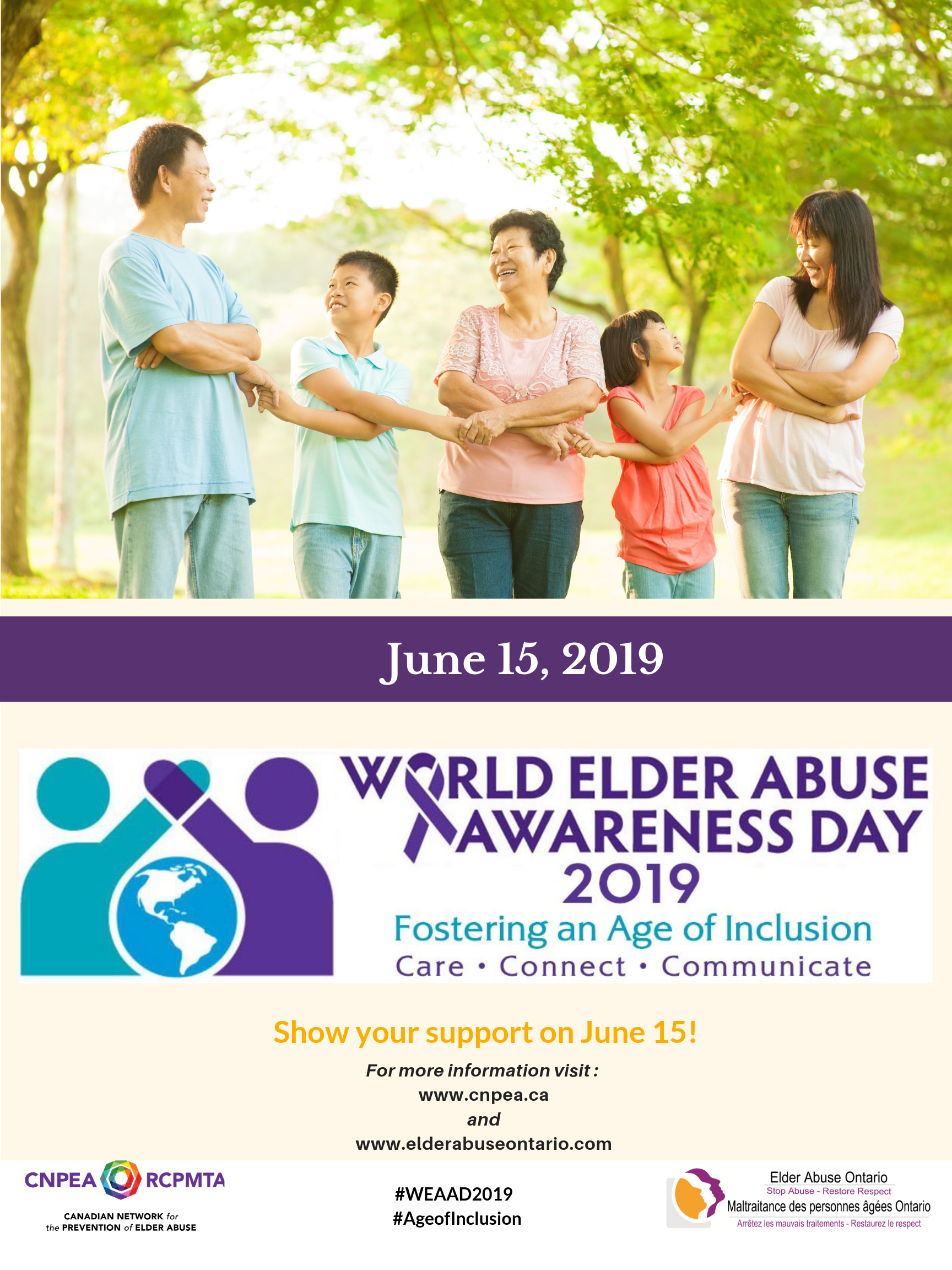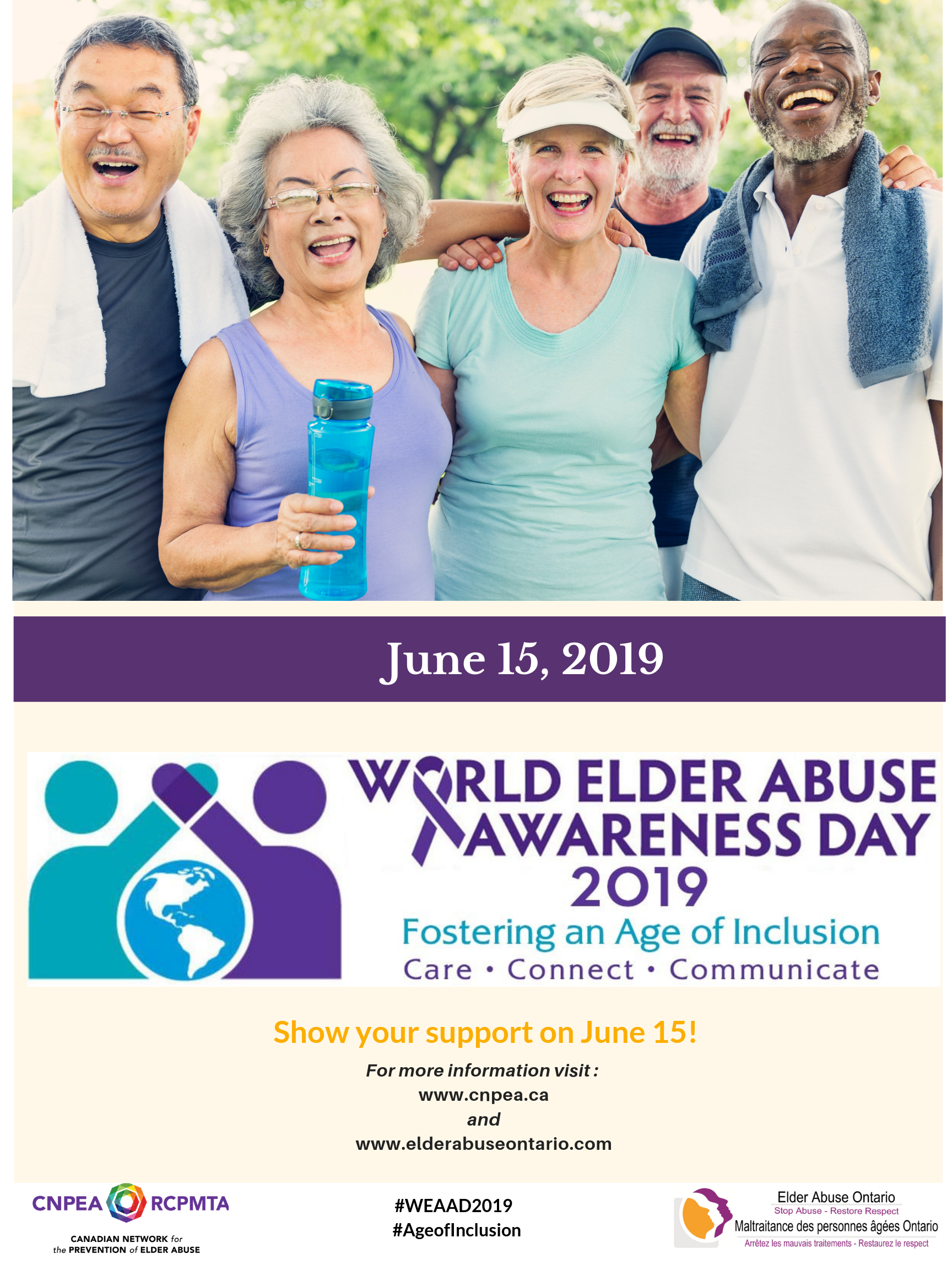 SOCIAL MEDIA FACTSHEET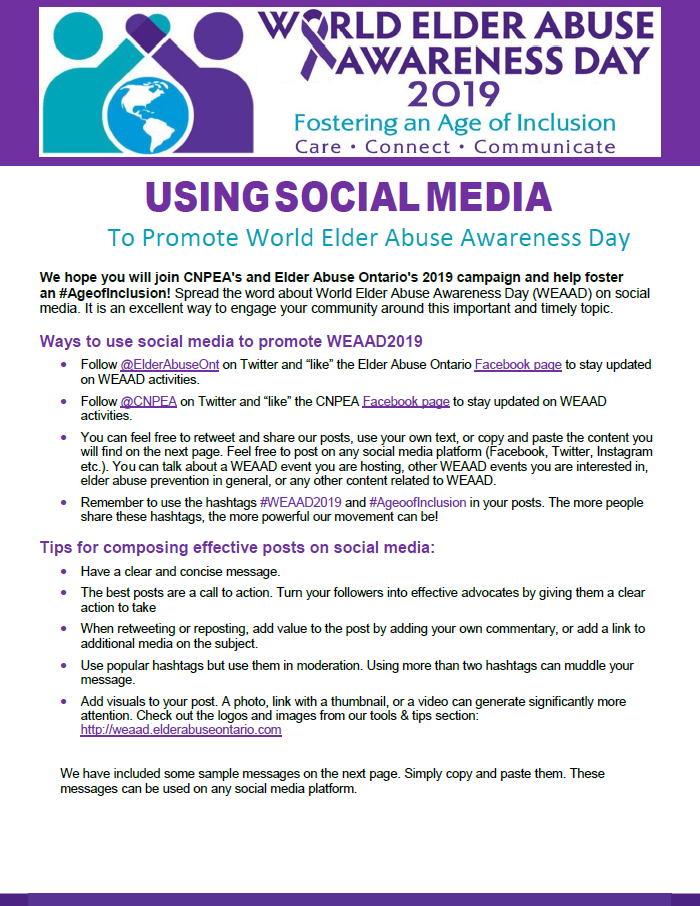 2019 Events

ALBERTA

Athabasca

2019 Athabasca Senior's Symposium
9.30 AM to 3.30 PM, June 6
Athabasca Seniors' Centre. $12/ticket including lunch, prizes, and other activities
Call Athabasca County FCSS at 780-675-2623 for tickets and more information.


Edmonton
World Elder Abuse Awareness Day proclamation event: Lifting Up Voices
1 PM to 2.30PM, June 14
Central Lions Seniors Recreation Centre
To RSVP, email

or call 780-809-9420



Seniors Centre Without Walls- Edmonton Southside Primary Care Network
Sage Seniors Association will lead a phone-based discussion regarding elder abuse education, prevention and support of seniors. Edmonton-Riverview MLA Lori Sigurdson will join the discussion to show her support of AB seniors.
Contact 780-395-2626 to register or call 1-855-703-8985, and enter Meeting ID: 225.573.6467#on June 14th at 3pm to join the discussion.
Fort McMurray
Seniors Wellness Expo
Royal Canadian Legion Branch 165.
For questions, please contact Shabnam at 780-788-1381.1 to 4 PM, June 14th


Lethbridge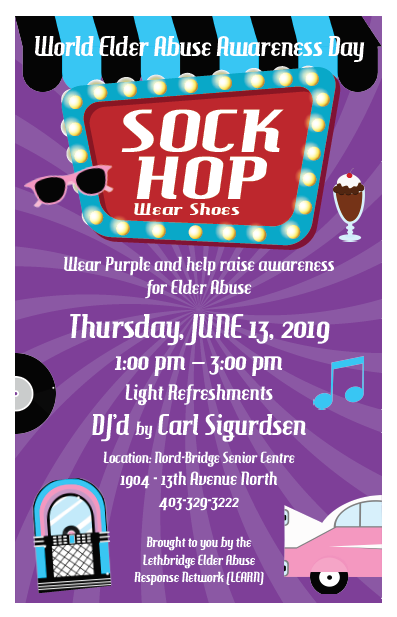 SOCK HOP
Thursday, June 13
1pm - 3pm
Nord-Bridge Senior Centre
1904-13th Avenue North
Light refreshments served - Wear purple!
Organized by the Lethbridge Elder Abuse Response Network



Yellowhead
Yellowhead Elder Abuse Response Network Facebook Challenge
Wear purple on June 14th or 15th, "like" their page, post your picture on their Facebook page and enter to win a $100 donation to the charity of your choice
BRITISH COLUMBIA

Nelson

The Nelson Community Response Network will have an information table at the Kootenay Co-op & the Credit Union will offer a shredding service (10 AM to 2 PM)


Sparwood

Strawberry Tea
June 8, 2019 from 1-3 PM,
Sparwood Senior Drop-In Centre. Hosted by the Sparwood CRN. Free admission.


TO SEE A FULL LIST OF CRN events across the province of British Columbia, click here

NEWFOUNDLAND

EVENTS ON JUNE 13
Webinar: Crimes against Seniors: Financial Abuse
Hosted by SeniorsNL 11:30 AM NDT.
Registration is required: Register now!
This will be of particular interest to service providers and seniors alike."Elder abuse is real. If you think it is not happening in your community, think again."
Grand Falls-Windsor

Status of Women Central, Violence Prevention South & Central and Horwood's Home Care
5B Bayley Street
Soup & sandwich lunch with band and speakers on elder abuse, how to report same, self-empowerment (to take place in St. Joseph's Hall)


EVENTS ON JUNE 14
St John's

St. John's Crime Prevention Committee
9:30am – 1pm
In partnership with SeniorsNL and its NL Network for the Prevention of Elder Abuse, the St. John's Citizens' Crime Prevention Committee will be hosting a FREE morning of information, education, knowledge sharing, and a social opportunity. There will be presentations, information booths, and entertainment. Coffee break and lunch will be provided for participants.
Space is limited so registration is required. RSVP - Call Seniors NL at (709) 737-2333 to register by June 12, 2019 for this FREE event
Note: Limited bussing will be available to/from the event at various pick-up sites. Please ask about pick-up locations when you RSVP. Must be booked by deadline June 12.

Carbonear
Lanes Retirement Living,
Inter-generational pizza party for residents and families with a presentation on financial abuse and frauds and scams to be held at Lanes Retirement Home. 2PM
Port aux Basques

Gateway Status of Women Council,
11am-3pm, St. James Memorial Centre, Port aux Basques
Turkey dinner with music, guest speaker from Leading Edge Credit Union who will speak on financial wellness, and information displays.
Deer Lake

Deer Lake Manor – Humber Valley Complex
Starting 1:30 pm
Garden party with snacks and a presentation and discussion of elder abuse, risk factors, signs. Invitees include Town Council, community groups, families of residents and the community.


Robinsons

Crosswinds Seniors Resort
Starting at2pm
Afternoon event with guest speakers and discussion on financial abuse, refreshments, and musical entertainment. Guest speakers will also be available for one-on-one sessions with seniors on request to be held at Crosswinds Seniors Resort.


EVENTS ON JUNE 15
Stephenville
Bay St. George Coalition to End Violence
11am-4pm
Seniors Kitchen Party to take place at the Royal Canadian Legion with a hot meal, information, and resources from community groups, displays and keynote speakers on financial abuse, WEAAD, health, recreation, overall wellness.

EVENTS ON JUNE 20
Witless Bay

Alderwood Estates
Starting 6 pm
Safari club experience – Take a Walk on the Wild Side – a resident and family open house featuring a Candy Bar with entertainment by Jellybean Entertainment using a wide variety of reptiles that will be educational and interactive. There will also be a speaker and print material on financial abuse.

ONTARIO
Brampton
Seniors' Summit: Connecting Seniors to Community Services
11.30 AM to 4 PM, June 27th
Register at Eventbrite until June 20th.
Peel Elder Abuse Prevention Network staff are also available to assist via telephone at 647-354-3997

Creating Connections: Together we can promote dignity and respect
SATURDAY, JUNE 15, 2019
1:00 PM - 4:00 PM
Waterfront Neighbourhood Centre


627 Queens Quay WestToronto, ON





Educational,fun-filled afternoon to recognize WEAAD: Interactive and Intergenerational Activities * Toronto Police Service Launch Senior's Booklet* Tips to PREVENT elder abuse * Connect with Community Agencies* Lumacare releases NEW Elder Abuse Toolkit * International Speakers * Free BBQ and refreshments
MANITOBA
Gimli

World Elder Abuse Awareness Day Information Session
11 AM to 1 PM on June 11
Organized by Gimli Seniors Resource Centre
Information booth with materials, WEAAD ribbons, BBQ and snacks.


North End Winnipeg

Elder Abuse Awareness Week
Date: June 14, 2019
Time: 9:00 AM - 12:00 PM
Location: Sergeant Tommy Prince Place - 90 Sinclair Street

The North Centennial Seniors Association of Winnipeg will be planning several activities for its members to create more awareness of elder abuse. Activities during the week may include an intergenerational swim, a neighbourhood walk and a lunch promoting the purple ribbon campaign.
Downtown
World Elder Abuse Awareness Day
Date: June 14, 2019
Time: - All Day
Location: N/A 44 Furby St
Protections for Persons in Care office will be discussing their role in abuse prevention and investigation for the residents and families of Misericordia Place. All residents and staff will be invited to wear purple in recognition of the day.
Date: June 20, 2019
Time: 10:00 AM - 12:00 PM
Location: Robert A. Steen Community Centre - 980 Palmerston Ave.

Come join us for the presentation It's Not Right! Neighbours, Friends & Families for Older Adults. Learn how to recognize elder abuse and how you can help when you suspect it.

Fort Garry
Purple with a Purpose
Date: June 12, 2019
Time: 12:00 PM - 1:00 PM
Location: Riverview Health Centre - 1 Morley Ave
Riverview Health Centre will be taking a photo of a "staff purple ribbon". This will be the 3rd annual photo of RHC staff, dressed in purple, forming a giant purple ribbon.

River Heights

Elder Abuse Awareness Booth
Date: June 14, 2019
Time: 10:00 AM - 4:00 PM
Location: the Asper Jewish Community Campus - 123 Doncaster
Community awareness booth will offer resources and information about Elder Abuse Awareness Day.
Selkirk
Elder's Abuse Awareness BBQ
Date: June 14, 2019
Time: 12:00 PM - 1:30 PM
Location: Gordon Howard Centre - 384 Eveline Street
Elder Abuse Walk then BBQ at noon.



Portage La Prairie
Barbecue & Awareness Day
Date: June 12, 2019
Time: 11:00 AM - 1:30 PM
Location: VOPNI PARK - 169 SASKATCHEWAN AVENUE EAST
Display of resources, purple ribbons, BBQ, rainbow auction, 50/50 ticket sales
Flin Flon
Hemlock Housing Display
Date: June 3, 2019
Time: - All Day
Location: Hemlock Housing - 2 Hemlock
A display will be made available for the month of June so tenants and visitors can view and help themselves to information on elder abuse.
Rotary Court Display
Date: June 3, 2019
Time: - All Day
Location: Rotary Court - Rotary court
A display on Elder Abuse will be set up at Rotary Court for all tenants and visitors to be able to view and help themselves to resources.
Snow Lake

Snow Lake Elder Abuse Display
Date: June 3, 2019
Time: - All Day
Location: Snow Lake Health Center - 100 Lakeshore Dr
A display on elder abuse will be set up at the Snow Lake Health center for the month of June for residents of Snow Lake to view and access resources.
The Pas
Pineview Manor Display
Date: June 3, 2019
Time: - All Day
Location: Pinview Manor - 524 Fafard Ave


A display will be set up for the month of June for tenants and visitors to view and help themselves to information.
Northern View Lodge Display
Date: June 3, 2019
Time: - All Day
Location: Northern View Lodge - 206 3rd street west
A display with materials that can be taken will be made available for the month of June for residents and visitors to view.
QUEBEC


Montréal
Fraud Awareness activity


Police Station 11 in collaboration with the Bank of Canada is marking World Elder Abuse Awareness Day with an activity dealing with Fraud Awareness.
June 12, from 10:30 a.m. to 12:00 p.m.
"A New Direction for Canada's Bank Notes" will be presented by Sylvia Moldovan of the Bank of Canada, followed by a discussion with Station 11 community relations agents about the different types of frauds targeting seniors.

The event is free and takes place at New Hope Senior Citizens' Center, 6225 Godfrey, Montreal.

For information contact Agent Isabelle Dubé at 514-280-9411

2018 Events

BRITISH COLUMBIA

Vancouver
Vancouver will glow purple for WEAAD! Canada Place and Science World will light up on June 15. BC Place will be lit in purple on June 14.

The various Community Response Networks in the greater Vancouver area will be participating to many events across the Lower Mainland. See the list below (for more details about any of these, please contact www.bccrns.ca):

Grandview Woodlands CRN will participate with other community organisations (Grandview Woodlands Food Connections, REACH, etc.) to host an inclusive community event with information tables, Aboriginal Elder presentation (TBC), and light snacks/lunch at Britannia Community Services Centre common area outside (weather permitting)

South Granville CRN will set up information tables at Shopper's Drug Mart, Chalmer's Lodge, South Granville Seniors Centre and other area venues with outdoor presence with senior volunteers wearing purple.

Chinese CRN will be at Burnaby Central Park with senior-focused learning pieces/stor- sharing, BBQ
Marpole Oakridge CRN will take WEAAD to the streets with 2 information tables (Granville and Oak streets), WEAAD flag raising and City proclamation being read by local MLA.
Mount Pleasant CRN – WEAAD Lunch & Learn with Vancity, seniors line dance team, purple march to an area park

West End CRN A WEAAD BBQ will be held at Jim Deva Plaza on Davie Street, featuring live music

Downtown East Side CRN – WEAAD participation in Senior's Hub intergenerational community event with DTES Seniors Hub, Urban Aboriginal CRN and the Chinese Seniors Society.
Burnaby CRN – Focus on reducing vulnerability with outdoor WEAAD Nordic Pole walking class, street safety and social inclusion presentations
Renfrew Collingwood CRN – WEAAD event on June 16th in collaboration with Three Links Care Society. Open House including presentations, service provider displays, entertainment and food.
Urban Aboriginal CRN – will collaborate with DTES CRN WEAAD event (TBC)

MANITOBA
WEAAD Resident Advisory Council Recognition Tea, Winnipeg
June 15, 2:00 PM - 3:30 AM
Misericordia Place
Presentation by our Social Work student highlighting definitions of Elder Abuse and ways of identifying and reporting allegations. This will be followed by a discussion with our residents.
WEAAD event, Selkirk
June 15, 11:00 AM - 2:00 PM
Services to Seniors
310 Christie Ave
We will be joining a local grade 6 class, walking for awareness, teaching the kids about elder abuse and why it is so important.
Caring for our Seniors/Pensons à nos aînés & Seniors Birthday Club,
St. Laurent
June 15, 10:00 AM - 3:00 PM
St. Laurent Recreation Centre
This day will be filled with activities such as information booths, presentations, games for seniors and more. A complimentary lunch will be served.
55 Plus Monthly Luncheon, Stonewall,
June 13, 12:00 PM - 1:00 PM
Odd Fellows Hall
374 First Street West, Stonewall
The South Interlake 55 Plus will be hosting their monthly luncheon on Wednesday, June 13 at 12 Noon. Wear purple to the luncheon to support World Elder Abuse Awareness!
$10 at the door; no advance tickets required - Everyone Welcome!

NEWFOUNDLAND & LABRADOR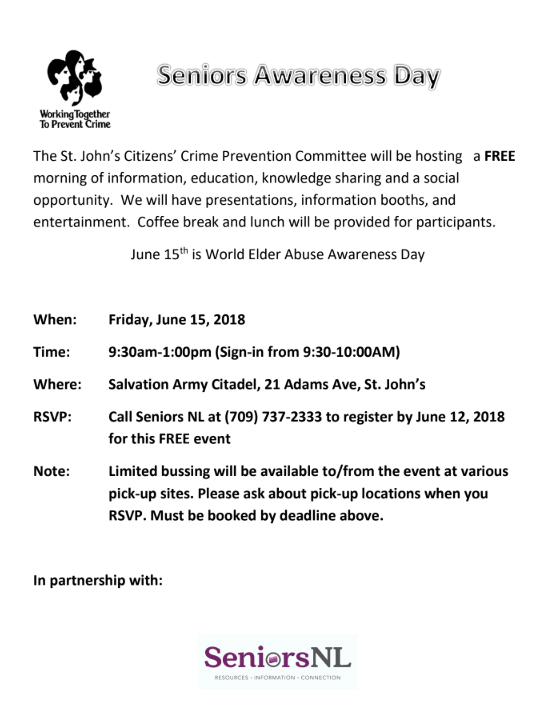 WEAAD 2018 Event, Seniors Awareness Day, St. John's
Hosted by St. John's Citizens' Crime Prevention Committee
June 15, 9:30 am-1:00 pm
(Sign-in from 9:30-10:00AM)
Salvation Army Citadel, 21 Adams Ave, St. John's
Free Event - Please book by June 12, 2018
Call Seniors NL at (709) 737-2333

Note: Limited bussing will be available to/from the event. Please ask about pick-up locations when you RSVP or see below.

For more details on the NL activities listed below, please visit this page and contact
Gander Seniors 50+ Club Inc. [NL 50+ Federation Inc.], Gander
WEAAD Seminar

Sandwich Bay 50+ Club, Inc. [NL 50+ Federation Inc.], Cartwright, Labrador-Grenfell
Hot Dinner (all seniors in town) and presentations

Active Living 55+ Club, La Scie
Presentation and activities
Retired Bankers Association, Clarenville, Eastern
Province-wideT-shirts with "Stand-up Against Elder Abuse" message for teachers promoting presentations on Financial Abuse of Older Adults up to 500 high school students

Melgignat Mi'Kmaq Women's Group [Newfoundland Aboriginal Women's Network -NAWN affiliate], Stephenville
Luncheon and Sharing Circle with members from Stepenville Crossing, Port au Port Peninsula, Kippens.
People of the Dawn Indigenous Friendship Center, St George's
Seniors from Stephenville area going to People of the Dawn Indigenous Friendship Centre Ktaqmkuk Museum Tour, Lunch, Discussion
Status of Women Central, Grand Falls Windsor
Lunch, presentation of materials, and Music (live band) – seniors invited
Northern Retirement Home,Port Saunders
Personal Care Home for residents.
Game Show and Lunch - Answer True or False questions about elder abuse and examples there of (including examples of financial abuse)
Silverwood Manor Personal Care Home for residents, Kippens, Western
Research and discussion on financial abuse of seniors and seniors to create an activity bag (on their rights – the rights of older adults)
Recreation, Mountain Hope Manor (Ida's Seniors Home Ltd.), Channel- Port Aux Basques, Western
Personal Care Home for residents
Lunch and Presentation - Family and friends will be welcome to attend the presentation


NORTHWEST TERRITORIES
TBA

ONTARIO
Elder Abuse Ontario's 2018 Campaign is "Seeds of Change"

Life Mentors, Bolton, June 15
11:00am –12:00pm
Seniors, here is your chance to educate and passdown your knowledge! Be a life mentor for anhour. Life mentors offers the opportunity forseniors to converse with the youth of ourcommunity. Each youth participant will takeexciting and interesting stories and translate thatinto their own art.
The Exchange
55 Healey Road, Bolton - Space is limited. Call 289-966-1715
Niagara Elder Abuse Prevention Network – WEAAD Planting Ceremony June 5
Celebration at Seasons Welland (163 First Ave, Welland, ON) on June 5, 2018 from 10:00 am-11:00 am Featuring an elder abuse presentation and the "It's Not Right" Planting ceremony!
Rock with Ages - Pickering, June 9
Abbeylawn Manor Living and Durham Elder Abuse Network, (D.E.A.N) invite you to support their intergenerational "Rock with Ages" fundraising event to support Durham Region Senior's who are victims of abuse.
"Rock with Ages" 2018 event is a fun community day to educate, entertain and raise funds to support D.E.A.N and enjoy live music and dance entertainment, BBQ, vendors, Silent Auction, Raffle Table, Dining in Durham raffle, face painting and much, much more!!!
SAFE AND SECURE AGING: PROTECTING AGAINST ABUSE AND FRAUD - Peterborough, June 15
from 10 AM- 12 PM at Peterborough Public Library, Community Room 345 Aylmer St. N., Peterborough, ON RSVP: 705-742-7067 Ext 250
Hosted in Partnership by: Peterborough Elder Abuse Prevention Network, Elder Abuse Ontario and Peterborough Police Service. View poster
Seeds for Change! See It, Name It, Check It – Hamilton, June 15
Celebration at Hamilton Police Services - 15 June 2018 at 10:00 am - 12:00 pm
400 Rymal Rd E., Hamilton, ON
Featuring the launch of The Be Aware Take Care Booklet, and It's Not Right Planting Ceremony
Light Refreshments!
FREE RSVP by: June 8th 2018
Constable Kimberly Kikas 905-546-8917 View poster
10TH ANNUAL SENIORS IN THE KNOW, Sault Ste Marie, June 15
Senior Citizens Drop-In Centre 619 Bay Street, Friday, June 15, 2018 10 AM – 3 PM
Open at 9:30 AM
Pre-Registration Required by Friday, June 8/18
Call 705-942-2195 (extension 208)
Community Service Providers Fair aLunch, Snacks and Refreshments Provided
Hosted by: Community Service Provider Fair Seniors Rights Protection Council of Sault Ste Marie and Area. View poster

INTERNATIONAL

KNOW MORE, AGE LOUDLY AGAINST ELDER ABUSE, Newburg, June 15
Mount Saint Mary College, Newburg, New York
Free & open to the public, a conference for everyone! Space is limited. P
lease register by emailing or by calling the orange County office for the aging at 845.615.3700
2017 EVENTS
ALBERTA
Edmonton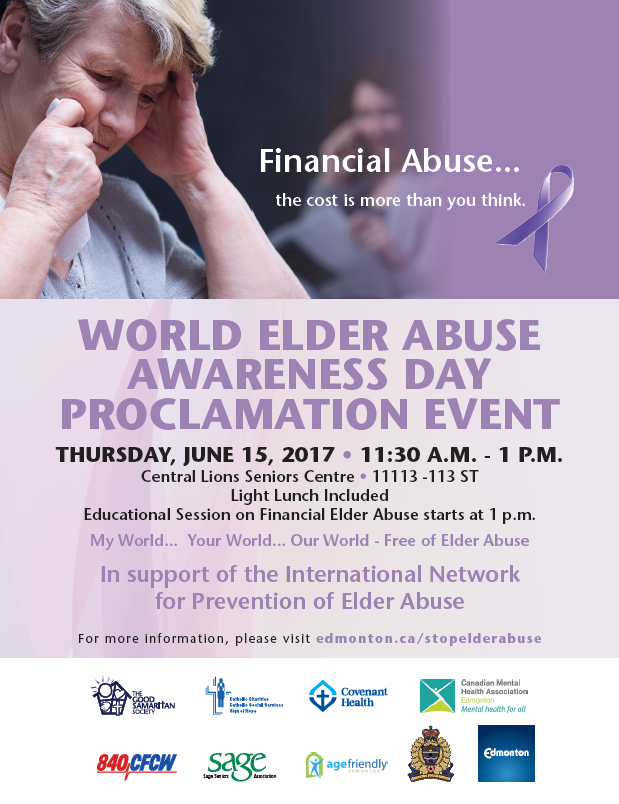 World Elder Abuse Awareness Day Proclamation Event
Thursday, June 15, 2017, 11:30 A.M. - 1 P.M.
Central Lions Seniors Centre
11113 -113 ST
Light lunch included. Educational session on financial elder abuse starts at 1 p.m.
For more information, please visit here

BRITISH COLUMBIA

Prince George
Spruce Credit Union is hosting informational materials, coffee, cookies etc. from 9:30am to 5:00pm.
879 Victoria St AND 3811 W. Austin Rd.
NEWFOUNDLAND & LABRADOR
Clarenville
The Road to Random Age-Friendly Communities - Lunch & Learn Session to highlight World Elder Abuse Awareness Day and help older adults become aware of and prevent financial abuse. All seniors and their families are invited. Admission is Free.
Presentation by Leo Bonnell, Community Peer Support Volunteer, SeniorsNL (SeniorsNL-Sponsored Event)
Thursday, June 15, 2017 From 2:00 to 4:00 pm at Bill Davis Chalet, 44 Tilley's Road
Contact Brenda at 466-2870 to book your seat.
Robert's Arm
Saturday, June 10, 2017 at the Community Centre
Mary Ennis and Kelly Heisz, from SeniorsNL will present on financial abuse against older adults, at 10:30 am.
A free lunch will follow the presentation. (SeniorsNL-Sponsored Event)
To register call Joan Burton at 709-652-3216.
St John's

How to protect your finances for those 55+: frauds, scams, and financial strategies you can put in place
Wednesday, June 7 from 2-3pm at the Tiffany Village Retirement Residence
Presented by the Credit Counselling Services of Atlantic Canada (SeniorsNL-Sponsored Event)
Call 1-888-753-2227 ext: 265

Deer Lake
Thursday, June 15th, 2 to 4 pm, Deer Lake Royal Canadian Legion
Doreen Burry, Western Health, and Rhonda Walsh, BMO will present on elder abuse, including the financial abuse of older adults. Light refreshments! Prizes! Giveaways! (SeniorsNL-sponsored event. Contact Patricia, and facilitator at 634-0912)
Sandwich Bay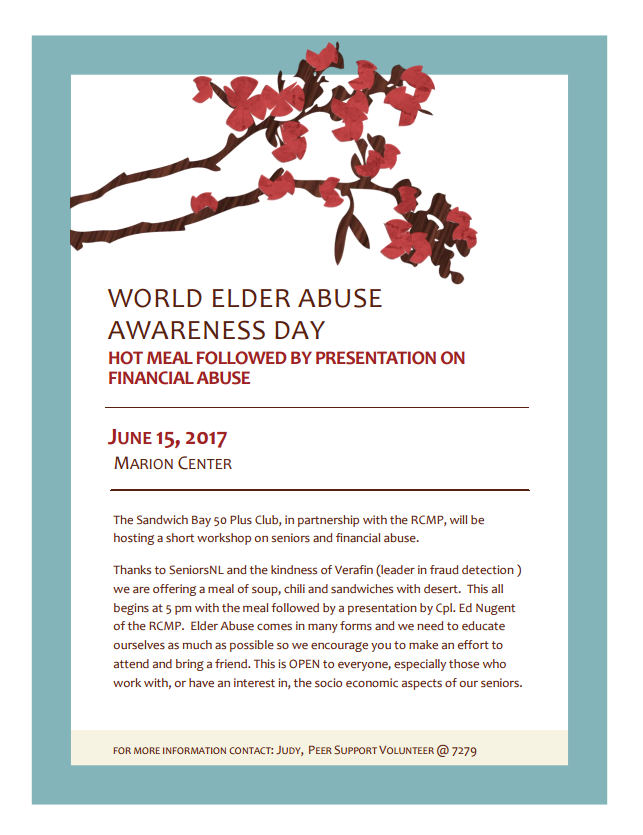 Special event organized by Sandwich Bay 50 Plus Group,
Thursday June 15, 2017, 5 pm, Marion Centre
Cpl. Ed Nugent, RCMP, will present on seniors and financial abuse. Hot meal followed by presentation on. Open to everyone, registration necessary. Contact Judy, SeniorsNL Peer Support Volunteer at 7279
Labrador City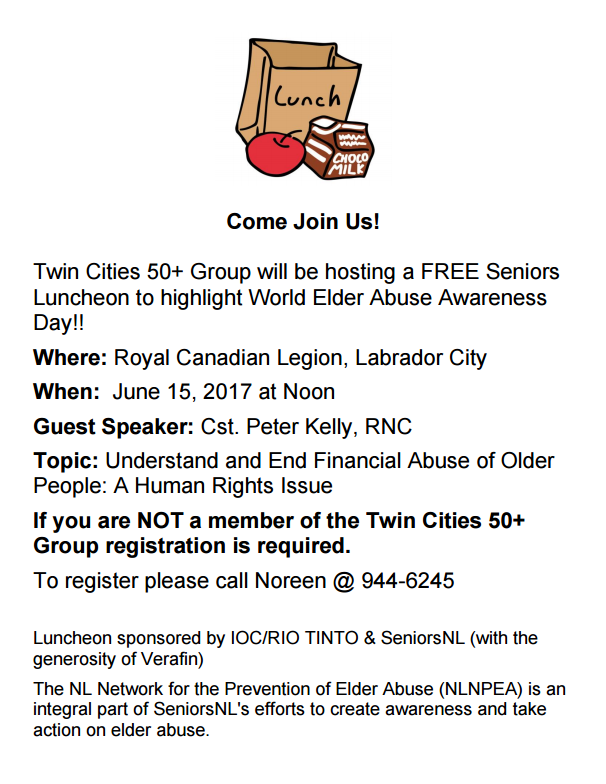 Thursday, June 15, 2017 at 12 noon
Twin Cities 50+ Group
FREE seniors luncheon at the Royal Canadian Legion to highlight World Elder Abuse Awareness Day!
Cst. Peter Kelly, RNC will speak on the topic: "Understand and End Financial Abuse of Older People: A Human Rights Issue".
If you are NOT a member of the Twin Cities 50+ Group, registration is required.
Please contact Noreen at 944-6245 to register. Luncheon sponsored by IOC/RIO TINTO and SeniorsNL (with the generosity of Verafin)
Port au Port East

Twilight 50+ Club
Thursday, June 15th, Starting at Noon
SeniorsNL-sponsored event on with a free Lunch.
Lori Ryan will present on Elder and Financial Abuse of older adults.
For more information, contact Mary at 648-2688 or Joan at 648-2777. Registration nescessary


Stephenville
Melgignat Mi'kmaq Women's Group
Thursday June 15, 2017 from 1-3 pm at the Stephenville Seniors Citizen Club
Talking Circle with seniors in our area to discuss Elder Abuse and other abuses.
Open to all Seniors from Stephenville and other communities.
Admission is FREE. To attend please contact Anne at 649-5909 or Mary at 649-3055 (SeniorsNL-Sponsored Event). Registration nescessary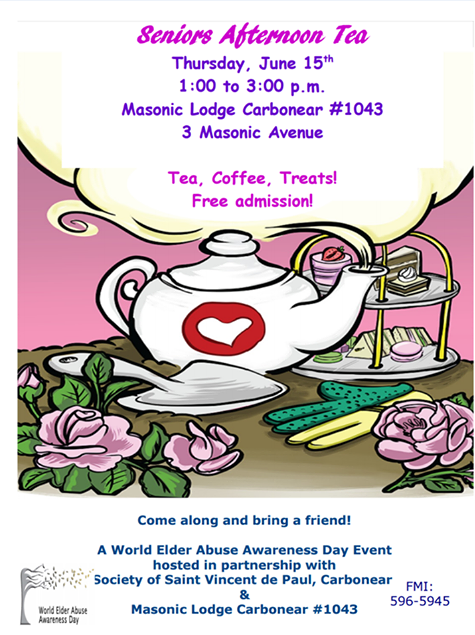 Carbonear
June 15, 1pm to 3pm
Seniors Afternoon Tea
Masonic Lodge #1043 - 3 Masonic Avenue
Free admission
NORTHWEST TERRITORIES
Inuvik
June 15 - Ingamo Friendship Centre is planning an event at Jim Koe Park (Ingamo Hall if the weather isn't good)
The event will include Welcoming everyone/Opening Prayer, Singing with Louie Goose/ Children's First/ Aboriginal Headstart/School, mini games to celebrate the lives and contributions of older adults. Soup, bannock, doughnuts, and other baked goods will be served.

ONTARIO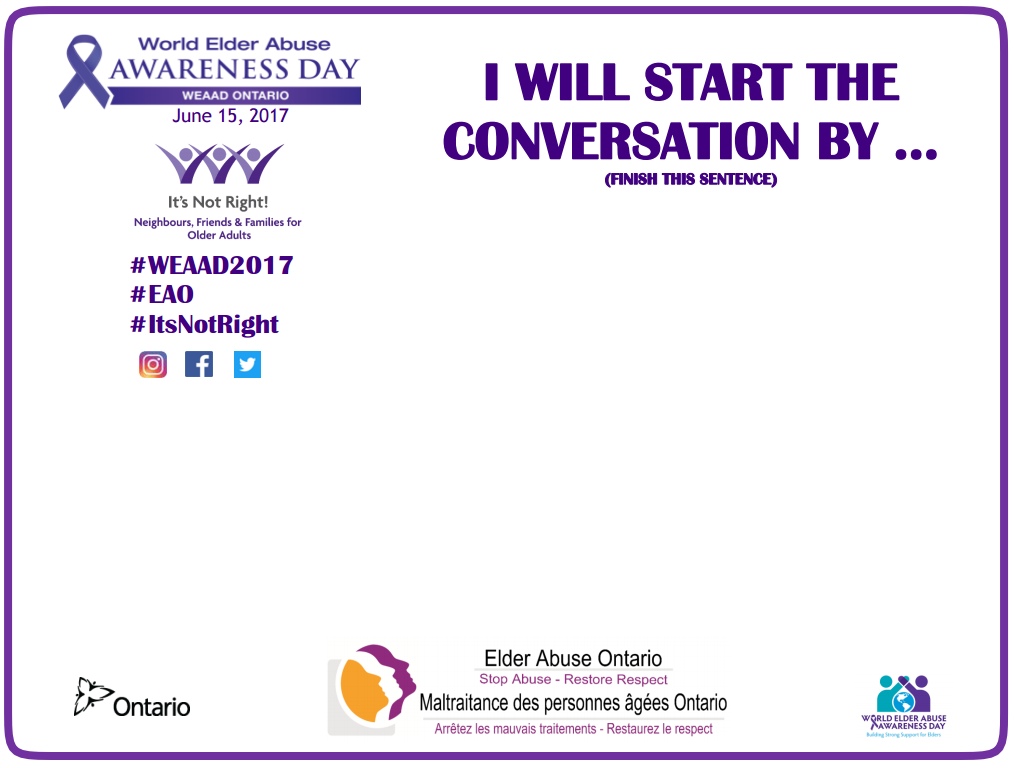 Elder Abuse Ontario's new online campaign:
Share how you intend to "Start the Conversation to stop the abuse of older adults"

Tweet your Poster to @ElderAbuseOnt
#WEAAD2017 #ItsNotRight
Post your pic or video on Instagram www.instagram.com/elderabuseontario/
Send your poster photo by email at


Brockville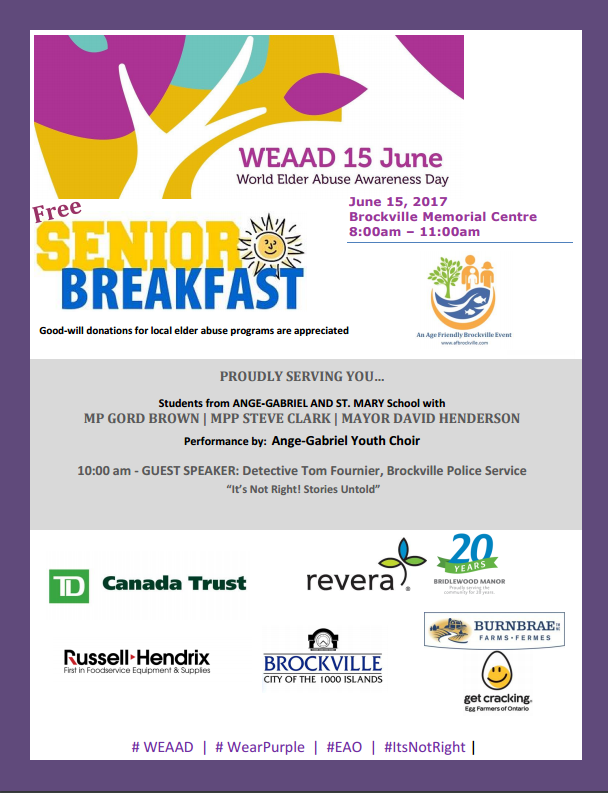 June 15th, 2017 from 8:00am -to 11:00am,
3rd annual Seniors Breakfast Event (FREE)
Seniors and community partners are invited to attend this free breakfast. We have a great morning planned with special guests MP Gord Brown, MPP Steve Clark and Mayor Henderson serving up breakfast with students from Ange-Gabriel and St. Mary's School.
Guest speaker and special announcement at 10:00am. See the poster for more details.
Good-will donations are appreciated at the door and will support local elder abuse programs, part of Brockville's Age-Friendly 2017 - 2018 official Action Plan.'It's Not Right' is a province-wide campaign led by Western University. Learn more at: itsnotright.ca


Ottawa

Yoga on the Hill , June 14
Meet at 11.30am at the Centennial flame
More details


St Michael's Hospital - Toronto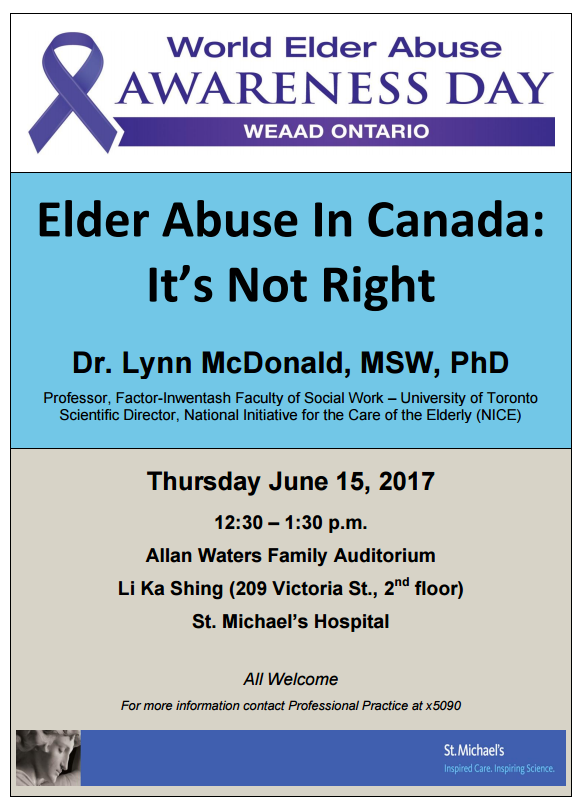 Elder Abuse In Canada - It's Not Right with Dr. Lynn McDonald, MSW, PhD
Thursday June 15, 2017
12:30 – 1:30 p.m.
Allan Waters Family Auditorium
Li Ka Shing (209 Victoria St., 2nd floor)
St. Michael's Hospital
Registration nescessary. Contact: or


Thunder Bay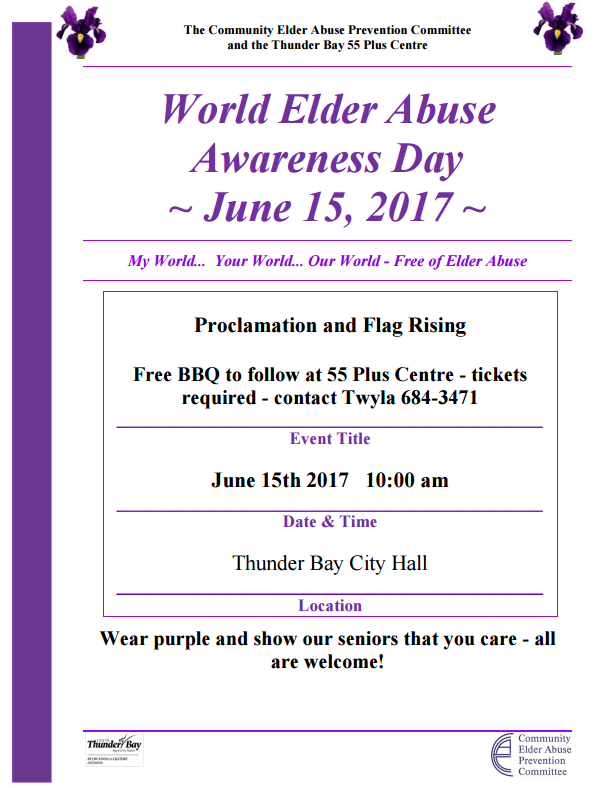 Community Elder Abuse Prevention Committee -
World Elder Abuse Awareness Day Proclamation and Flag Raising followed by a BBQ
June 15 10am at Thunder Bay City Hall
Reservations required - Contact Twyla at 807-684-3471
Niagara Falls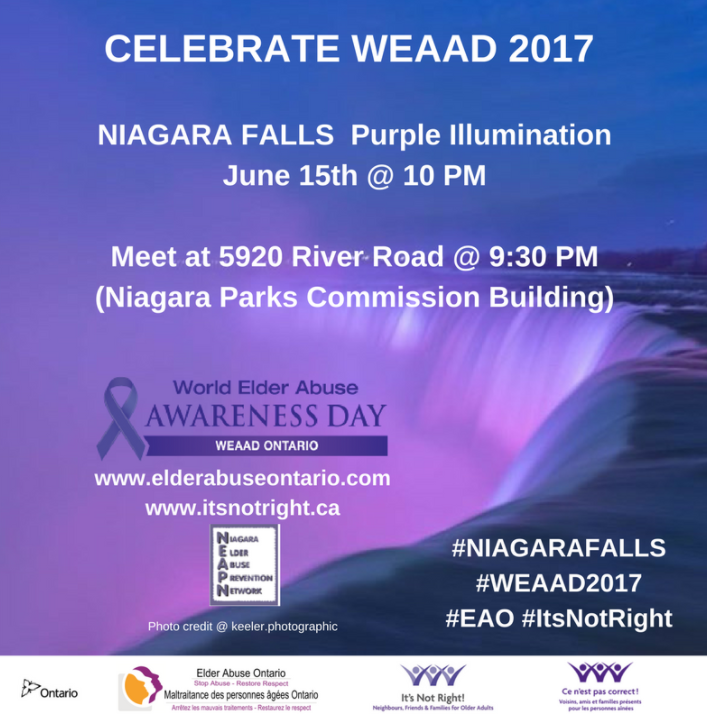 June 15th at 10pm
5920 River Road -
Niagara Parks Commission Buidling
Watch the Falls turn purple for WEAAD
Elliot Lake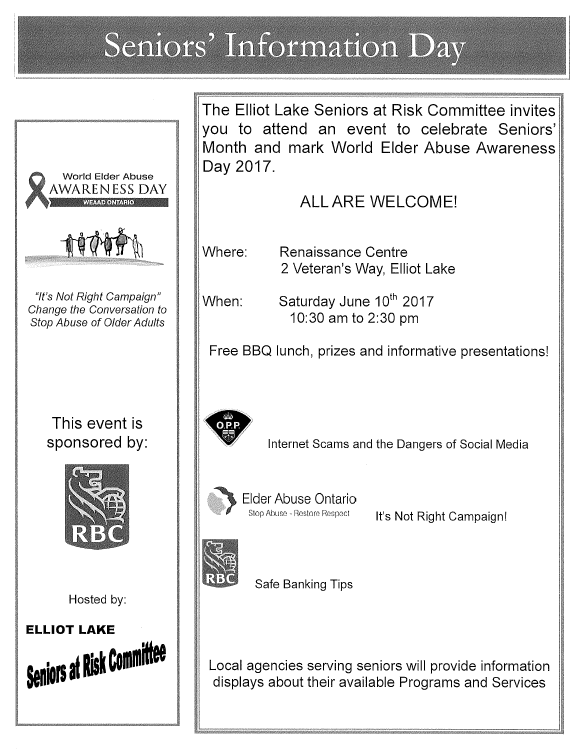 Elliot Lake Seniors at Risk Committee
June 10 2017,10.30am to 2.30pm
Seniors Information Day and BBQ at Renaissance Centre (2 Veteran's Way - Elliot Lake)
With presentations from O.P.P, Elder Abuse Ontario and It's Not Right.


Nepean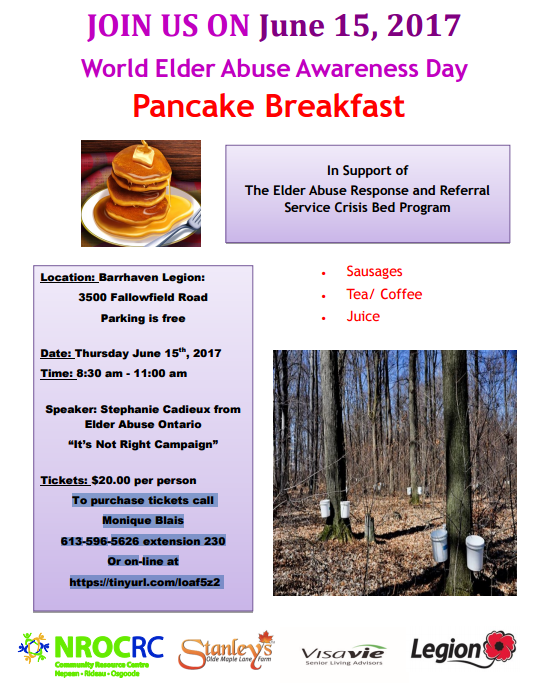 Pancake Breakfast in Support of The Elder Abuse Response and Referral Service Crisis Bed Program
8.30am-11am
Barrhaven Legion
3500 Followfield Road in Nepean
Free parking
Guest Speaker: Stéphanie Cadieux from Elder Abuse Ontario who will be speaking about the "It's Not Right Campaign".
Tickets are $20.00 - To purchase tickets call Monique Blais 613-596-5626 extension 230 Or on-line at https://tinyurl.com/loaf5z2


QUEBEC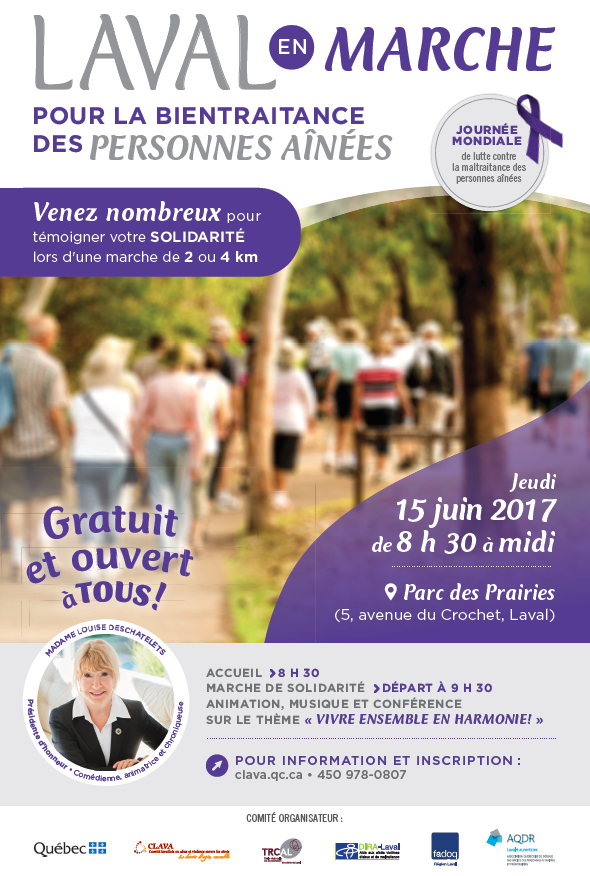 Laval
En marche pour la bientraitance des personnes aînées
Walk for WEAAD - Organised by Comité lavallois en abus et violence envers les aînés .
2 or 4 kms walk, from 8.30am to noon on June 15, Parc des Prairies. The walk will be followed by music and entertainment on the theme ''Living together in harmony''
Register for this event at:
INTERNATIONAL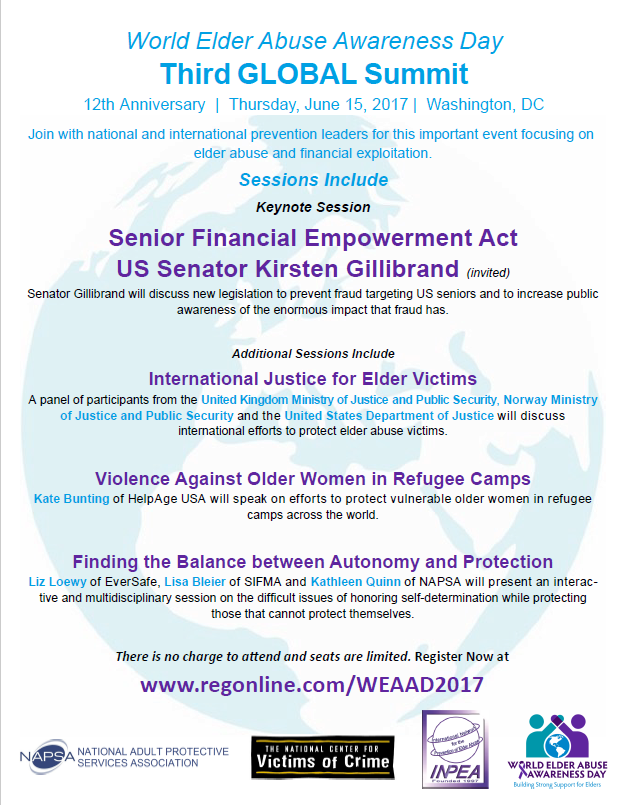 Third GLOBAL Summit 12th Anniversary
Thursday, June 15, 2017 | Washington, DC
WEAAD 2016 Events

This year, CNPEA will mark World Elder Abuse Awareness Day by highlighting Intergenerational initiatives and their crucial role in fighting ageism and preventing elder abuse.
CNPEA will host two free webinars about:
September 9, 2016 - New release:
The BC Community Response Networks just released a wonderful video about their WEAAD 2016 activities in Vancouver, B.C., and the crucial role of Community Response Networks in enhancing awareness and prevention of Elder Abuse. See it here:
---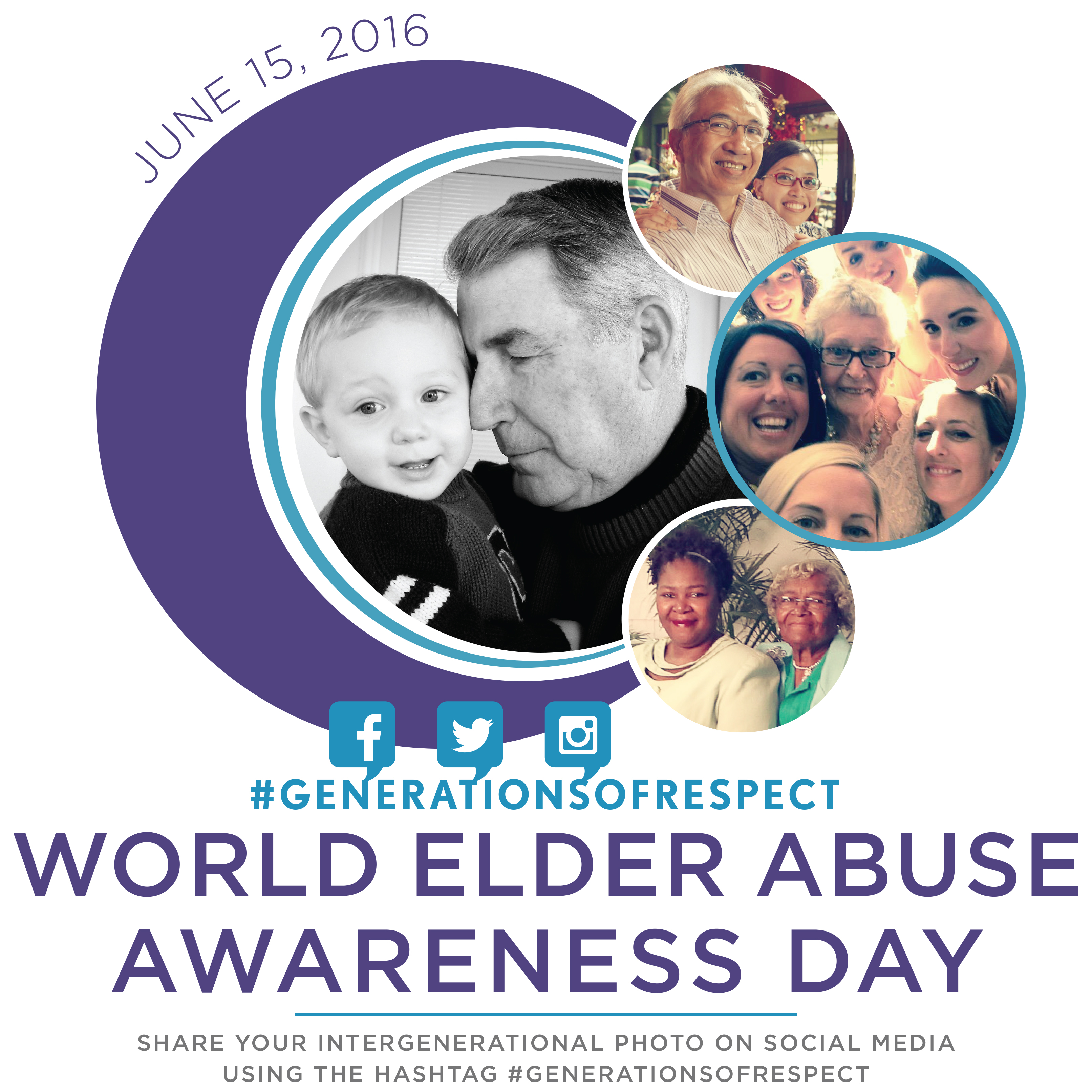 Join the Elder Justice League for WEAAD!
Starting June 1st, 2016, share your intergenerational photos on social media
with the hashtag #GenerationsOfRespect!
You can also take a selfie with the poster below and tell us how you fight Elder Abuse: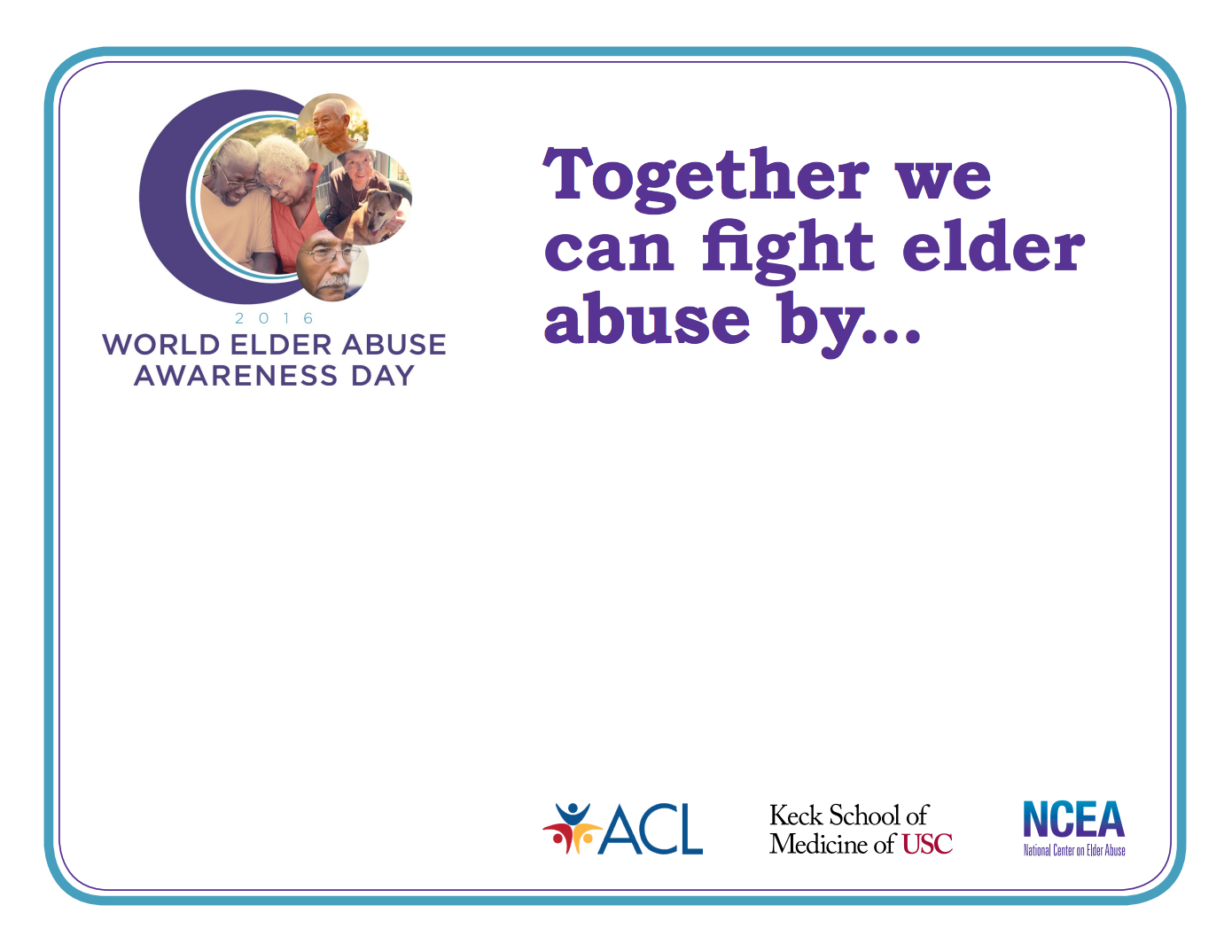 World Elder Abuse Awareness Day 2nd Global Summit
11th Anniversary - Washington DC
Featuring International and National Speakers. The First Global Summit on World Elder Abuse Awareness Day in 2015 had national policy makers, advocates, financial services institutions, media, social services organizations and the general public attend, plus over 150 additional organizational and individual partners from all over the world. We expect many more in 2016!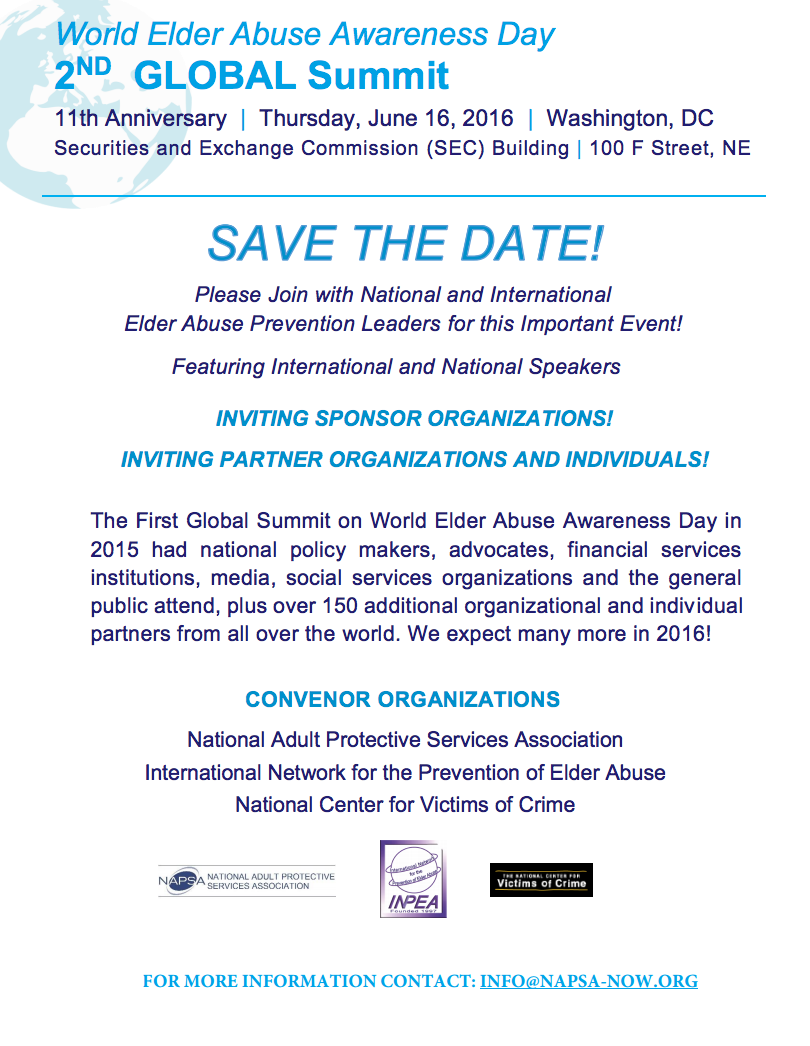 CONVENOR ORGANIZATIONS
National Adult Protective Services Association
International Network for the Prevention of Elder Abuse
National Center for Victims of Crime
IN CANADA:
Alberta
The Alberta Elder Abuse Awareness Network invites you to brighten an older adult's day through a Random Act of Kindness. Find ideas and suggestions on www.albertaelderabuse.ca
Edmonton:The City of Edmonton's Seniors Protection Partnership (with other community partners) will hold a World Elder Abuse Awareness Day Proclamation Event on June 15, from 11.30am to 1pm, at Central Lions Seniors Centre.
For more information, visit edmonton.ca/stopelderabuse
No registration required
Calgary:
Elder Abuse Awareness Café with Calgary Seniors Resource Society
June 7, 2016 from 10am to 11:30am
Village Square Leisure Centre
For more information contact:
Catherine Fallon at the Calgary Seniors Resource Society at 403-266-6200


British Columbia:
From Duncan to Vancouver, events are popping up all over the province of British Columbia!mmunity Response Network communities throughout BC will be collaborating in multigenerational and multidisciplinary activities, events and initiatives in recognition of WEAAD.
Here is a partial 2016 WEAAD events schedule, contact the BC Community Responses Networks for details in your area.
Manitoba
The Respect Challenge is back this year!
#RespectChallengeMb - Selfie with a senior - Find out all the details and local events all over Manitoba: http://www.weaadmanitoba.ca/.
Follow @weaadmb and take part in the #respectchallengemb
Portage la Prairie: WEAAD Barbecue and Information Event
June 15, 2016, 11:00 AM - 1:00 AM
Vopni Park, 169 Saskatchewan Avenue East
Portage Service for Seniors will be holding an information handout and a barbecue which will be a Healthy Fundraiser, with support from Southern Health Sante Sud.
We have asked the Mayor of Portage la Prairie to proclaim the day, and we will be handing out information, purple ribbons and be wearing purple ourselves.


Newfoundland and Labrador


Join Peaceful Communities for an afternoon of events on June 15, from noon to 4pm. Activities will include a lunch, presentations and live entertainment at St James Memorial Centre, Port aux Basques, NL.

Make sure to register for this event before June 6th
Call Kyrstal at 709.695.7505
or email

Nova Scotia

Seniors Safety Programs promote WEAAD in Southwest Nova Scotia. No registration necessary!
On June 15th, 22 RBC branches and 9 Senior Safety Programs across SWN will join together to raise awareness about this important issue.
A display booth on Senior Safety Programs and Elder Abuse will be hosted at all 22 participating RBC branches in Southwest Nova Scotia on June 15h.
RBC staff, Senior Safety Coordinators and community partners will be wearing purple t-shirts to help bring awareness to World Elder Abuse Awareness Day.
We invite you to join us at your local RBC branch on the 15th to learn more about Senior Abuse and Senior Safety Programs in your area.
Ontario
Toronto:

World Elder Abuse Awareness Day Walk,
12:30pm - 1pm,
2195 Jane Street
Organized by Lumacare
For more details contact
"It's okay, it was just a fall." Standing Up Against Elder AbusePresentation by Dr. Camilla Wong, Geriatrician, St Michael's Hospital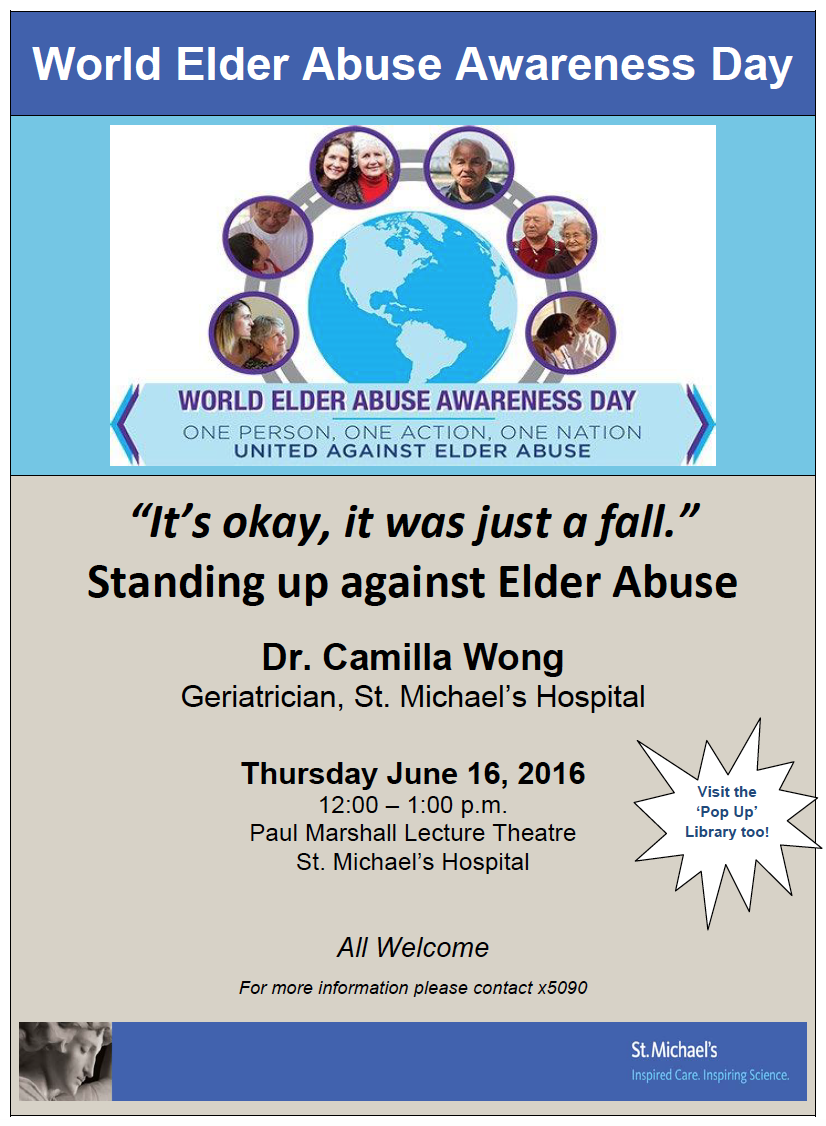 When:
Thursday, June 16, 2016
12:00 to 1:00pm
Where:
Paul Marshall Lecture Theatre,
St Michael's Hospital
30 Bond St., Toronto, Ontario M5B 1W8, Canada.

No reservation required. For more information call
416-360-4000 ext 5090 or email


Quebec
Here is the list of all Regional Coordinators for the Prevention of Elder Abuse. Contact your local coordinator for more information on WEAAD events near you.
Saskatchewan


The Saskatoon Council on Aging presents a World Elder Abuse Awareness Day workshop:

"The Caregiver Relationship: Supporting the Family Care Providers to Prevent Abuse"
With presenters Dr. Lillian Thorpe, Geriatric Psychiatrist; Jeanne Beaudoin, Social Worker; and Facilitator Doug Robertson.

Wednesday, June 8 2016 from 9 a.m. to 3 p.m. (lunch and snacks provided) - $20
McClure United Church - 4025 Taylor Street East
Find out more and register at 306.652.2255 or

2015 Events
WEAAD Global Summit 2015
Here is the detailed program of the upcoming first WEAAD Global Summit, which will take place on June 15th, 2015 in Washington, DC

Programme and Invitation