Page 8 of 9
WEAAD 2016 Events

This year, CNPEA will mark World Elder Abuse Awareness Day by highlighting Intergenerational initiatives and their crucial role in fighting ageism and preventing elder abuse.
CNPEA will host two free webinars about:
September 9, 2016 - New release:
The BC Community Response Networks just released a wonderful video about their WEAAD 2016 activities in Vancouver, B.C., and the crucial role of Community Response Networks in enhancing awareness and prevention of Elder Abuse. See it here:
---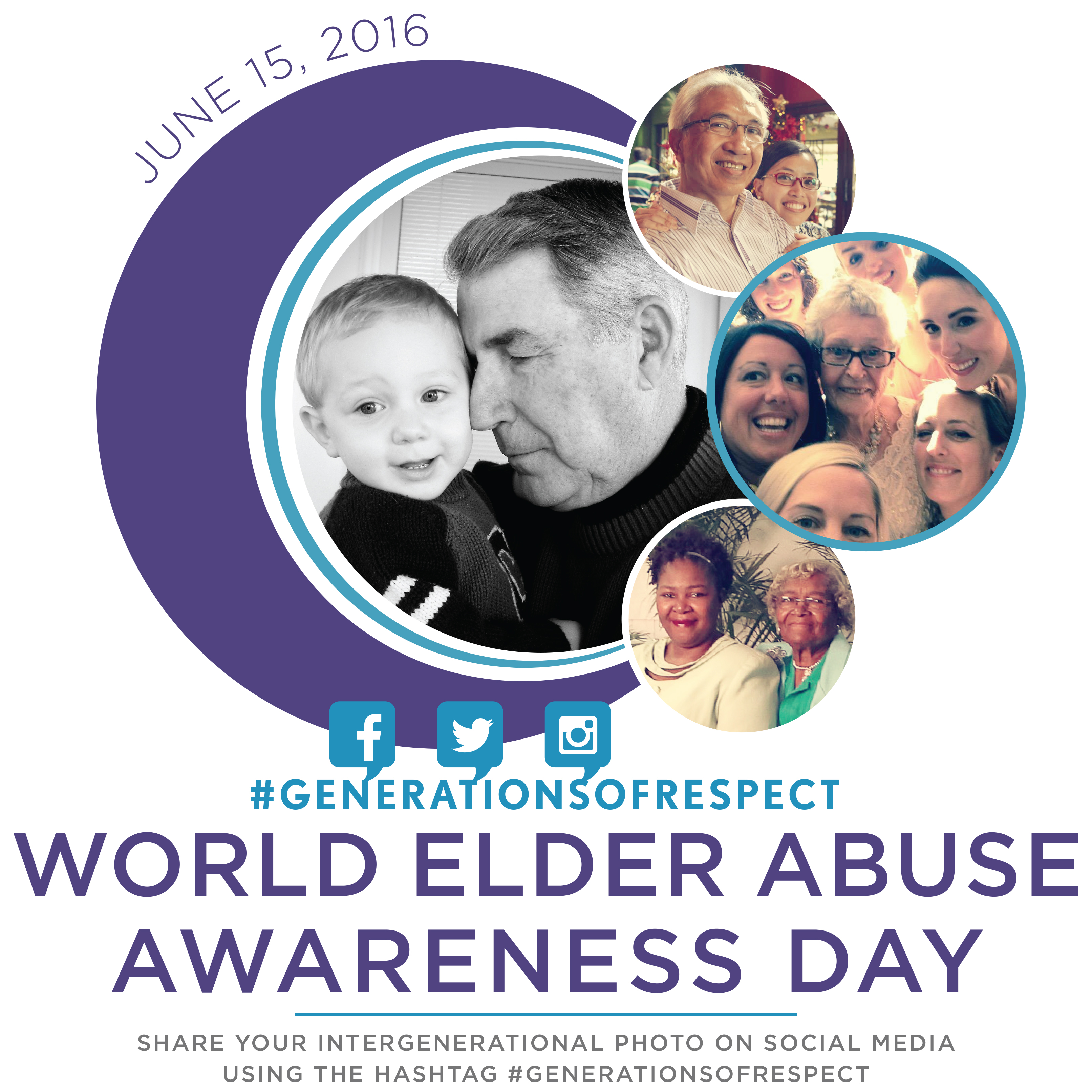 Join the Elder Justice League for WEAAD!
Starting June 1st, 2016, share your intergenerational photos on social media
with the hashtag #GenerationsOfRespect!
You can also take a selfie with the poster below and tell us how you fight Elder Abuse: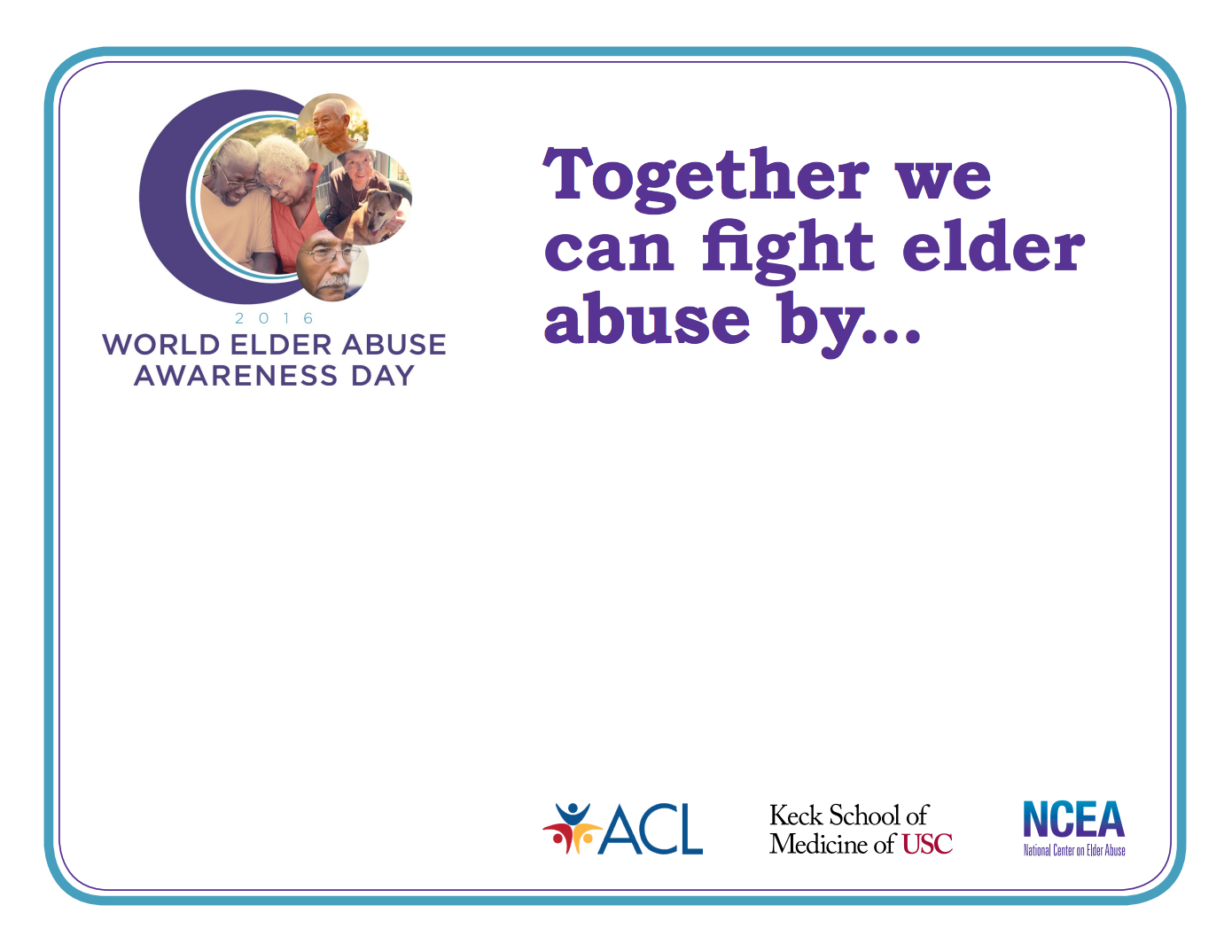 World Elder Abuse Awareness Day 2nd Global Summit
11th Anniversary - Washington DC
Featuring International and National Speakers. The First Global Summit on World Elder Abuse Awareness Day in 2015 had national policy makers, advocates, financial services institutions, media, social services organizations and the general public attend, plus over 150 additional organizational and individual partners from all over the world. We expect many more in 2016!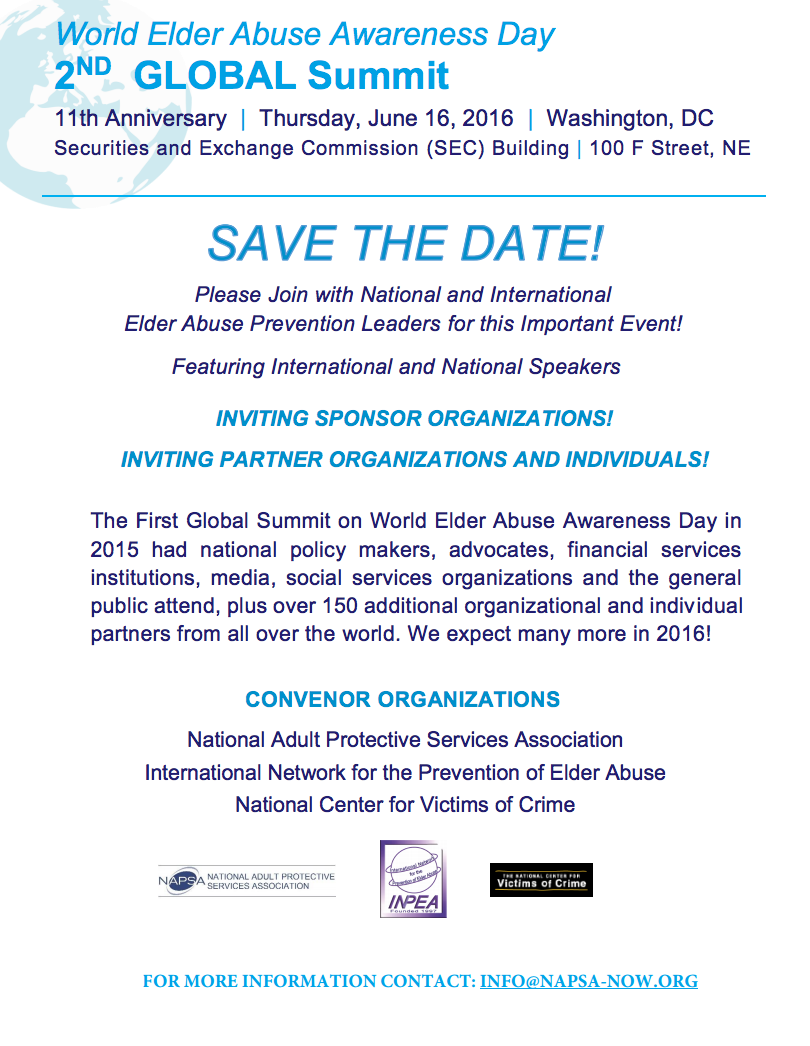 CONVENOR ORGANIZATIONS
National Adult Protective Services Association
International Network for the Prevention of Elder Abuse
National Center for Victims of Crime
IN CANADA:
Alberta
The Alberta Elder Abuse Awareness Network invites you to brighten an older adult's day through a Random Act of Kindness. Find ideas and suggestions on www.albertaelderabuse.ca
Edmonton:The City of Edmonton's Seniors Protection Partnership (with other community partners) will hold a World Elder Abuse Awareness Day Proclamation Event on June 15, from 11.30am to 1pm, at Central Lions Seniors Centre.
For more information, visit edmonton.ca/stopelderabuse
No registration required
Calgary:
Elder Abuse Awareness Café with Calgary Seniors Resource Society
June 7, 2016 from 10am to 11:30am
Village Square Leisure Centre
For more information contact:
Catherine Fallon at the Calgary Seniors Resource Society at 403-266-6200


British Columbia:
From Duncan to Vancouver, events are popping up all over the province of British Columbia!mmunity Response Network communities throughout BC will be collaborating in multigenerational and multidisciplinary activities, events and initiatives in recognition of WEAAD.
Here is a partial 2016 WEAAD events schedule, contact the BC Community Responses Networks for details in your area.
Manitoba
The Respect Challenge is back this year!
#RespectChallengeMb - Selfie with a senior - Find out all the details and local events all over Manitoba: http://www.weaadmanitoba.ca/.
Follow @weaadmb and take part in the #respectchallengemb
Portage la Prairie: WEAAD Barbecue and Information Event
June 15, 2016, 11:00 AM - 1:00 AM
Vopni Park, 169 Saskatchewan Avenue East
Portage Service for Seniors will be holding an information handout and a barbecue which will be a Healthy Fundraiser, with support from Southern Health Sante Sud.
We have asked the Mayor of Portage la Prairie to proclaim the day, and we will be handing out information, purple ribbons and be wearing purple ourselves.


Newfoundland and Labrador


Join Peaceful Communities for an afternoon of events on June 15, from noon to 4pm. Activities will include a lunch, presentations and live entertainment at St James Memorial Centre, Port aux Basques, NL.

Make sure to register for this event before June 6th
Call Kyrstal at 709.695.7505
or email

Nova Scotia

Seniors Safety Programs promote WEAAD in Southwest Nova Scotia. No registration necessary!
On June 15th, 22 RBC branches and 9 Senior Safety Programs across SWN will join together to raise awareness about this important issue.
A display booth on Senior Safety Programs and Elder Abuse will be hosted at all 22 participating RBC branches in Southwest Nova Scotia on June 15h.
RBC staff, Senior Safety Coordinators and community partners will be wearing purple t-shirts to help bring awareness to World Elder Abuse Awareness Day.
We invite you to join us at your local RBC branch on the 15th to learn more about Senior Abuse and Senior Safety Programs in your area.
Ontario
Toronto:

World Elder Abuse Awareness Day Walk,
12:30pm - 1pm,
2195 Jane Street
Organized by Lumacare
For more details contact
"It's okay, it was just a fall." Standing Up Against Elder AbusePresentation by Dr. Camilla Wong, Geriatrician, St Michael's Hospital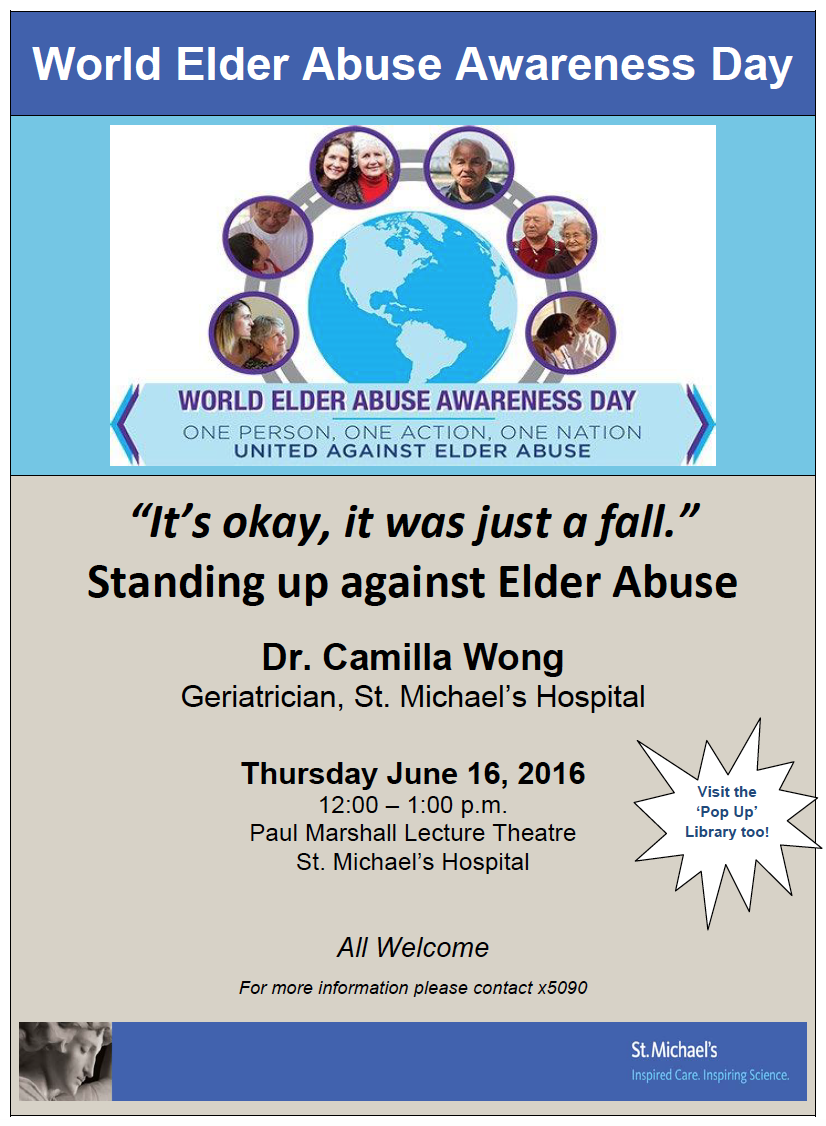 When:
Thursday, June 16, 2016
12:00 to 1:00pm
Where:
Paul Marshall Lecture Theatre,
St Michael's Hospital
30 Bond St., Toronto, Ontario M5B 1W8, Canada.

No reservation required. For more information call
416-360-4000 ext 5090 or email


Quebec
Here is the list of all Regional Coordinators for the Prevention of Elder Abuse. Contact your local coordinator for more information on WEAAD events near you.
Saskatchewan


The Saskatoon Council on Aging presents a World Elder Abuse Awareness Day workshop:

"The Caregiver Relationship: Supporting the Family Care Providers to Prevent Abuse"
With presenters Dr. Lillian Thorpe, Geriatric Psychiatrist; Jeanne Beaudoin, Social Worker; and Facilitator Doug Robertson.

Wednesday, June 8 2016 from 9 a.m. to 3 p.m. (lunch and snacks provided) - $20
McClure United Church - 4025 Taylor Street East
Find out more and register at 306.652.2255 or