Page 5 of 9
2019 Events

ALBERTA

Athabasca

2019 Athabasca Senior's Symposium
9.30 AM to 3.30 PM, June 6
Athabasca Seniors' Centre. $12/ticket including lunch, prizes, and other activities
Call Athabasca County FCSS at 780-675-2623 for tickets and more information.


Edmonton
World Elder Abuse Awareness Day proclamation event: Lifting Up Voices
1 PM to 2.30PM, June 14
Central Lions Seniors Recreation Centre
To RSVP, email

or call 780-809-9420



Seniors Centre Without Walls- Edmonton Southside Primary Care Network
Sage Seniors Association will lead a phone-based discussion regarding elder abuse education, prevention and support of seniors. Edmonton-Riverview MLA Lori Sigurdson will join the discussion to show her support of AB seniors.
Contact 780-395-2626 to register or call 1-855-703-8985, and enter Meeting ID: 225.573.6467#on June 14th at 3pm to join the discussion.
Fort McMurray
Seniors Wellness Expo
Royal Canadian Legion Branch 165.
For questions, please contact Shabnam at 780-788-1381.1 to 4 PM, June 14th


Lethbridge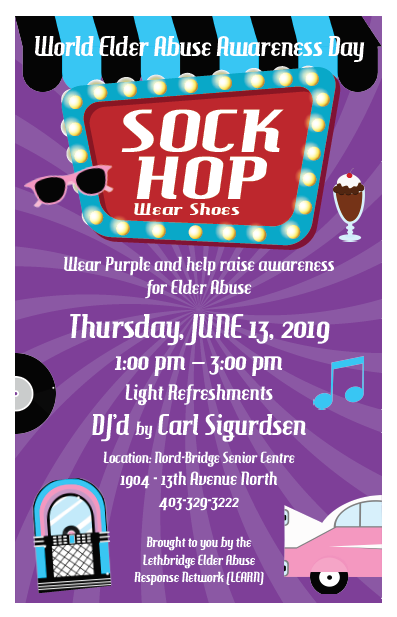 SOCK HOP
Thursday, June 13
1pm - 3pm
Nord-Bridge Senior Centre
1904-13th Avenue North
Light refreshments served - Wear purple!
Organized by the Lethbridge Elder Abuse Response Network



Yellowhead
Yellowhead Elder Abuse Response Network Facebook Challenge
Wear purple on June 14th or 15th, "like" their page, post your picture on their Facebook page and enter to win a $100 donation to the charity of your choice
BRITISH COLUMBIA

Nelson

The Nelson Community Response Network will have an information table at the Kootenay Co-op & the Credit Union will offer a shredding service (10 AM to 2 PM)


Sparwood

Strawberry Tea
June 8, 2019 from 1-3 PM,
Sparwood Senior Drop-In Centre. Hosted by the Sparwood CRN. Free admission.


TO SEE A FULL LIST OF CRN events across the province of British Columbia, click here

NEWFOUNDLAND

EVENTS ON JUNE 13
Webinar: Crimes against Seniors: Financial Abuse
Hosted by SeniorsNL 11:30 AM NDT.
Registration is required: Register now!
This will be of particular interest to service providers and seniors alike."Elder abuse is real. If you think it is not happening in your community, think again."
Grand Falls-Windsor

Status of Women Central, Violence Prevention South & Central and Horwood's Home Care
5B Bayley Street
Soup & sandwich lunch with band and speakers on elder abuse, how to report same, self-empowerment (to take place in St. Joseph's Hall)


EVENTS ON JUNE 14
St John's

St. John's Crime Prevention Committee
9:30am – 1pm
In partnership with SeniorsNL and its NL Network for the Prevention of Elder Abuse, the St. John's Citizens' Crime Prevention Committee will be hosting a FREE morning of information, education, knowledge sharing, and a social opportunity. There will be presentations, information booths, and entertainment. Coffee break and lunch will be provided for participants.
Space is limited so registration is required. RSVP - Call Seniors NL at (709) 737-2333 to register by June 12, 2019 for this FREE event
Note: Limited bussing will be available to/from the event at various pick-up sites. Please ask about pick-up locations when you RSVP. Must be booked by deadline June 12.

Carbonear
Lanes Retirement Living,
Inter-generational pizza party for residents and families with a presentation on financial abuse and frauds and scams to be held at Lanes Retirement Home. 2PM
Port aux Basques

Gateway Status of Women Council,
11am-3pm, St. James Memorial Centre, Port aux Basques
Turkey dinner with music, guest speaker from Leading Edge Credit Union who will speak on financial wellness, and information displays.
Deer Lake

Deer Lake Manor – Humber Valley Complex
Starting 1:30 pm
Garden party with snacks and a presentation and discussion of elder abuse, risk factors, signs. Invitees include Town Council, community groups, families of residents and the community.


Robinsons

Crosswinds Seniors Resort
Starting at2pm
Afternoon event with guest speakers and discussion on financial abuse, refreshments, and musical entertainment. Guest speakers will also be available for one-on-one sessions with seniors on request to be held at Crosswinds Seniors Resort.


EVENTS ON JUNE 15
Stephenville
Bay St. George Coalition to End Violence
11am-4pm
Seniors Kitchen Party to take place at the Royal Canadian Legion with a hot meal, information, and resources from community groups, displays and keynote speakers on financial abuse, WEAAD, health, recreation, overall wellness.

EVENTS ON JUNE 20
Witless Bay

Alderwood Estates
Starting 6 pm
Safari club experience – Take a Walk on the Wild Side – a resident and family open house featuring a Candy Bar with entertainment by Jellybean Entertainment using a wide variety of reptiles that will be educational and interactive. There will also be a speaker and print material on financial abuse.

ONTARIO
Brampton
Seniors' Summit: Connecting Seniors to Community Services
11.30 AM to 4 PM, June 27th
Register at Eventbrite until June 20th.
Peel Elder Abuse Prevention Network staff are also available to assist via telephone at 647-354-3997

Creating Connections: Together we can promote dignity and respect
SATURDAY, JUNE 15, 2019
1:00 PM - 4:00 PM
Waterfront Neighbourhood Centre


627 Queens Quay WestToronto, ON





Educational,fun-filled afternoon to recognize WEAAD: Interactive and Intergenerational Activities * Toronto Police Service Launch Senior's Booklet* Tips to PREVENT elder abuse * Connect with Community Agencies* Lumacare releases NEW Elder Abuse Toolkit * International Speakers * Free BBQ and refreshments
MANITOBA
Gimli

World Elder Abuse Awareness Day Information Session
11 AM to 1 PM on June 11
Organized by Gimli Seniors Resource Centre
Information booth with materials, WEAAD ribbons, BBQ and snacks.


North End Winnipeg

Elder Abuse Awareness Week
Date: June 14, 2019
Time: 9:00 AM - 12:00 PM
Location: Sergeant Tommy Prince Place - 90 Sinclair Street

The North Centennial Seniors Association of Winnipeg will be planning several activities for its members to create more awareness of elder abuse. Activities during the week may include an intergenerational swim, a neighbourhood walk and a lunch promoting the purple ribbon campaign.
Downtown
World Elder Abuse Awareness Day
Date: June 14, 2019
Time: - All Day
Location: N/A 44 Furby St
Protections for Persons in Care office will be discussing their role in abuse prevention and investigation for the residents and families of Misericordia Place. All residents and staff will be invited to wear purple in recognition of the day.
Date: June 20, 2019
Time: 10:00 AM - 12:00 PM
Location: Robert A. Steen Community Centre - 980 Palmerston Ave.

Come join us for the presentation It's Not Right! Neighbours, Friends & Families for Older Adults. Learn how to recognize elder abuse and how you can help when you suspect it.

Fort Garry
Purple with a Purpose
Date: June 12, 2019
Time: 12:00 PM - 1:00 PM
Location: Riverview Health Centre - 1 Morley Ave
Riverview Health Centre will be taking a photo of a "staff purple ribbon". This will be the 3rd annual photo of RHC staff, dressed in purple, forming a giant purple ribbon.

River Heights

Elder Abuse Awareness Booth
Date: June 14, 2019
Time: 10:00 AM - 4:00 PM
Location: the Asper Jewish Community Campus - 123 Doncaster
Community awareness booth will offer resources and information about Elder Abuse Awareness Day.
Selkirk
Elder's Abuse Awareness BBQ
Date: June 14, 2019
Time: 12:00 PM - 1:30 PM
Location: Gordon Howard Centre - 384 Eveline Street
Elder Abuse Walk then BBQ at noon.



Portage La Prairie
Barbecue & Awareness Day
Date: June 12, 2019
Time: 11:00 AM - 1:30 PM
Location: VOPNI PARK - 169 SASKATCHEWAN AVENUE EAST
Display of resources, purple ribbons, BBQ, rainbow auction, 50/50 ticket sales
Flin Flon
Hemlock Housing Display
Date: June 3, 2019
Time: - All Day
Location: Hemlock Housing - 2 Hemlock
A display will be made available for the month of June so tenants and visitors can view and help themselves to information on elder abuse.
Rotary Court Display
Date: June 3, 2019
Time: - All Day
Location: Rotary Court - Rotary court
A display on Elder Abuse will be set up at Rotary Court for all tenants and visitors to be able to view and help themselves to resources.
Snow Lake

Snow Lake Elder Abuse Display
Date: June 3, 2019
Time: - All Day
Location: Snow Lake Health Center - 100 Lakeshore Dr
A display on elder abuse will be set up at the Snow Lake Health center for the month of June for residents of Snow Lake to view and access resources.
The Pas
Pineview Manor Display
Date: June 3, 2019
Time: - All Day
Location: Pinview Manor - 524 Fafard Ave


A display will be set up for the month of June for tenants and visitors to view and help themselves to information.
Northern View Lodge Display
Date: June 3, 2019
Time: - All Day
Location: Northern View Lodge - 206 3rd street west
A display with materials that can be taken will be made available for the month of June for residents and visitors to view.
QUEBEC


Montréal
Fraud Awareness activity


Police Station 11 in collaboration with the Bank of Canada is marking World Elder Abuse Awareness Day with an activity dealing with Fraud Awareness.
June 12, from 10:30 a.m. to 12:00 p.m.
"A New Direction for Canada's Bank Notes" will be presented by Sylvia Moldovan of the Bank of Canada, followed by a discussion with Station 11 community relations agents about the different types of frauds targeting seniors.

The event is free and takes place at New Hope Senior Citizens' Center, 6225 Godfrey, Montreal.

For information contact Agent Isabelle Dubé at 514-280-9411