Page 7 of 9
2017 EVENTS
ALBERTA
Edmonton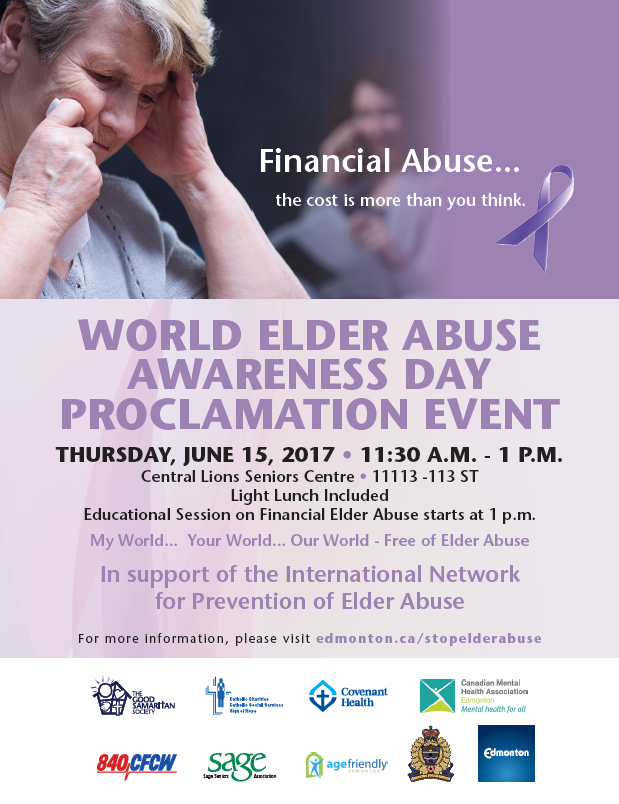 World Elder Abuse Awareness Day Proclamation Event
Thursday, June 15, 2017, 11:30 A.M. - 1 P.M.
Central Lions Seniors Centre
11113 -113 ST
Light lunch included. Educational session on financial elder abuse starts at 1 p.m.
For more information, please visit here

BRITISH COLUMBIA

Prince George
Spruce Credit Union is hosting informational materials, coffee, cookies etc. from 9:30am to 5:00pm.
879 Victoria St AND 3811 W. Austin Rd.
NEWFOUNDLAND & LABRADOR
Clarenville
The Road to Random Age-Friendly Communities - Lunch & Learn Session to highlight World Elder Abuse Awareness Day and help older adults become aware of and prevent financial abuse. All seniors and their families are invited. Admission is Free.
Presentation by Leo Bonnell, Community Peer Support Volunteer, SeniorsNL (SeniorsNL-Sponsored Event)
Thursday, June 15, 2017 From 2:00 to 4:00 pm at Bill Davis Chalet, 44 Tilley's Road
Contact Brenda at 466-2870 to book your seat.
Robert's Arm
Saturday, June 10, 2017 at the Community Centre
Mary Ennis and Kelly Heisz, from SeniorsNL will present on financial abuse against older adults, at 10:30 am.
A free lunch will follow the presentation. (SeniorsNL-Sponsored Event)
To register call Joan Burton at 709-652-3216.
St John's

How to protect your finances for those 55+: frauds, scams, and financial strategies you can put in place
Wednesday, June 7 from 2-3pm at the Tiffany Village Retirement Residence
Presented by the Credit Counselling Services of Atlantic Canada (SeniorsNL-Sponsored Event)
Call 1-888-753-2227 ext: 265

Deer Lake
Thursday, June 15th, 2 to 4 pm, Deer Lake Royal Canadian Legion
Doreen Burry, Western Health, and Rhonda Walsh, BMO will present on elder abuse, including the financial abuse of older adults. Light refreshments! Prizes! Giveaways! (SeniorsNL-sponsored event. Contact Patricia, and facilitator at 634-0912)
Sandwich Bay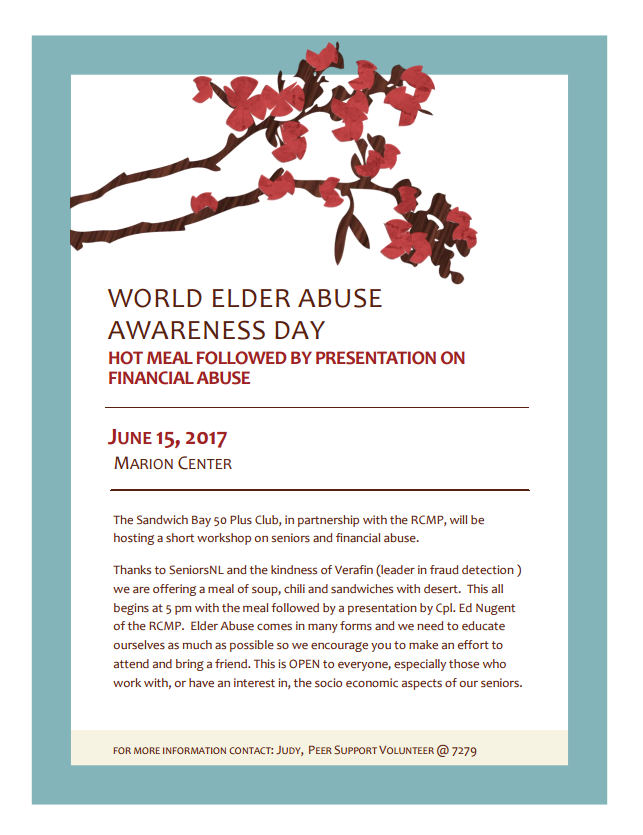 Special event organized by Sandwich Bay 50 Plus Group,
Thursday June 15, 2017, 5 pm, Marion Centre
Cpl. Ed Nugent, RCMP, will present on seniors and financial abuse. Hot meal followed by presentation on. Open to everyone, registration necessary. Contact Judy, SeniorsNL Peer Support Volunteer at 7279
Labrador City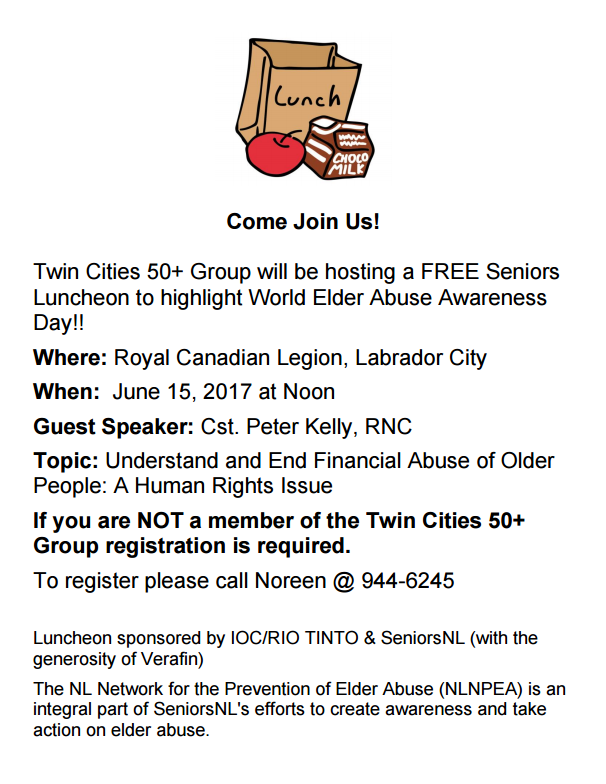 Thursday, June 15, 2017 at 12 noon
Twin Cities 50+ Group
FREE seniors luncheon at the Royal Canadian Legion to highlight World Elder Abuse Awareness Day!
Cst. Peter Kelly, RNC will speak on the topic: "Understand and End Financial Abuse of Older People: A Human Rights Issue".
If you are NOT a member of the Twin Cities 50+ Group, registration is required.
Please contact Noreen at 944-6245 to register. Luncheon sponsored by IOC/RIO TINTO and SeniorsNL (with the generosity of Verafin)
Port au Port East

Twilight 50+ Club
Thursday, June 15th, Starting at Noon
SeniorsNL-sponsored event on with a free Lunch.
Lori Ryan will present on Elder and Financial Abuse of older adults.
For more information, contact Mary at 648-2688 or Joan at 648-2777. Registration nescessary


Stephenville
Melgignat Mi'kmaq Women's Group
Thursday June 15, 2017 from 1-3 pm at the Stephenville Seniors Citizen Club
Talking Circle with seniors in our area to discuss Elder Abuse and other abuses.
Open to all Seniors from Stephenville and other communities.
Admission is FREE. To attend please contact Anne at 649-5909 or Mary at 649-3055 (SeniorsNL-Sponsored Event). Registration nescessary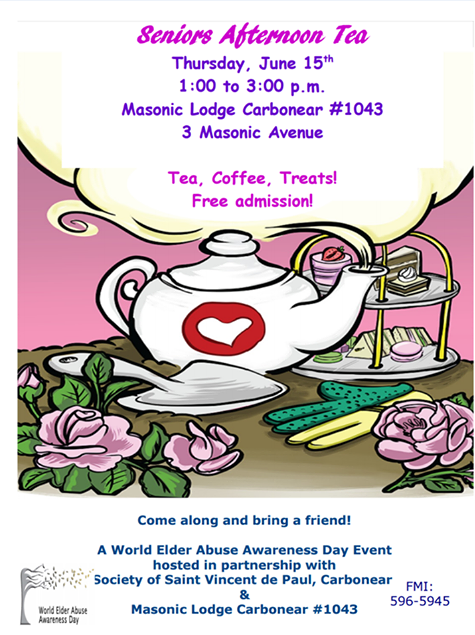 Carbonear
June 15, 1pm to 3pm
Seniors Afternoon Tea
Masonic Lodge #1043 - 3 Masonic Avenue
Free admission
NORTHWEST TERRITORIES
Inuvik
June 15 - Ingamo Friendship Centre is planning an event at Jim Koe Park (Ingamo Hall if the weather isn't good)
The event will include Welcoming everyone/Opening Prayer, Singing with Louie Goose/ Children's First/ Aboriginal Headstart/School, mini games to celebrate the lives and contributions of older adults. Soup, bannock, doughnuts, and other baked goods will be served.

ONTARIO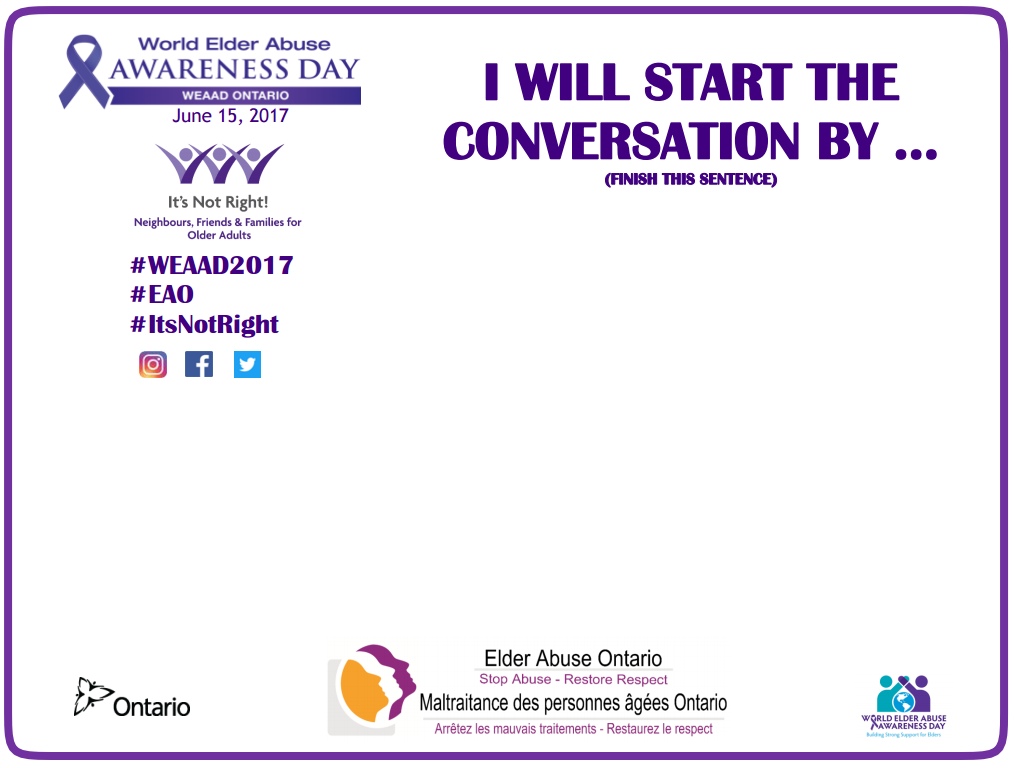 Elder Abuse Ontario's new online campaign:
Share how you intend to "Start the Conversation to stop the abuse of older adults"

Tweet your Poster to @ElderAbuseOnt
#WEAAD2017 #ItsNotRight
Post your pic or video on Instagram www.instagram.com/elderabuseontario/
Send your poster photo by email at


Brockville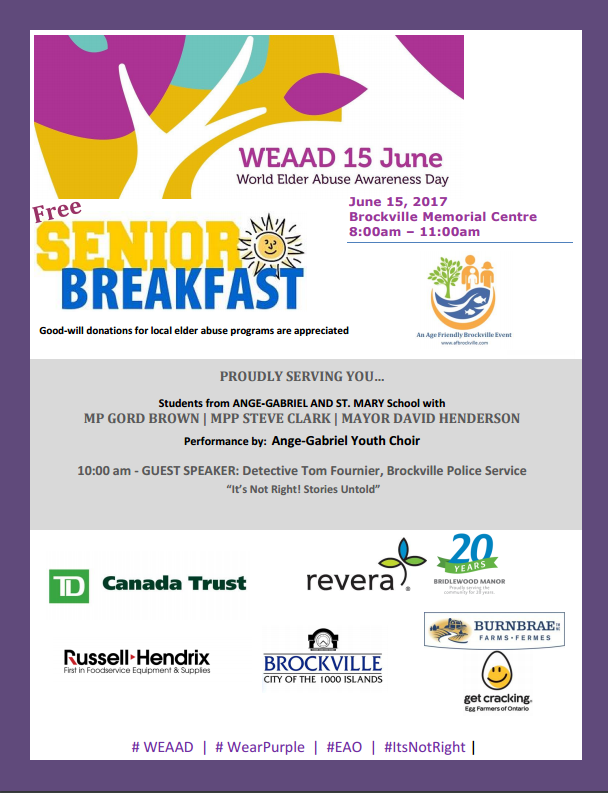 June 15th, 2017 from 8:00am -to 11:00am,
3rd annual Seniors Breakfast Event (FREE)
Seniors and community partners are invited to attend this free breakfast. We have a great morning planned with special guests MP Gord Brown, MPP Steve Clark and Mayor Henderson serving up breakfast with students from Ange-Gabriel and St. Mary's School.
Guest speaker and special announcement at 10:00am. See the poster for more details.
Good-will donations are appreciated at the door and will support local elder abuse programs, part of Brockville's Age-Friendly 2017 - 2018 official Action Plan.'It's Not Right' is a province-wide campaign led by Western University. Learn more at: itsnotright.ca


Ottawa

Yoga on the Hill , June 14
Meet at 11.30am at the Centennial flame
More details


St Michael's Hospital - Toronto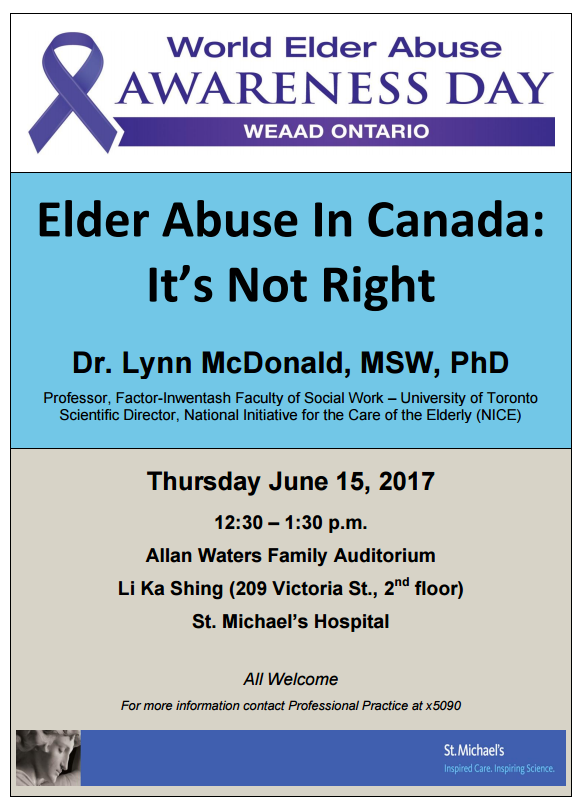 Elder Abuse In Canada - It's Not Right with Dr. Lynn McDonald, MSW, PhD
Thursday June 15, 2017
12:30 – 1:30 p.m.
Allan Waters Family Auditorium
Li Ka Shing (209 Victoria St., 2nd floor)
St. Michael's Hospital
Registration nescessary. Contact: or


Thunder Bay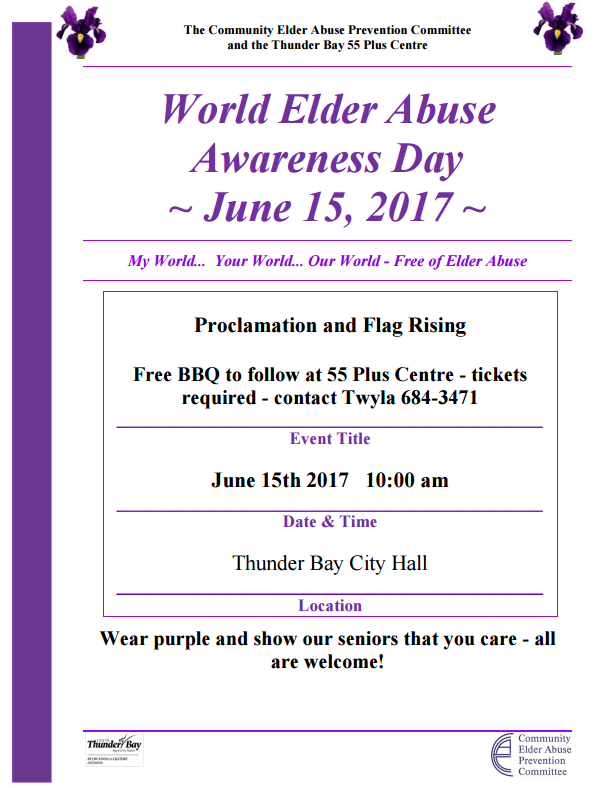 Community Elder Abuse Prevention Committee -
World Elder Abuse Awareness Day Proclamation and Flag Raising followed by a BBQ
June 15 10am at Thunder Bay City Hall
Reservations required - Contact Twyla at 807-684-3471
Niagara Falls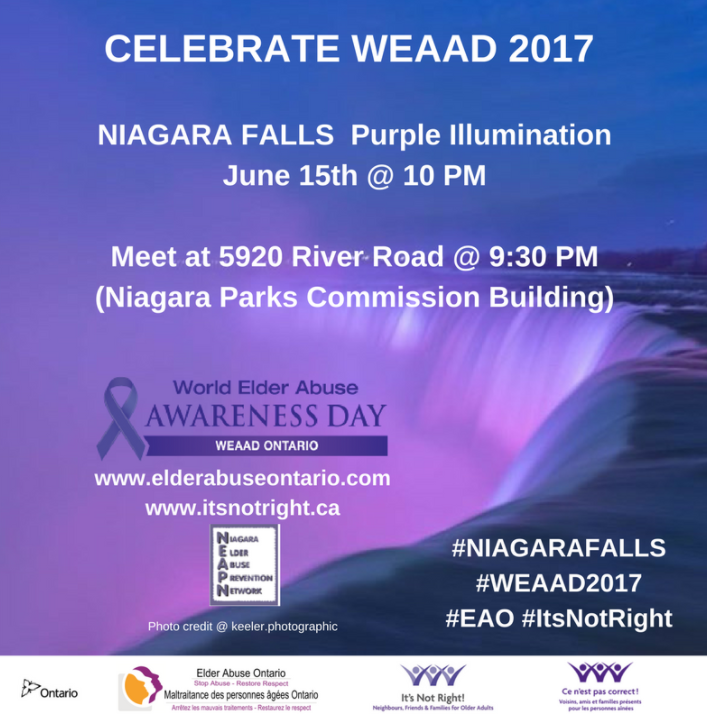 June 15th at 10pm
5920 River Road -
Niagara Parks Commission Buidling
Watch the Falls turn purple for WEAAD
Elliot Lake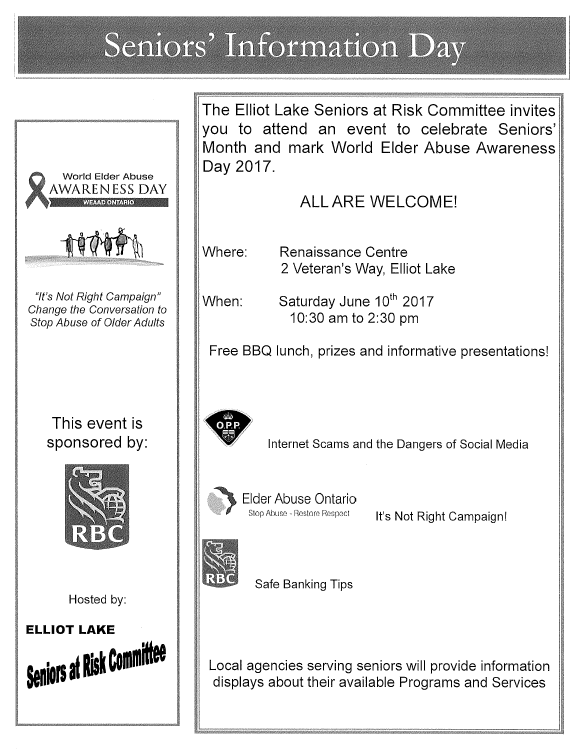 Elliot Lake Seniors at Risk Committee
June 10 2017,10.30am to 2.30pm
Seniors Information Day and BBQ at Renaissance Centre (2 Veteran's Way - Elliot Lake)
With presentations from O.P.P, Elder Abuse Ontario and It's Not Right.


Nepean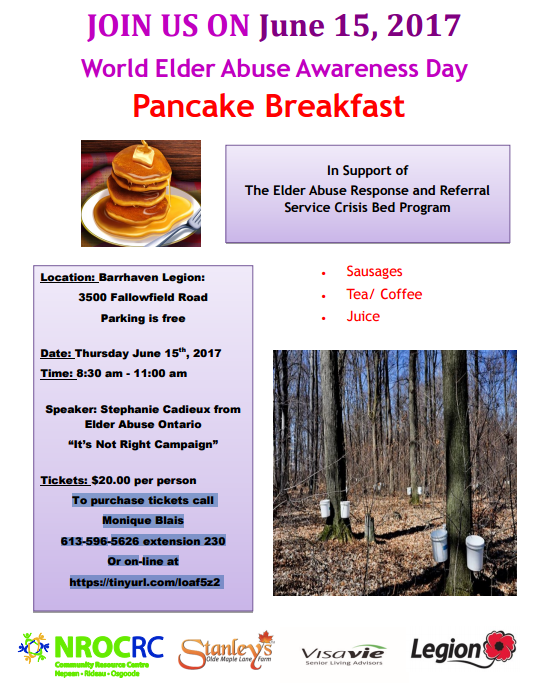 Pancake Breakfast in Support of The Elder Abuse Response and Referral Service Crisis Bed Program
8.30am-11am
Barrhaven Legion
3500 Followfield Road in Nepean
Free parking
Guest Speaker: Stéphanie Cadieux from Elder Abuse Ontario who will be speaking about the "It's Not Right Campaign".
Tickets are $20.00 - To purchase tickets call Monique Blais 613-596-5626 extension 230 Or on-line at https://tinyurl.com/loaf5z2


QUEBEC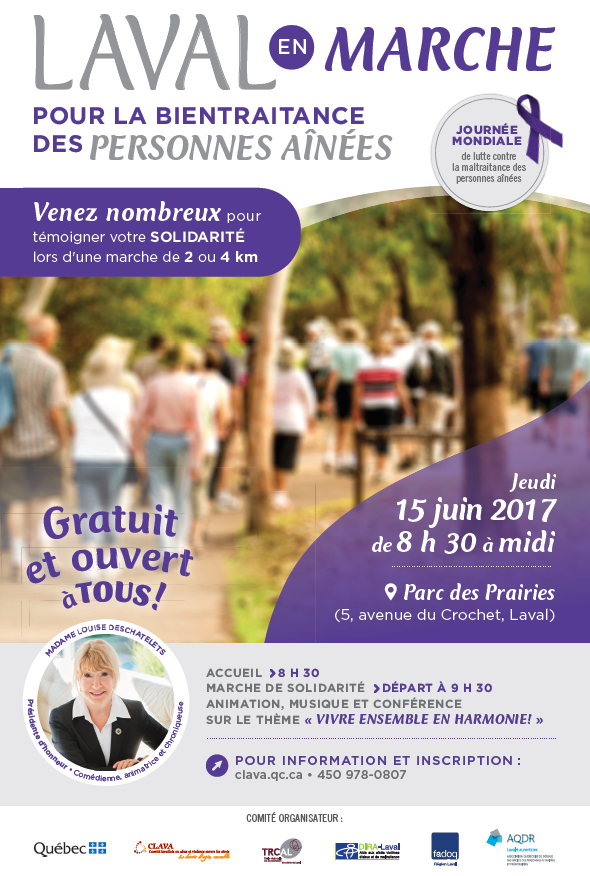 Laval
En marche pour la bientraitance des personnes aînées
Walk for WEAAD - Organised by Comité lavallois en abus et violence envers les aînés .
2 or 4 kms walk, from 8.30am to noon on June 15, Parc des Prairies. The walk will be followed by music and entertainment on the theme ''Living together in harmony''
Register for this event at:
INTERNATIONAL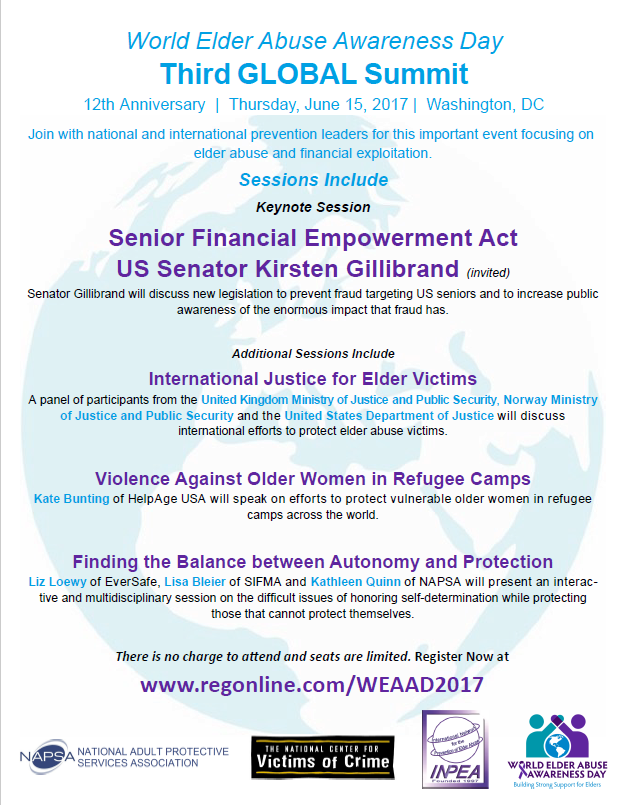 Third GLOBAL Summit 12th Anniversary
Thursday, June 15, 2017 | Washington, DC